Strawberry Crullers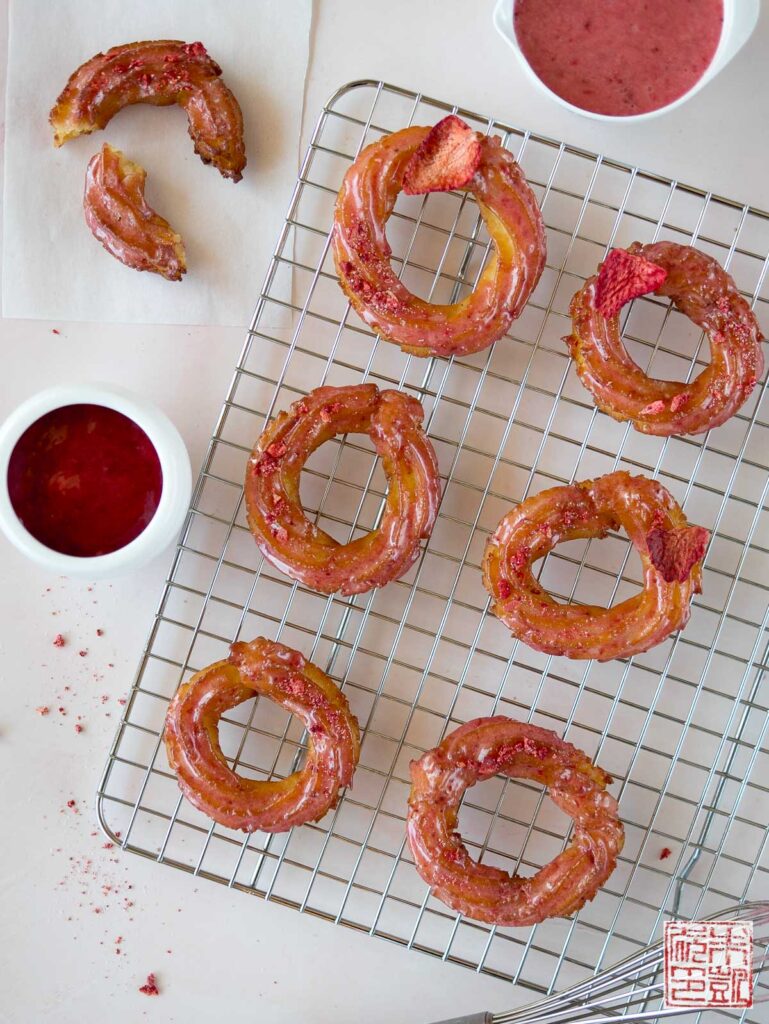 ½ cup (115 g) whole milk
½ cup (115 g) water
8 tablespoons (113 g) unsalted butter, cut into pieces
1½ tablespoons (21 g) sugar
¼ teaspoon salt
1 cup (140 g) all purpose flour
3 large eggs, room temperature
1 large egg white, room temperature
vegetable oil for frying
1 cup strawberries
¼ cup (50 g) sugar
1 teaspoon lemon juice
1 cup (110 g) confectioner's sugar
2 teaspoons milk
Combine milk, water, butter, sugar and salt in a heavy bottomed medium saucepan and heat on medium high.
Once the mixture is at a rolling boil, add all of the flour at once, reduce the heat to medium and start to stir the mixture vigorously with a wooden spoon. The dough should come together into a ball. Continue stirring for another 3-4 minutes until it is completely smooth and soft.
Transfer the dough into a bowl of a stand mixer fitted with the paddle attachment and beat to cool it down slightly. Add in the eggs and egg white one at a time, beating after each egg has been added to incorporate it into the dough. The dough should be very thick and shiny but not liquidy.
Cut a sheet of parchment paper into 4 in x 4 in squares. Fill a piping bag fitted with a ½ inch star tip half full with the batter. Pipe rings of batter onto each square.
Heat at least 2 inches of oil in a heavy bottomed pot to 350 F. Carefully place a few doughnuts in a time, parchment side up. After about 30 seconds, use tongs to pull the parchment paper off. Fry until cooked through and crispy, about 1 – 2 minutes, flipping them over about halfway through the cooking time. Remove from the oil with a slotted spoon and place on paper towel-covered wire rack to drain and cool slightly before dipping in glaze.
Wash, hull, and roughly chop the strawberries. Place into a medium saucepan.
Add in the sugar and lemon juice. Cook on medium heat, stirring with a wooden spoon, until strawberries are soft and broken down, about 5 minutes.
Pour strawberries into a food processor and puree until smooth. Let finish cooling before making glaze.
Place about ¼ cup of the pureed strawberries in a bowl. Whisk in confectioner's sugar and milk until a smooth glaze is formed. Add more confectioner's sugar to thicken or milk to thin out as needed.
Dip the tops of the doughnuts in the glaze and place on a wire rack set over a baking sheet to set.
Serve immediately.