Summer Berry Ricotta Tart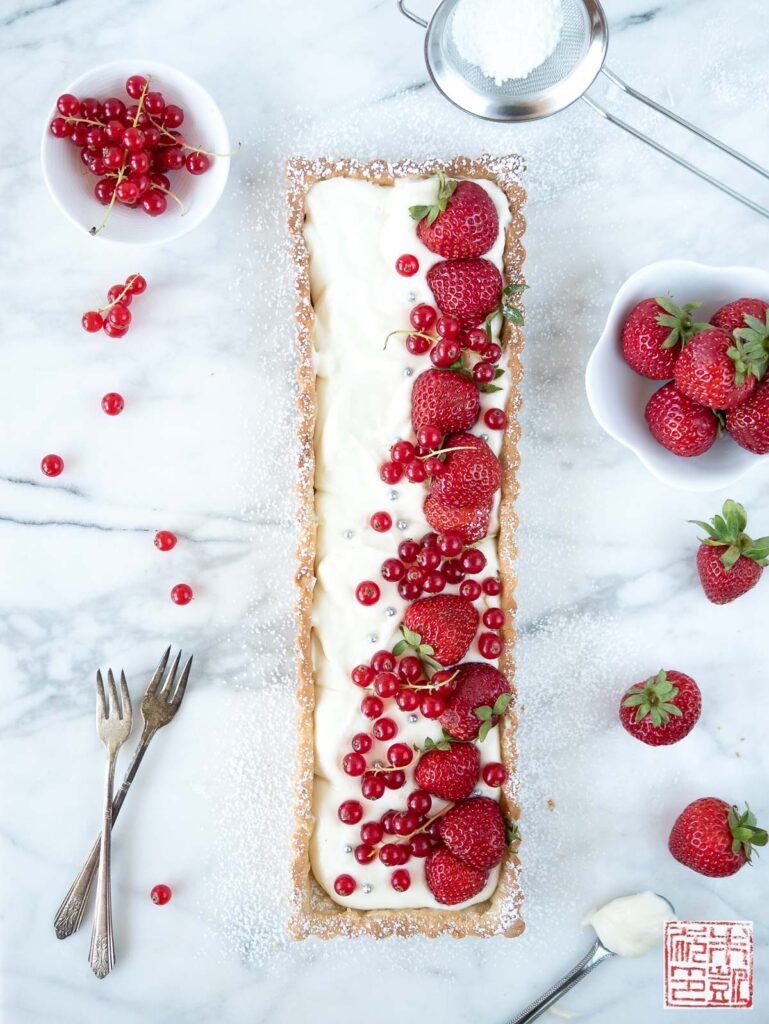 Serves:
(1) 4"x13" rectangular tart
1½ cups (188 g) flour
½ cup (60 g) confectioner's sugar
½ teaspoon salt
9 tablespoons (128 g) unsalted butter, very cold, cut into small pieces
1 large egg yolk
2 cups (480 g) fresh ricotta
¼ cup (40 g) confectioners' sugar
1 teaspoon vanilla extract
1-2 cups strawberries
Put the flour, confectioner's sugar, and salt in a food processor and pulse a few times to combine.
Add the pieces of cold butter and pulse until the butter is cut into pea-sized pieces.
Add the egg yolk and combine in several pulses until the dough starts to turn from dry to clumpy. Do not let the dough form one giant ball or it will be be overworked – just keep checking after every pulse and when the dough pieces looks like they will stick when you press them together, stop.
Butter a 4 inch x 13 inch rectangular tart tin with removable bottom. Turn the dough out into the tin and press into the bottom and up the sides with your fingers. You probably will not need all the dough – save the extra for patching the shell after you bake it. Do not press the dough too hard or it will become tough – just enough for it to form to the tin.
Freeze the tart shell for at least 30 minutes. When you are ready to bake it, preheat the oven to 375 degrees.
To partially bake the tart shell, take a piece of foil and butter the shiny side, then press the buttered side tightly to the shell. You do not need pie weights.
Place the tart shell on a baking sheet and bake for about 25 minutes, until the shell is dry and lightly colored. If any places have cracked, repair with the extra dough. Let cool on a rack until room temperature.
Place the ricotta, sugar and vanilla extract in the bowl of a stand mixer fitted with the whisk attachment.
Whisk for 4–5 minutes until light and fluffy.
Spoon the filling into the tart shell.
Wash and hull the strawberries, and arrange on the ricotta filling as desired. Serve immediately.
Recipe by
Dessert First
at https://dessertfirstgirl.com/2020/08/summer-berry-ricotta-tart.html