This post took me quite a while to put together, mainly because I was sifting through vacation photos, and we all know how long that can take. A couple weeks ago, I went down to Monterey for the weekend, and I wanted to share my adventures there. The problem was, choosing from all the photos I took became a week-long endeavor!
Anyway, I love the California coast because it's so easy to drive even an hour and be somewhere completely different – totally new scenery, climate – even the air smells different. We decided that a little escape from the urban claustrophobia of San Francisco (also: San Francisco gets downright cold in summer!) for some more wide-open spaces and sunnier skies down south. So on an overcast Friday morning, we hopped in the car and made the hour-and-half drive down to the Monterey Peninsula.
Our first stop once we arrived, in true foodie style, was for lunch! We went the to Red House Cafe, a little restaurant in Pacific Grove that embodies down-homeyness to a T.
Potato leek soup. Warm and cozy, perfect eaten on the porch of the cafe after a long drive down from San Francisco.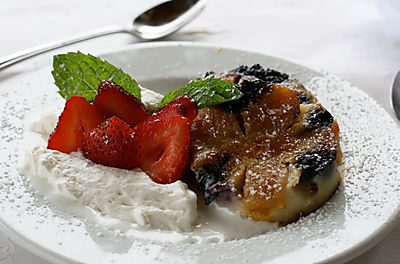 For dessert, we could choose from a vast array of pies, puddings, cakes, and cookies. I went for the special of the day, a peach and blueberry clafouti. More on this later.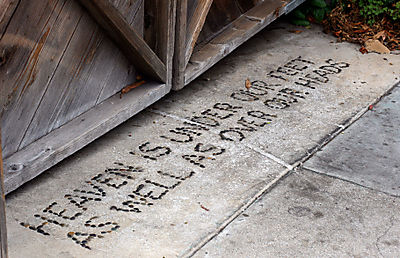 Seen in Pacific Grove: quirky and lovely, just like the town.
We took a stroll along Asilomar Beach, which is at the edge of Pacific Grove. This is typical scenery at Monterey and Carmel: overcast, chilly, the sky a pale blank and the sea a sullen grey, the rocks artistically rugged and foreboding. Whether in good or bad weather, the California coast has never been soft or gentle, but a challenging, rough-hewn feast for the eyes.
If you are in Asilomar, do stop by the Asilomar Conference Grounds, a sprawling retreat designed by storied architect Julia Morgan. The numerous buildings and halls scattered in carefully planned nonchalance among the pines and sand dunes are done in the classic Arts and Crafts style – gorgeously erected and detailed, sometimes eccentrically so, as you can see below: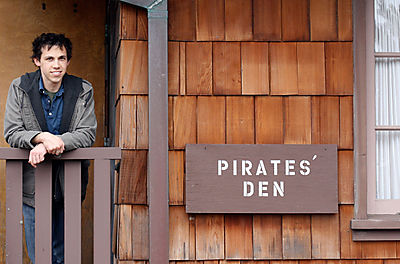 We stayed at the Tickle Pink Inn, which is nestled in the Carmel Highlands and enjoys a view of the ocean and coves. I took this the next morning, before the fog had burned off: the mist-softened landscape and hypnotic crashing of the waves gave the scene an unworldly serenity. I'm sure all the inns and hotels in this area all boast of fabulous views, so really, all I recommend is that if you haven't visited Monterey or Carmel or Big Sur, do so because it's such an all-encompassing sensory experience. Although I did enjoy the Tickle Pink Inn very much – and who can resist the name?
Here's a friendly gull who liked to perch on our balcony railing. He would drop by to visit several times during our stay.
Passionfish is a restaurant passionately dedicated to serving sustainable seafood, and in Monterey, one of the epicenters of the sustainable seafood movement, there seemed no better place to dine our first night. The dining room is unprentiously elegant, the service intelligent and friendly. My hand-lined mahi in a black pepper-rum sauce was richly piquant, and dessert was equally satisfying: a white peach cobbler.
We went up to Carmel the next morning. Looks just like Hawaii, doesn't it? Except for that massive fog bank hanging off the coast. This shot isn't particularly well framed, but I like it because I notice you can see little stories going on with the people: You can see a couple strolling down the beach, a little girl running back to her mother with her father trailing behind, and off in the corner, a woman playing with her dogs. Isn't it cute?
Carmel Beach has some Hawaii-worthy white sands, and is also dog-friendly: here are a couple of canine buddies having some fun in the surf.
After the beach, we made a beeline for Patisserie Boissiere in Carmel-by-the-Sea, a classic French bistro that also offers up fabulous pastries, Paris style. Their strawberry triangle is a flaky delight of puff pastry, pastry cream, and fresh fruit, and their banana chocolate cream tart was a sophisticated take on banana cream pie. This place is also perfect for picking up a lunch to enjoy al fresco down the the coast.
We continued our drive down the coast towards Big Sur. When the sun is out, the waters turn the most gorgeous shades of turquoise, cerulean, and jade.
These have to be some of the luckiest cows ever: grazing with a view.
We made it as far down the coast as McWay Falls, one of the most famed sights in Big Sur. This 80-ft high ribbon of water is actually a tidefall, as it empties directly into the ocean. This is about as close as you can get to this transcendentally beautiful cove; public access is prohibited, ensuring that this view will remain untrammeled by the touch of humans.
This is the view of the Pacific from the Post Ranch Inn, a ridiculously sybaritic hotel perched on the edge of the Big Sur cliffs. Sadly, we did not get to stay here, but we did venture onto the property to see what the fuss was all about. And I have to admit that in a weekend full of gorgeous views, these were far and away some of the most stunning.
Standing tiptoe on the edge of the continent, I am reminded of the poem Blackberrying by Sylvia Plath:
The only thing to come now is the sea.
From between two hills a sudden wind funnels at me,
Slapping its phantom laundry in my face.
These hills are too green and sweet to have tasted salt.
I follow the sheep path between them. A last hook brings me
To the hills' northern face, and the face is orange rock
That looks out on nothing, nothing but a great space
Of white and pewter lights, and a din like silversmiths
Beating and beating at an intractable metal.
Magic hour.
This view (as well as the one above) were from our room balcony. I love how you can see the lights going on in some of the homes; it looks so lush and dreamlike, like cottages in a Hansel and Gretel forest.
Here's our gull friend again, admiring the sunset as well. Imagine! He gets to see this view every day, for free!
On our way back north the next day, we stopped by Santa Cruz, a true bohemian laid-back surfer town, and the Santa Cruz Beach Boardwalk in all its glorious childish cheesiness. The west coast has never had as many of these amusement-parks-by-the-sea as the east, and the Santa Cruz Beach Boardwalk is one of the few remaining ones today. The Boardwalk is celebrating its centennial, and the city has clearly done a very thorough job of polishing up the place, which may be why it looked so much shinier and spiffier than in my childhood memories.
Summer vacation was clearly in full swing when we arrived: families waited in line for the big old wooden rollercoaster or the log water ride; teenagers in swimsuits ran down to the golden beach or headed for the arcades, the smells of cotton candy, hot dogs, and grilled corn wafted our way, and our ears were filled with the cacaphony of happy people out enjoying themselves.
Notice a pirate theme in our vacation? This was one of those pendulum-style rides where you're slowly swung back and forth and finally in a full circle. I didn't go on this ride, since it makes me rather queasy.
Although you can probably guess which ride I did go on:
It's amazing to me that in the space of a weekend you can experience so many different places, all within a few hours of each other. I don't know if this qualifies as a "stay-cation", as the buzzwords seems to be, but if it is, it doesn't seem to terrible to stay at home!
One of my favorite desserts from the weekend was the peach blueberry clafouti from Red House Cafe, and once I got home I couldn't wait to replicate it. I think I got carried away and put too much fruit in there, but with peaches at their bursting-sweet ripeness I couldn't help myself. Combined with the tartness of the blueness and the creamy, vanilla bean-flecked custard, this makes for one sweet summer memory.
Peach Blueberry Clafouti
makes one 9-in clafouti or (2) 5-in clafoutis
2 ripe peaches
3/4 cup blueberries
2+6 tablespoons sugar
3 large eggs
3/4 cup milk
3 tablespoons flour
1 teaspoon vanilla bean paste
Preheat the oven to 400 degrees F. Butter a 9-in baking dish or pie plate, or individual dishes, and place on a baking sheet.
Wash and peel the peaches, and cut into small wedges. Combine the peaches and blueberries and 2 tablespoons sugar in a bowl and let macerate for about 15 minutes.
Whisk the remaining sugar and eggs together in a mixing bowl.
Add in the milk and whisk until combined.
Sift the flour over the mixture and whisk until combined.
Whisk in the vanilla bean paste.
Spread th e fruit over the bottom of the dish. A single layer is fine; don't put too much fruit in or you'll overwhelm the batter.
Pour the batter into the prepared pan, just covering the fruit.
Bake in the oven for about 35-40 minutes (if you are making individual dishes, be sure to check halfway through to see if they are baking faster) until the batter looks puffed and golden and is set in the center.
Let clafouti cool for about 10 minutes out of the oven before serving. You can also serve at room temperature – it will keep for about 12 hours.