I hope you all had a good New Year's celebration! I tried valiantly to convince myself I wasn't coming down with something, which worked until about 1 AM on January 1, when I collapsed into bed and slept my way through most of the first day of the new year. Tonight, I'm hoping that my cold will somehow magically vanish during a 13 hour flight to Hong Kong, although I haven't seen anything about the curative properties of trans-Pacific airplane flights documented anywhere (Don't worry, I'll actually be wearing a surgical mask and taking sleeping pills to avoid being the obnoxious person sniffling and infecting everyone else on the plane).
The good thing is that being sick now means I'll likely be NOT sick for the two weeks I'll be in Hong Kong. On the HK agenda: my third (and final) wedding banquet (having three wedding banquets over six months is a really fun way to stretch out your wedding celebration, but it also gives people plenty of opportunity to ask whether you've changed your mind about getting married!), family dinners galore, perhaps a trip to Disneyland HK, a side jaunt to Macau, and lots and lots of dim sum, egg custard tarts, and whatever new foodstuffs are en vogue in one of my favorite culinary-obsessed cities.
I'll post dispatches on Twitter and of course my customary write up when I return. In the meantime, the winner of the Tate's Bake Shop giveaway (as determined by this lovely random number generator) is Michele P! Thanks so much for participating. I actually have a few other items to give away so please keep an eye out in the following weeks!
Best wishes for a sweet 2011!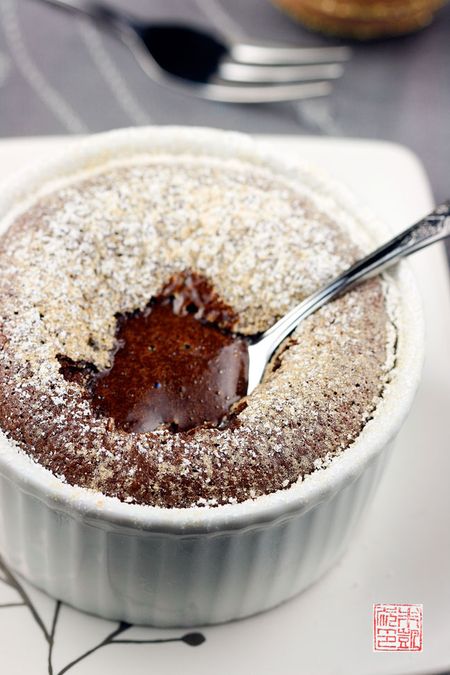 One of the last desserts I made for 2010 – Jean George's molten chocolate cakes.
Molten Chocolate Cakes
serves 8
18 tablespoons (255 g) unsalted butter, cut into pieces
8 1/2 ounces (250 g) bittersweet chocolate (I used Scarffen Berger 72%)
5 large egg yolks
5 large eggs
1/2 cup plus 2 tablespoons (125 g) sugar
1/3 cup plus 1 tablespoon (50 g) flour
Butter (8) four ounce ramekins and flour lightly. Place on a baking sheet.
Combine butter and chocolate in a microwave proof bowl and melt in microwave, using 30-second bursts, stirring to ensure it melts smoothly.
Place egg yolks and eggs in bowl of stand mixer and whisk on medium speed until frothy.
Add in the sugar and whisk on medium high until mixture has tripled in volume.
Add butter and chocolate mixture to eggs and whisk until well combined.
Sift the flour over the mixture and fold in with a wooden spoon until combined.
Divide batter among prepared ramekins. Cover with plastic wrap and refrigerate until you are ready to serve, or up to 8 hours.
Take cakes out of the refrigerator and bring to room temperature. Heat oven to 475 degrees F.
Bake cakes for 6-7 minutes, until sides and tops are set. The centers should still be soft but the surface should be jiggly, not fully liquid.
Invert ramekins onto dessert plates and let sit for about 10 seconds before unmolding and serving.