One of the best things about joining the Daring Bakers is the chance to meet so many other passionate bakers from around the world – fellow pastry lovers who love talking about (and making) dessert, are marvelously creative and talented, and who also happen to be some of the nicest and sweetest people I've ever met. I was lucky enough to meet up with one of the hosts for this month's challenge, Veronica from Veronica's Test Kitchen, when she made a visit to my hometown on SF, and we had a fabulous evening talking shop (and about other things as well!) I also got to tell her how excited I was about the recipe she and Patricia chose for this month's Daring Bakers' Challenge, as it comes from one of my favorite new acquisitions, Eric Kayser's Sweet and Savory Tarts
The challenge this month was to make Kayser's milk chocolate and caramel tart: a layer of milk chocolate mousse over a caramel base in a cinnamon-spiced chocolate shortbread crust. I admit I took advantage of this situation to buy myself another tart pan: the classic 14"x4" rectangular pan I'd been eyeing for a while. Using this size pan with the recipe, you will definitely have leftovers from the recipe fillings, enough to fill another tart pan or some individual ones. But I am loving this new pan and have many plans for using it in the future!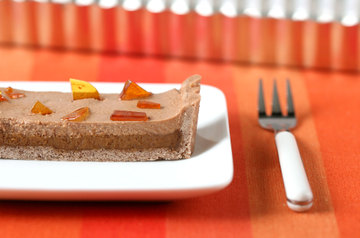 It was mentioned when the recipe was revealed to us that a big part of the challenge would be interpreting the rather brief instructions. This was something I'd noticed in Kayser's book; it assumes a level of baking knowledge and proficiency above that expected by the average home baking book. For example, in making the tart dough, the recipe says simply to "line a baking pan with the chocolate shortbread pastry and bake blind for 15 minutes." It does not mention that this is a particularly soft and delicate dough (out of the mixing bowl, it resembles cookie dough more than tart dough) and that overworking it or leaving it out of the refrigerator for too long will turn it into a melting mushy mess. I was working in a rather warm kitchen that day, which might partly explain why this dough was not on its best behavior for me. I found the easiest way to work with this dough is to let it soften no more than necessary out of the refrigerator, then roll it out between two sheets of plastic wrap to prevent sticking (Using two Silpats works too – roll out the dough on one Silpat, place the second mat on top of the dough and flip the stack over, then peel off the first Silpat). If it becomes too soft and sticky, it's best to place it back in the refrigerator and let it chill and firm up a bit before rolling out again.
On the plus side, this dough seems to take patching very well, so if you can't get it to roll out to a large enough sheet for your pan, you can always patch up the missing bits, being sure to pat the dough in gently. And I was very pleased with how the dough baked up – firm and shapely with minimal cracking or shrinking, and wonderfully tender to the bite, as shortbread should be. I confess to using a small trick that has worked wonders with my tarts in preventing soggy bottoms: After the tart shell comes out from the oven and is cooling, brush a light layer of egg wash over the bottom of the shell. As the egg wash dries, it forms a nice impermeable layer that protects the tart shell from berry juices, pastry cream, or whatever filling you have. The caramel filling for this recipe didn't seem particularly "juicy", but I think the egg wash is always a nice extra step to help ensure your tart stays flaky and crisp as it ought to be.
Speaking of caramel, the directions for making the filling were also amusingly haiku-brief: caramelize granulated sugar using the dry method. The most common method in making caramel involves dissolving sugar in water and heating it. But it's possible to cook just sugar itself in a pot over heat. I've been warned that it's typically more difficult because you run a greater risk of burning the dry sugar if you're not watchful. Strangely, I have never had a problem cooking sugar dry – I do try to keep a close eye on it and make sure to stir it to let it caramelize evenly. The bonus is that without water sugar caramelizes much faster, and you don't have to worry about problems with crystallization.
(Nota bene: None of these comments are meant to disparage the recipe or the cookbook. None of the instructions were actually incorrect; it was just interesting to note how much is implied in what is not specifically spelled out. It made realize how much technique I've learned that I take for granted now, and that I knew nothing about just a few years ago. I would have had no idea back then how to cook sugar properly or how to tell when a custard was done. The fascinating part of this challenge was in reading the recipe and drawing on my baking experience to tell me how best to accomplish all the parts of the tart, even when it wasn't spelled out for me. Challenging and satisfying indeed!)
I let my caramel get fairly deep amber before I added in the cream and butter. It may be helpful to note that the cream and butter should be at room temperature, which helps them combine better with the hot caramel. Dumping in anything cold will make the caramel seize up and harden – this can be saved by rewarming the mixture over the stove again, but it's probably less frustrating to have your dairy at a more agreeable temperature and let them combine smoothly with the caramel into a golden, thick, luscious soup.
The caramel baked up in the tart shell into a gorgeous, perfectly smooth base – lovely for pouring on the milk chocolate mousse. Now, perhaps to balance out my odd cosmic luck with caramelizing sugar, I am frustratingly prone to burning chocolate in the microwave, especially milk and white chocolate since its milk proteins can overheat and go grainy quite quickly. I think part of the problem is that I have a freakishly high-powered microwave that can boil water in seconds. I'm quite happy to melt my milk chocolate (I used Callebaut 31%) safely over a bain-marie.
The finished tart is sugar-spun, chocolate-dipped poetry: sweet, airy mousse giving way to a rich, buttery-gooey caramel, encased in the tenderest of crusts lightly spiced with cinnamon. It's a most soigné version of the Twix bar, one of my favorite candy bars when I was little. I felt the flavors worked beautifully together; it may be a little sweet for some, but taking the caramel darker and giving a deeper, almost-burnt edge helps create a little contrast, and the milk chocolate can always be substituted for a darker one. I myself found the recipe plate-scraped-clean delightful without any alterations – judging from how quickly the tart disappeared, I'll assume others felt the same.
Adding bits of hard caramel to the top of the tart makes for a lovely, sugar-strewn decoration and gives a nice extra crunch to the smooth tart filling. It's always nice to have an excuse to play with sugar and make some fantastical decorations.
For the recipe, take a hop over to Veronica's or Patricia's sites, and be sure to take a look at all the other Daring Bakers' beautiful takes on this fantastic little tart.
Tagged with: milk chocolate caramel tart + Daring Bakers + Eric Kayser