One of my most favorite and anticipated yearly sights is when the trees begin to sing their song of spring and bring forth their blossoms, covering winter-stripped branches with fluttery frocks in the most delicate and covetable of pastel shades (Have I mentioned that I love the color pink? although surely the astute reader could guess from seeing the scheme of my page. Right now the clothing stores are particularly dangerous for me – I walk in and I want things not because of their fit or function or even my need for them, but because they are all in whispery soft, flowy fabrics in shades of apricot and daffodil and lilac and periwinkle. I already have about 10 pink shirts in my closet. I must stop.)
I love leaving the urban concreteness of San Francisco and driving to Berkeley, where greenery is entwined into the city, from the huge old magnolia trees bursting with fuchsia blooms to the poppies blazing around wooden fences to the flowering almond trees that shower petals with every breeze.
Right now the sunshine is warm and welcoming, a gentle balm from a dreamy blue sky, not yet the languorous heat of summer. The fruits at market are perfect and sweet, a farewell to winter and a harbinger of harvests to come. I am always struck, at these jewel-like moments of beauty and pleasure, by a sense of mono no aware – that very Japanese concept created by the Japanese. Mono no aware translates roughly into "the pathos of things", and defines a gentle sadness at the transitory nature of the world, coupled with a desire to appreciate these transitory moments now.
Mono no aware is quite appropriate to spring, of course, as perhaps one of the quintessential examples of this sweet melancholy is the viewing of cherry blossoms in Japan – crowds of people gathering at hanami – cherry blossom viewing parties – to celebrate the brief beauty of the pink and white flowers as they bloom for a few short weeks. There a beauty in their brevity, a recognition that their impermanence adds to their loveliness.
I think we all identify with this concept, even if there isn't a direct English translation. Think of when you're picking ripe fruits from a tree, knowing the tree will only produce so many of them and then it will be bare and empty for the rest of the year. Think of when you were graduating from high school or college, knowing that you and your friends were about to scatter off to your new lives and you would never be in this same place experiencing the same things again. Think of a perfect Sunday afternoon at the beach, with the ocean at your feet and the sun on your back, knowing that next day it will be cloudy and you'll be back at work.
I think food is also a perfect illustration of this pleasurable sadness – what is more impermanent by nature than food? We labor in our kitchens, working with knives and mixers and ovens, plate and decorate the finished product so carefully, photograph them from the perfect angle – and yet the whole time we know eventually what we make will be eaten – devoured. But we take pleasure in knowing what we make will bring happiness to others. There is that instant when you're looking at the end results of your work, at the perfectly composed meal on the perfectly set table – before you call everyone else in to bring an end to the moment.
I like to think that moment is what we're all capturing in our pictures.
I was pleased to find this article in a past issue of Donna Hay's magazine, a collection of gorgeously delicate and springlike desserts to celebrate the ephemeral loveliness of the season.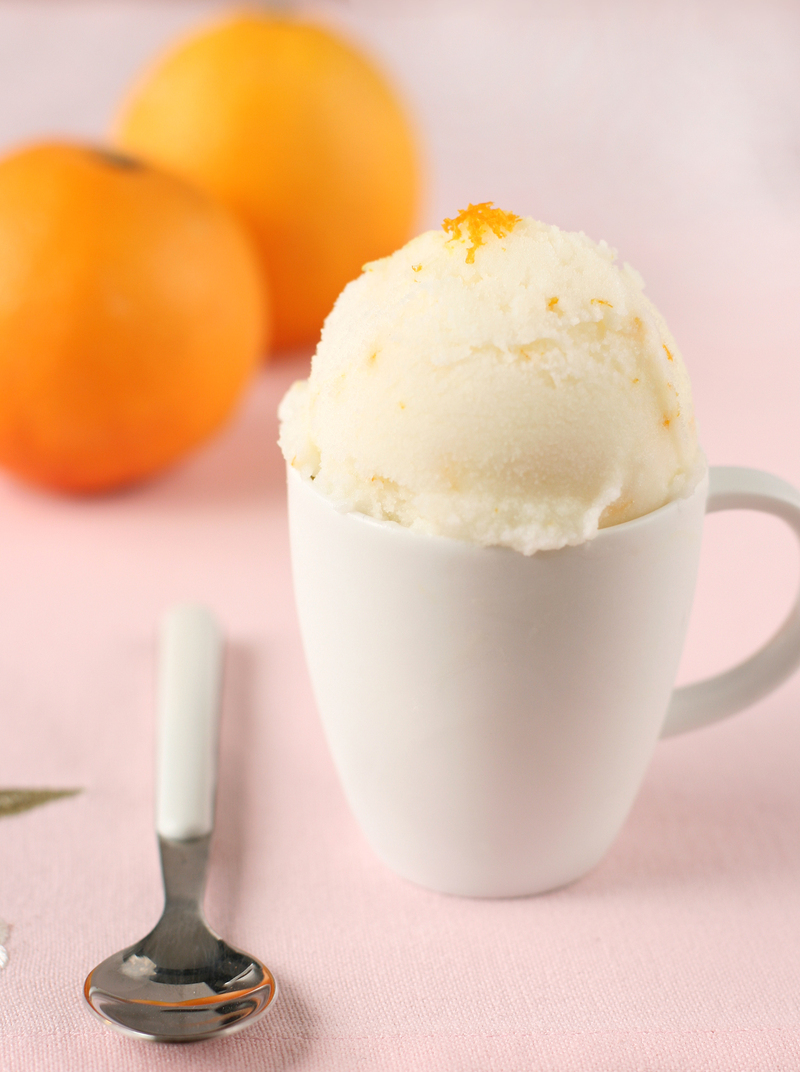 Orange Blossom Buttermilk Sorbet
The combination of orange and buttermilk might seem a little odd, but it turns out wonderfully: the tang of the buttermilk complements and accentuates the floral citrus notes of the orange blossom water, making it a perky, not too sweet accompaniment to the desserts below.
Roasted Strawberry Meringues
Perfection in simplicity – Crisp clouds of meringue pillowing sweet strawberries roasted in the oven, topped with a kiss of whipped cream. Although I'm not much of a jam-maker, I can appreciate the magic behind the commingling of fruit, sugar and water – roasting strawberries is a little bit like a preface to jam, and nearly as delicious.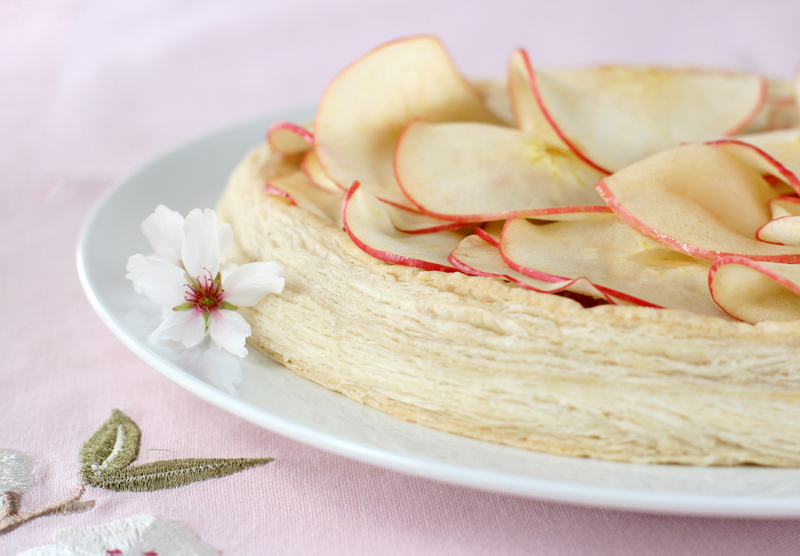 Apple Almond Tart
This is the recipe that forced me to finally get a mandoline, as one look at the paper-thin slices of pink lady apples lying as tenderly on the tart as fallen petals persuaded me that I had to reproduce the creation. The tart is made of a gloriously puffed round of puff pastry filled with a rich frangipane studded with walnuts and pistachios, topped off by sweet slices of apple. I hadn't made puff in quite a while – watching it expand exponentially in the oven is certainly one of pastry's most thrilling experiences!
Orange Blossom Buttermilk Sorbet
from Donna Hay magazine
makes about 1 quart
1 cup water
1 cup sugar
1 teaspoon orange blossom water
1 teaspoon finely grated orange rind
2 1/2 cups buttermilk
Combine the water, sugar, orange blossom water, and orange rind in a small saucepan. Cook over low heat on the stove until the mixture comes to a boil.
Let boil for 1 minute, then remove from heat and let cool completely.
Add the buttermilk and stir to combine. Place mixture in the refrigerator, covered, overnight to chill.
Chill in an ice-cream maker according to manufacturer's instructions.
Roasted Strawberry Meringues
from Donna Hay magazine
makes about 15 meringues
75 ml egg whites (about 3 eggs)
1/2 cup sugar
8 strawberries, hulled and halved
1/4 cup sugar
1/2 cup whipped cream (for serving)
Preheat oven to 390 degrees. Place the strawberries in a baking dish and sprinkle with the sugar (you may not need all of it depending on your taste).
Roast strawberries in the oven for about 10-15 minutes or until the strawberries are soft and syrupy – you will be able to smell the fruit.
Remove from oven and set aside.
Lower the oven to 250 degrees. Beat the egg white in a stand mixer with the whisk attachment until stiff peaks form.
Add the sugar and whip to incorporate until the mixture is thick and glossy.
Prepare two baking sheets with parchment paper or Silpats.
Spoon the meringue onto the prepared sheets by round spoonfuls. Use the spoon to make a dent in the center of each meringue.
Bake for about 25 minutes or until the meringues are crisp on the outside. Then turn off the oven and let the meringues dry in the oven for another 30 minutes.
When you are ready to serve, spoon some roasted strawberries into the center of each meringue and top with some whipped cream.
Apple and Almond Tart
from Donna Hay magazine
< em>serves 8-10
(2) 10-in prepared butter puff pastry sheets, thawed (this is from Donna Hay magazine; I made my own puff pastry but I'm going into puff pastry making details in another post!)
1 cup almond meal
1/4 cup sugar
35 g unsalted butter, melted
1 egg
2 tablespoons honey
1/4 cup chopped pistachio nuts
1/4 cup chopped walnuts
2 cups water
2 cups sugar
4 pink lady apples, thinly sliced
For the apples: Combine the water and sugar in a saucepan and bring to a simmer over low heat on the stove.
Let mixture simmer for 10 minutes and then remove. Let cool completely.
Place apples slices in the sugar syrup and set aside.
Preheat oven to 355 degrees.
For the filling: Combine the almond meal and sugar in a bowl. Add the butter, egg, and honey and stir thoroughly to combine.
Fold in the pistachios and walnuts. Set the mixture aside.
For the tart: Cut out two 9" rounds from the puff pastry sheets. Cut out a 7 1/2 in round from one of the circles to create a border.
Place the border on top of the second puff pastry round. If you like, you can egg wash between the two pieces to help them stick together, but don't get egg wash on the edges or the puff will be unable to expand.
Place the tart shell on a baking sheet lined with parchment paper.
Spread the filling over the center of the shell. You may have some filling left over.
Bake in the oven for about 20-25 minutes until the puff pastry has puffed up and is golden and the filling looks firm.
To serve, remove the apple slices from the syrup and arrange on top of the tart.
Tagged with: spring + mono no aware + Donna Hay + orange blossom buttermilk sorbet + roasted strawberry meringues + apple almond tart
Stumble this post!