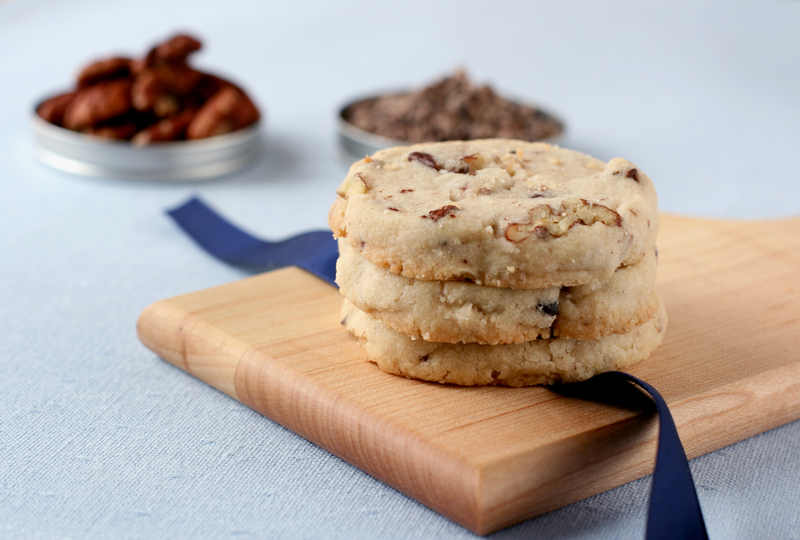 Emily of the compulsively readable Chocolate in Context came up with a creative challenge for this month's Sugar High Friday: Chocolate in the Raw, a nice bookend to January's Chocolate by Brand.
While I would have dearly loved to experiment with a fresh, raw, cacao pod, there were unfortunately no trips to cacao plantations scheduled for me at this time. I decided to settle for using one of my happiest discoveries when I became more serious about baking and moved on from Nestle chocolate chips and Hershey's cocoa powder: the cacao nib.
Nibs have been described by both John Scharffenberger and Alice Medrich as "the essence of chocolate", and they literally quite are: the little fragments of cacao beans that have been roasted and winnowed to removed their outer shells. Not yet ground into chocolate liquor, nor combined with sugar and vanilla to form the familiar rectangular bars, nibs are nascent chocolate, scattered fragments of cacao's dream.
Nibs used to be nothing more than a step in the process of turning cacao into chocolate, but then someone discovered that these nibs had an intriguing allure all there own. They have a nutty, earthy flavor, undiluted by sugar or other flavors found in finished chocolate – and a crunchy tang unlike any chocolate chip.
Alice Medrich has a wonderful essay on nibs in her must-have cookbook Bittersweet
; in it she describes her first experience with this unusual new ingredient and how it inspired her to create new recipes around it. She describes in precise detail how nibs are not like chocolate chips at all: the flavor of nibs are more intense yet subtle at the same time, accentuating certain flavors and clashing with others. Their not-quite-chippy texture can also be a challenge; nibs don't give under a bite like a chocolate chip and can instead be unpleasantly gritty if thrown haphazardly in a concoction.
But with proper use nibs can be a revelation, with a taste unlike any other: almost chocolate but not quite, slightly nutty, a little bitter, with fruity undertones. My one favorite recipe from Medrich's book that really made me fall in love with nibs was her cacao nib ice cream – quite simply cream and milk infused with nibs, mixed with a bit of sugar, and spun into ice cream. The result is a pale, mocha-hued ice cream that has an astonishing depth of flavor: sweet, rich, and clean, like a memory of chocolate ice cream through misty glass. I make this over and over again and will have to put the recipe on here someday!
Other recipes I've used nibs in: Emily Luchetti's Chocolate-Covered Cocoa Nib Florentines and Orange Ice Cream Sandwiches, where the nibs worked nicely with the pistachios and chocolate, and on Medrich's Bittersweet Chocolate Tartlets as a crunchy contrast to the smooth chocolate filling.
For this month's SHF, I decided to make a pair of cookies – nibs work well in buttery, not-too-sweet cookies where they can add textural interest and flavor contrast.
Nibby Pecan Cookies
The first, from Bittersweet once again, is a Nibby Pecan Cookie (top of post). This is a butter cookie that is cutting-edge yet down-home comforting at the same time, a rich golden dough studded with pecans and nibs. The crisp-tender cookie melts on your tongue, filling your mouth with the flavors of toasted nuts and deep chocolate. Medrich notes this cookies improve over time, and it doe; after a couple of days the flavors have melded and deepened into a deeply satisfying complexity. Completely different from the standard chocolate chip cookie, and you may have difficulty choosing a favorite after you try this!
Chocolate Shortbread with Cacao Nibs and Sea Salt
This cookie, contributed by Elizabeth Falkner to Scharffenberger's Essence of Chocolate
(another source of interesting recipes using nibs) is a study of nibs and sea salt. Using a rich chocolate shortbread base which is appropriately tender and not too sweet, the crunch of nibs plays with the crackle of salt.
This is a perfect setup to experiment with different salts; I tried a fine-flecked fleur de sel from Camargue, the coarse-grained pink Himalayan salt, and red Alaea Hawaiian sea salt. The Himalayan salt made the most dramatic impact, as the large salt crystals gave the cookie a noticeable crunch of sharp saltiness. The fleur de sel from Camargue blended more smoothly into the dough, making for a more subtle hint of salt mixing with the chocolate. The red Hawaiian sea salt fell somewhere in between, and had a mellow, smooth taste all its own. There is certainly room for you to try other exotic salts and find which pleases you most! The shortbread is also quite toothsome on its own, with the nibs contributing their own unique dimension to the darkly chocolate flavor.
I'm glad someone decided to taste these little flecks of the cacao pod before they were turned into chocolate, and realized what potential they had on their own. Who knows what other delectable gifts we have still to discover from the noble cacao tree?
Nibby Pecan Cookies
adapted from Alice Medrich's Bittersweet
makes about 48 cookies
3 1/2 ounces pecans
2 sticks (8 ounces) butter, room temperature
5 1/4 ounces granulated sugar
1/4 teaspoon salt
1 1/2 teaspoons vanilla extract
1/3 cup cocoa nibs
10 ounces all-purpose flour
Toast the pecans on a cookie sheet in a 325 degree oven for about 8 minutes until they are fragrant and dark. Let them cool and chop into small pieces.
Beat the butter, sugar, salt, and vanilla in a stand mixer on medium-high speed until the mixture is smooth and creamy, about 1-2 minutes.
Add in the nibs and pecans and combine.
Add in the flour and combine carefully on low speed just until the flour is incorporated.
Turn the dough out onto a piece of parchment and roll into a log about 2 inches in diameter and about 12 inches long.
Wrap the log of dough in parchment and chill in the refrigerator for a couple of hours, preferably overnight.
When you are ready to bake, take out the log of dough and let warm slightly – it will slice easier if the dough is softer. Preheat the oven to 350 degrees and line baking sheets with parchment paper or Silpats.
Use a s harp knife to cut 1/4-inch thick slice from the log of dough. Place on the prepared sheets about 2 inches apart.
Bake in the oven for 12-14 minutes, rotating halfway. You should start to smell the cookies at the end and the edges should turn golden brown.
Remove cookies from the oven and let cool on sheets for about a minute before transferring to wire racks to finish cooling.
The cookies will keep in an airtight container for about a month. They taste best after 24 hours.
Chocolate Shortbread with Cacao Nibs and Sea Salt
adapted from Essence of Chocolate
makes about 36 cookies
5 ounces all-purpose flour
2 1/2 ounces cocoa powder
3/4 cup plus 2 tablespoons cacao nibs, crushed with a rolling pin
1 teaspoon sea salt, any kind
6 ounces butter, room temperature
3 1/2 ounces granulated sugar
1 teaspoon vanilla extract
Mix the flour and cocoa powder together in a bowl.
Beat the butter and sugar together in a stand mixer on medium speed for about 5 minutes until light and fluffy.
Add in the vanilla and mix to combine.
Add in about half of the flour-chocolate mixture and combine on low speed. Add the rest of the mixture and mix to combine. Scrape down the sides of the bowl as necessary.
Add in the nibs and salt and mix to combine.
At this point the dough can be wrapped in plastic and stored in the refrigerator for up to a week.
To bake the cookies, preheat the oven to 325 degrees and line baking sheets with parchment paper or Silpats.
Roll out the dough between two sheets of parchment paper to 1/4-inch thickness.
Cut the dough into 1-in by 2 1/2-in rectangles or whatever shape you desire.
Place the shapes on the prepared sheets and bake for 15 minutes, rotating halfway. The shortbread should be slightly firm but not hard.
Let cool on wire racks.
The cookies can be stored in an airtight container for up a week.
And the site of the original Sugar High Friday.
Tagged with: SHF + Sugar High Friday + SHF#29 + chocolate + cacao nibs + nibby pecan cookies + chocolate shortbread + Alice Medrich + John Scharffenberger
Stumble this post!