While I'm dreaming of my next trip to Paris, a little piece of Paris has come to San Francisco: Pâtisserie Philippe.
This beautiful jewel box of a bakery takes me right back to the City of Light, with its gorgeous vintage lamp fixtures, opulent mirrors, and marble counter covered with every classic of the pâtissier's repertoire. Croissants and brioches spill out of baskets, fruit tarts and cakes gleam enticingly from trays, a ethereal bouquet of rose petal meringues each as big as my hand beckons from its airy perch above the display cases, and little bags of sablés and sugar cookies beg to be taken home and nibbled happily.
The patisserie is a dream realized for chef and co-proprietor Philippe Delarue, who began his career back in France in some of the noblest houses of pastry like Lenôtre, and who at one time had as his commis none other than a certain Pierre Hermé. Delarue gained many adoring clients in San Francisco who loved his traditional French pastries and elaborate wedding croquembouche.
Now he finally has a place where everyone can visit and have some of his dreamy éclairs, macarons, and breakfast pastries. It's hard, when faced with six different kinds of croissant and brioche and about twice that many types of mousse cakes and tartlets, to not want to just camp out in the shop until one is able to try everything.
Delarue also offers an extensive savory menu, so you are able to munch on everything from a tomato and mozzarella salad to a fabulous flaky quiche Lorraine to some earthy pâte de Campagne. Tucking into a classic ham and cheese panino made with a chewy baguette, I could imagine myself in any of those inimitable cafes strung along the Parisian boulevards.
Pictured are a couple of the treats we made off with one weekend afternoon, a mere tickle of the pleasures Philippe's has to offer: top of page, a pear frangipane strip, with sweet slices of pear on a gloriously fragrant frangipane nestled in a perfect-crisp crust. Note the thin layer of raspberry jam on the bottom of the frangipane.
A palm-size Paris-Brest, with delicately airy rings of choux sandwiching a sweet, intense hazelnut filling.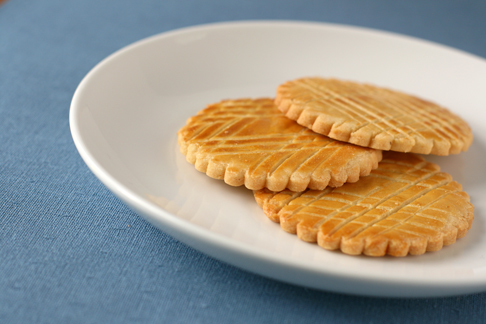 Sablés Bretons – those wonderful, toothsome butter cookies – crumble perfectly under the bite and are utterly addictive.
So while I'm waiting for my next visit to Paris aka Pastry Heaven, I'll be soothing my longings at Philippe's very charming and very delicious pâtisserie. If you're anywhere near San Francisco, you shouldn't miss it!
Pâtisserie Philippe
655 Townsend Street
San Francisco, CA 94103
415-558-8016
Open M-F 8-6, Sat 8-5
Tagged with: San Francisco bakeries + Patisserie Philippe
Stumble this post!