Organizing the the San Francisco Food Bloggers' Bake Sale was not only hugely fun, but also made me (and all the other participants) feel good about helping out Share our Strength. I was further impressed by the breadth of Share Our Strength's fundraising efforts when I learned they also organize a series of culinary benefits around the country called Taste of the Nation.
In about 40 cities around the US and Canada, Taste of the Nation pulls together chefs, wine professionals, and other sponsors to put on a night of mouthwatering food, creative cocktails, music, and fun. All the proceeds from ticket sales go to Share Our Strength, just as with the bake sale.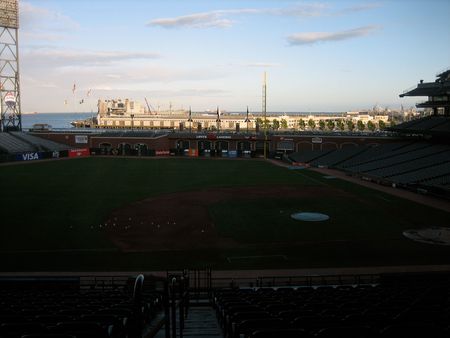 I was fortunate enough to get the opportunity to attend Taste of the Nation San Francisco a couple weeks ago courtesy of Foodbuzz, and I was able to give away an extra ticket to one lucky reader, Allison, who seemed to be enjoying the party as much as I was when I saw her! Taste of the Nation San Francisco took place in AT&T Park, our city's beautiful modern baseball stadium. The club level of the stadium had been transformed into a hall of delights, with chefs from San Francisco's restaurants offering up scrumptious little tidbits and mixologists pouring out some crazy libations! It was like a big, all-you-can-eat buffet dressed up as a an elegant cocktail party – with a thumpin, funk-and-disco tinged soundtrack to book (the fiance wanted me to make sure I gave props to the excellent DJ).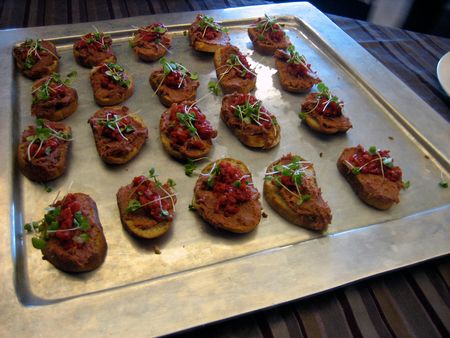 Calabrian salame crostino by barbacco.
I've been on a bit of a food-event bender lately, as I'm sure some of you have noticed, and in my stuffed-full-belly's opinion, Taste of the Nation was a real winner. I may be a little biased since SF is my hometown, but I thought the creativity and artistry displayed by so many local chefs just as, if not even better, than what I saw at bigger events like Pebble Beach, which showcased celebrity chefs from around the country. San Franciscans are fiercely proud of their food culture, and justifiably so after what I tasted that night.
The best part of the having local chefs as well is that if you love their food, their restaurant is right in town so there's no excuse not to have more of it! The fiance and I were able to get little tastes of some of our favorite restaurants we've been to and ones we've been meaning to go to. All the chefs were also very friendly and enthusiastic – definitely prepared for a food-savvy audience and eager to bring new customers to their places.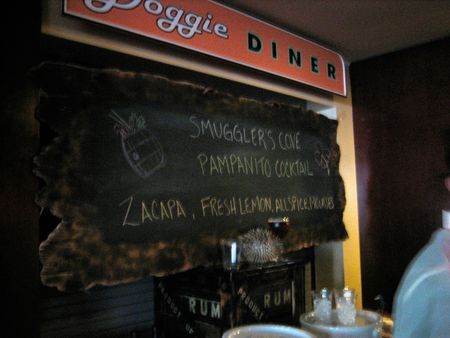 Smuggler's Cove, a bar in SF which resembles a cross between Pirates of the Caribbean and a mai tai lounge, was serving up some of their signature rum-based drinks.
Some of the most memorable dishes for me included: Paragon Restaurant's smoked cod and corn chowder (the portions at this event were quite generous; I could have filled up on this gloriously thick chowder alone!); Slow Club's duck rillettes with red onion and kumquat marmalades (now on the top of my list of restaurants to go to);  Aziza's chicken liver mousse topped with strawberries and balsamic (decadence perfectly executed); and Piperade's egg salad with marinated sardines (so fresh and flavorful).
Duck rillettes from Slow Club.

This shot of marinated sardines on chopped egg salad is a little out of focus because I was drooling too much to keep a steady hand on the camera.

Of course I also had to check out the sweet offerings, which didn't disappoint: a shot of Valrhona chocolate pot de creme bliss, topped with a pistachio macaron, from Mayfield Bakery; cute little mini cones of pomegranate martini sorbet and creamsicle martini ice cream from Silver Moon (they were auctioning off a chance to create your own custom ice cream flavor at the event!); and Elizabeth Faulkner's rainbow of macarons, in raspberry, dulce du leche, and blood orange.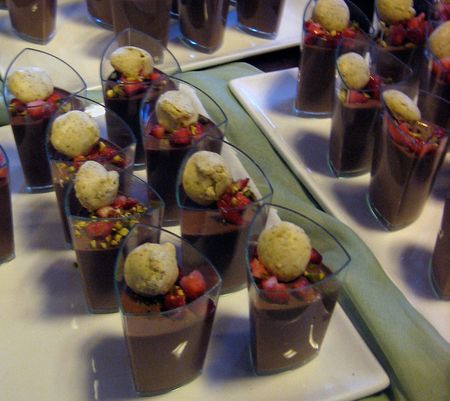 Chocolate pots de creme with pistachio macarons from Mayfield Bakery.

The Taste of the Nation event was three hours long – seems like plenty of time to pace oneself but due to all the food being so tasty and the portion size so generous I felt like I would burst! Fortunately we were able to slip outside, relax for a bit, and sip a beer underneath the stars, enjoying the cool San Francisco air and the slightly clandestine thrill of being in a mostly-empty ballpark.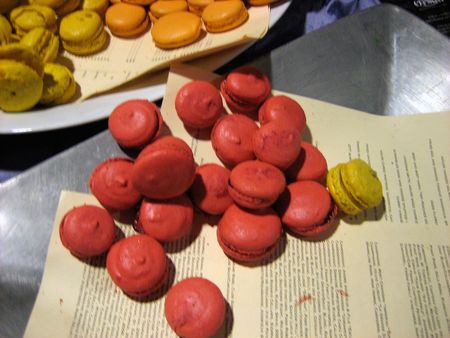 Elizabeth Faulkner's crayon-bright macarons.
If it wouldn't have been the most gauche thing ever I would have totally brought some takeout containers and taken away some of the leftovers for later! However the event appeared to be a rousing success as several chefs ran out of food and shut down their stations before official closing time! I thought this was one of the best-run events I&#3 9;d been to in a while – plenty of happy, well-dressed people but not overcrowded; beautifully crafted food and the chance to learn more about many of the stars of the SF dining scene, and the knowledge that everyone there was contributing to the same cause. I had a great time if Taste of the Nation comes around to your part of town, I think you'd have a fab time as well! See Taste of the Nation page for more information, and note you can also sign up to volunteer at the events!
Disclosure: I was given two tickets from Foodbuzz to attend Taste of the Nation San Francisco.