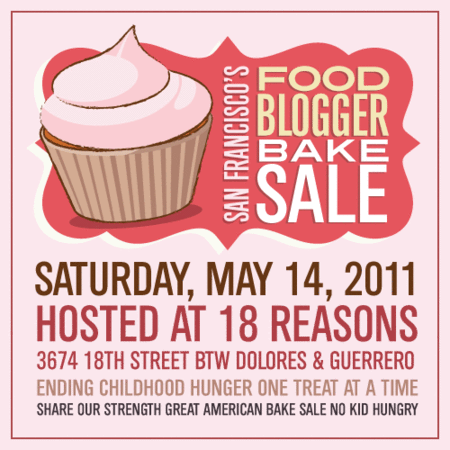 It's been almost a year since the first San Francisco Food Bloggers Bake Sale, and the time has come to plan for the 2011 bake sale!
Last year, food bloggers across the country banded together to hold bake sales in their hometowns in support of Share Our Strength, a national organization dedicated to ending childhood hunger. The San Francisco bake sale was a fabulous success, raising $1650 in one day. On May 14 this year, bake sales will be again held by food bloggers everywhere, with all proceeds donated to Share Our Strength.
I'm excited to be joined this year by some other local baking bloggers, who are volunteering their time and talents to make this the most well organized bake sale ever. Irvin, Shauna, and Annelies, all participants in last year's bake sale, are now enthusiastic co-organizers. Because of that, we have set up a separate page for the San Francisco Food Blogger Bake Sale where you can sign up to participate or check for updates.
We have a new, bigger location for the bake sale this year: 18 Reasons, a local community center focused on art and food. They host a variety of classes and events celebrating food throughout the year. We're thrilled to be able to hold our bake sale in their beautiful space.
What are the San Francisco Food Blogger Bake Sale details?
When: Saturday, May 14
Where: 18 Reasons, 3674 18th Street, San Francisco, CA
How can you help?
If you live in the Bay Area and you want to participate in the bake sale, please go to the SF Bake Sale website and sign up to volunteer! It doesn't matter if you have a food blog or not, only a desire to bake! We need volunteers to help bake up goods to sell, and I would love a chance to meet all you local foodies! Bring a plate of cookies or a cake, whatever you feel like contributing!
If you aren't able to bake up something, please come by and help support us! Purchase something yummy and make a donation to Share our Strength!
If you don't live near San Francisco but would still like to participate, check Gaby's page (the national organizer) to see if there's another bake sale going on near where you live.
Here is some additional information on Share Our Strength and The Great American Bake Sale.
See my recap of last year's bake sale to see a bit of all the excitement.
I hope to see you all at the new bake sale homepage, and to see you May 14 at the bake sale!