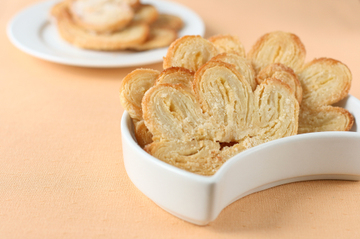 After last week's adventure with the apple and almond tart, I still had some puff pastry left over. Anyone who's made (or eaten) puff pastry knows it would be a crime to let this airiest and most wonderful of doughs go to waste. Therefore, some suitably scrumptious uses were quickly scrounged up. These recipes were adapted from Sherry Yard's excellent The Secrets of Baking
; she has a very complete and elegant chapter on laminated dough, puff pastry included.
The first, one of the most fabulous uses of puff pastry, was a batch of sugar crystal-encrusted, meltingly flaky palmiers. Making palmiers is like making that little origami box that magically unfolds into a sphere when you twist it the right way. You make a few folds and presses with your puff pastry dough, being sure to liberally sprinkle sugar whenever possible, cut slices off the accordianed log, and watch as they bloom and unfurl in the oven into delicately caramelized flowers. If you love puff, this is the way to enjoy it: no fillings or embellishments to get in the way, just layers and layers of crisp, buttery bliss.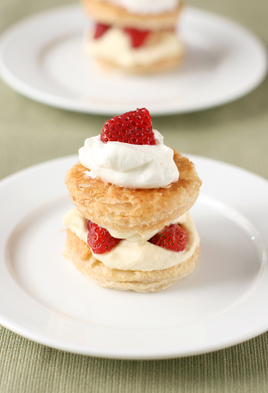 Mille-feuille with Pastry Cream and Strawberries
A very classic use of puff pastry, the mille-feuille, or napoleon, which alternates layers of the crisp pastry with a creamy filling of choice, usually pastry cream. Like a sonnet, the strict form of the mille feuille along with a certain flexibility regarding the components allows for wonderfully wide and varied interpretations: the fillings have ranged from whipped cream to chocolate ganache to fruit, and the puff pastry itself has been flavored with chocolate or other flavors more exotic. Now, I see "mille-feuille" quite commonly used to refer to any dish consisting of alternating contrasting elements, savory or sweet – I think it appeals to the architect in all of us when presented with these tiny, carefully constructed towers of crunchy, smooth, juicy, velvety. My mille-feuille uses a traditional pastry cream lightened with whipped cream, along with some of the season's first strawberries.
Apple Turnovers
Okay – this is worth making a batch of puff pastry from scratch, if you haven't any scrap lying around. This is breakfast on a chill, robin's egg-blue morning, or dessert with vanilla ice cream on a cozy, curled- up-on-the-couch evening. Or any time you want hot flaky pastry enrobing tender, cinnamon-vanilla apples. With sugar on top. I loved making these – the apples were quickly sautéed in a pan with butter, cinnamon, and sugar to soft caramelized perfection. Rolling and cutting the puff pastry into squares, and then spooning in the filling and folding the pastry over into a neat triangle. was reminiscent of all the times I spent making wontons with my mother.
And watching the turnover bake is a pleasure, just as is any project involving puff pastry. Seeing the little triangle slowly puff and expand exuberantly, the individual layers becoming crisp and distinct – it's like a clarion message from the pastry saying, "Yes, I am becoming delicious!"
Making puff pastry, or any laminated dough, is by necessity an investment in time and effort, with rewarding results. For those without the time, you can make blitz puff, which is a shortened but in my experience quite satisfactory alternative to the entire puff pastry process. Instead of a détrempe (dough) and beurrage (butter block) that are layered, folded, and turned, the butter is simply cut into the flour much like with making pie crust, and then the dough is folded over several times, creating the layers that puff up just like with traditional puff pastry. While it will of course not have as many layers and thus not rise as high, blitz puff is just as buttery, flaky, and delectable as its more refined cousin.
Whichever way you make your puff, you really can't go wrong – you'll have a marvelous base for any of these desserts – and probably an urge to go get more butter so you can make more pastry!
Blitz Puff
makes (4) 9″ circles or about 8 turnovers
10 ounces all purpose flour
10 ounces unsalted butter, very cold, cut into 1-in pieces
3/4 tsp salt
90 ml water, ice cold
Combine the flour and butter in the bowl of a stand mixer. Mix the ingredients together on low speed  until the mixture is shaggy and resembles cornmeal, with visible pieces of butter still. Do not let the flour and butter turn into a solid ball of dough – if the components are completely mixed you will not have the layering of flour and fat needed to form the flaky layers!
Add the salt to the mixture. Pour in the water and mix on low speed just until the dough starts to come together; again, don't let the dough turn into one solid lump. There should still be little pieces of butter and the dough should be sticky.
Turn the dough out onto a well-floured surface and form into a square. If the kitchen is warm and the dough is very soft and sticky, place it on a sheet pan and chill in the refrigerator for about 10 minutes until it firms up enough to work with.
Using flour as necessary to keep the dough from sticking, roll out the dough about 1/2 inch thick and in the shape of a rectangle. The dimensions are not important – a roughly rectangle shape is fine, but try to keep the edges straight and square with each other so when you fold the dough over the edges will line up evenly.
To do a single turn on the dough, imagine the long side of the rectangle divided into thirds. Fold one end third over onto the middle third, then fold the other end third over on top, making a trifold. Make sure the edges are lined up as evenly as possible.
Roll the trifold out again to about 1/2″ thickness and in the shape of a rectangle, switching the directions of the long and short sides – in other words, the folded sides of the trifold should become the long side and the open sides should become the short side.
Do another turn (trifold) with this rectangle.
Repeat this process one more time so you have done a total of three turns. If at any point the dough starts becoming very soft or rubbery, let it rest in the refrigerator for a little bit before working on it some more.
Roll the dough out into a rectangle. This time, do a double turn – imagine the long side of the rectangle divided into fourths. Fold both end fourths over onto the center fourths, then fold the two sides together again so all four layers are stacked on top of each other. Wrap the dough up completely in plastic and refrigerate until ready to use.
Apple Turnovers
adapted from Sherry Yard's The Secret of Baking
makes about 8 turnovers
3 apples (I used Fuji), peeled, cored, and cut into 1/4-in cubes
1/3 cup sugar
1 teaspoon cinnamon
1/2 tsp vanilla extract
1/4 cup lemon juice
3 Tbsp unsalted butter
1 recipe Blitz Puff
1 egg for egg wash
Turbinado sugar
For the filling: Toss together the apples, sugar, cinnamon, vanilla, and lemon juice in a large bowl.
Melt the butter in a sauté pan until it golden and starting to brown.
Add the apples and sauté until the apples have softened and are caramelized, about 10 minutes.
Remove the apples from heat and let cool completely.
To assemble the turnovers: Take the blitz puff dough and roll out to 1/4″ thick.
Use a ruler and a knife or pizza cutter to divide the dough into 4 1/2″ squares – you should get about 8.
Make an egg wash with an egg and about a tablespoon of water whisked together.
Brush the four sides of a pastry square with the egg wash.
Place a spoonful of apple filling in the center of the square. Be careful not to overfill or you won't be able to close the turnover.
Fold one corner of the pastry over to meet with with opposite corner. Press the edges together, using a fork to make a seal.
The turnovers can now be wrapped and stored in the freezer for about a week. If you want to bake them off, I suggest you still place them in the freezer for about 10 minutes to help them bake up better.
Heat the oven to 400 degrees. Line a baking sheet with parchment paper.
Place the turnovers on the prepared sheet. Brush the tops with egg wash and sprinkle with turbinado sugar.
Bake the turnovers for about 10 minutes, then rotate the pan, turn the oven down to 350 degrees, and bake for another 10 minutes or so until the turnovers are puffed and golden brown.
Remove from oven and let cool slightly before serving. You can store them in an airtight container for up to 24 hours.
Tagged with: puff pastry + palmiers + mille-feuille + apple turnovers + Sherry Yard
Stumble this post!