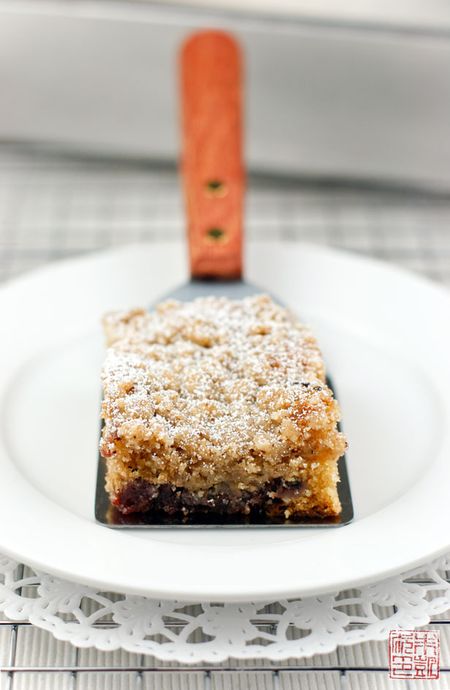 Thanks to everyone who entered the Daily Gourmet/NewTree giveaway! The five winners are: Michelle, Jessica, Jessicah89, Debbie, and Kristin! Congrats to you all!
We had company last week: my brother-in-law had the honor of being our first houseguest to use our (finally)properly fitted out second bedroom. (Previous guests enjoyed the luxury of our living room couch while the second bedroom served as our glorified storage closet). The organization of our place has reached a kind of halfway inertia, like the interminable midpoint of a marathon. All our public spaces are perfectly presentable – on most days, at least, while we take advantage of the doors to all our private bedrooms to hide the multitude of home-decorating failures: bare walls, still-unpacked boxes, miscellany and ephemera as yet unsorted. Another roadblock to my dream of a fully-organized home: we need more bookshelves. Currently about 60% of my book collection is homeless, meaning my floor is a constantly-morphing library as I pile and un-pile books over each other. (This is only a pseudo-complaint, though, as I really love my books too much to ever begrudge my lost square footage).
However, there's nothing like a visiting guest to kickstart the home-organizing process. Or to provide a reason to bake a little welcome treat to leave on the counter. One of my first favorite recipes when I started baking was this coffee cake made with cream cheese and swirled with raspberry jam. It evolved over the years into its current incarnation, with sour cream and a topping of hazelnut streusel. I sprinkle my streusel over the top of the coffee cake, but you can also swirl it into the cake batter if you like a contrasty layer in your coffee cake. I also threw in some cocoa nibs I had to add another dimension of flavor. The result is your classic golden, pillowy coffee cake, moist with a ribbon of jam, and a crunchy, buttery-nutty top. Just the thing to make someone feel right at home.
Streusel

1/2 cup (2 1/2 oz)

all purpose flour

1/4 cup

ground toasted hazelnuts

1/2 cup (3 1/2 oz)

sugar

1/8 teaspoon

salt

5 tablespoons (2 1/2 oz)

unsalted butter, chilled

Cake

1 1/4 cups (6 1/4 oz)

all purpose flour

3/8 teaspoon

baking powder

1 teaspoon

baking soda

1/4 teaspoon

salt

1/2 cup (4 oz) plus 1 tablespoon

unsalted butter, room temperature

1 cup (7 oz)

sugar

2

large eggs

2 1/2 teaspoons

vanilla extract

3/8 cup (90 g)

sour cream

1/2 cup

raspberry jam

2 tablespoons

cocoa nibs
For the streusel: Combine the flour, hazelnuts, sugar, and salt together in bowl of food processor.
Cut the butter into small cubes and add to the flour mixture.
Process until mixture resembles small peas. Do not let it combine fully into one ball of dough.
Refrigerate streusel until ready to use.
For the cake: Preheat oven to 350 degrees F. Butter and flour a 13" x 9" x 2" baking pan.
Sift flour, baking powder, baking soda, and salt together into a medium bowl and set aside.
Combine butter and sugar together in a stand mixer and beat together until light and fluffy.
Add in flour mixture and beat until mixture just begins to come together into a dough.
Combine eggs, vanilla, and sour cream together in a small bowl. With the mixer running on low speed, pour the egg mixture slowly into the bowl. Mix until the batter is smooth and fully combined, about 3 to 5 minutes.
Pour the batter into prepared pan and spread out evenly. Use a spoon to place 8-10 dollops of raspberry jam over the top. Sprinkle the cocoa nibs over the top of the batter as well. Using a knife, swirl jam and nibs into the batter to marble.
Sprinkle streusel over the top of the swirled batter.
Bake for about 25 to 30 minutes, until top is brown and a cake tester inserted into the center of the cake comes out clean. Remove from oven and let cool before serving.