I had an over-the-top, amazingly full weekend, the kind that starts on Thursday afternoon and doesn't end until you're catching your breath on a wickedly warm Sunday evening. Too much to share, and some bits I'm saving for a future post, but I did want to talk about a big part of my Saturday: the Bake Sale for Japan.
A series of bake sales around the Bay Area organized to raise money for Japan, this event brought together amateur and professional bakers in a happy mashup of cookies, pies, jams, and all other forms of baked goods. I stopped by one of the San Francisco bake sales, located at Bi-Rite, with my contributions (more on them below) and snapped a few pictures of the bounty on display:
There was barely room on the table for all the contributions. The outpouring of support from the baking community was lovely to see.
Everything was beautifully packaged – people really went the extra mile to make their goods look pretty.
A young customer trying to decide what to buy.
How sweet is that packaging?
I ran into Irvin at the bake sale, and we both commented on how inspired we were to make our own upcoming bake sale just as fun and successful. If you haven't visited the San Francisco Blogger Bake Sale page, do so and support Share Our Strength – another cause worthy of a bake sale.
But back to the bake sale of weekend past: I seized the opportunity to use some Japanese ingredients loitering in my pantry. The results were Green Tea Cookies (out of my Field Guide to Cookies) with chocolate ganache filling, and Coconut Cupcake with Yuzu Buttercream.
These cupcakes earned a big thumbs up from the hubby. They are based on a coconut cake recipe from my pastry school, turned into cupcakes. I love the taste of coconut but I'm not really fond of the chewy texture of coconut shreds, so there is no shredded coconut in this recipe. All the coconut flavor (and much of the moistness) comes from coconut milk. If you're a fan of shredded coconut, you can add in half a cup of it to the batter – it will just enhance the flavor. Also, because I felt all scientific method-like, I threw in a bit of coconut extract into part of the batch. Both hubby and I agreed it contributed virtually nothing to the end result. So stick with the real thing – coconut milk – to fulfill your cravings.
The buttercream is a simple Swiss meringue buttercream with yuzu juice added – you can use lemon juice if you can't find yuzu juice. Combined, the yuzu and coconut give this cupcake a lusciously tropical feel; tangy yet rich at the same time. A sprinkle of vanilla sugar on top adds a last bit of textural contrast. I like all the shades of ivory and pale yellow in this cupcake.
The green tea cookies are a riff on shortbread with some matcha powder mixed in. I found a cherry blossom cookie cutter in my cupboard and cut out little flowers to turn into sandwiches with a little chocolate ganache (ok, maybe not the most original, but it was what I had in my cupboard and it was 11 PM the night before the bake sale. I tried).
It's fun to bake for myself, but it's so much more fulfilling to bake for others. I hope these treats found a happy home in someone's stomach, and I hope they helped in some small way to help our friends across the ocean.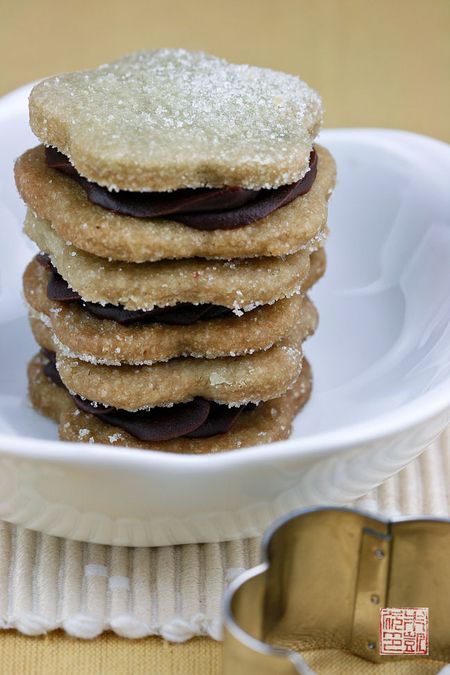 Cupcakes

2 cups (10 oz)

all purpose flour

2 1/2 teaspoons

baking powder

1/2 teaspoon

salt

1 cup (8 oz)

unsalted butter, room temperature

1 1/2 cups (10 1/2 oz)

sugar

3

large eggs, room temperature

1 cup

coconut milk, room temperature

Buttercream

1 cup (7 oz)

sugar

4

large egg whites

1 1/2 cups (12 oz)

unsalted butter, room temperature, cut into 1-in pieces

2 1/2 fl oz

yuzu juice

1 teaspoon

lemon juice
For the cupcakes: Preheat the oven to 350 degrees F. Line a muffin tin with cupcake papers. (you will probably need two).
Sift together flour, baking powder, and salt in a small bowl.
Combine butter and sugar in bowl of a stand mixer. Beat with paddle attachment on medium speed until mixture is light and fluffy.
Add in eggs one at a time, letting each one combine fully before adding the next.
Add in the flour mixture and coconut milk in five alternating additions, starting and ending with the flour. Combine just until the flour is incorporated.
Divide batter among prepared muffin tins, filling just below the tops of the papers.
Bake for 24-30 minutes, until tops are golden brown and a tester inserted in the middle comes out clean. Let cool on wire rack.
For the buttercream: Combine the sugar and egg whites in a medium heatproof bowl and place over a pan of simmering water.
Whisk the sugar mixture constantly over heat until the sugar is dissolved and the mixture looks smooth and shiny, about 3 minutes.
Remove mixture from heat and pour into a stand mixer bowl. Whisk on medium speed for about 5 minutes until the mixture has cooled.
Switch to the paddle attachment and with the speed on low, add the butter a few pieces at a time, beating until smooth.
When all the butter has been added, beat the buttercream on medium-high speed for about 6-10 minutes until it is very thick and smooth.
Add in the yuzu and lemon juice and beat until combined.
The buttercream is ready to be used. Place a piece of plastic wrap against the surface until you are ready to use it to prevent it from drying out.
Fill a piping tip fitted with a #6 star tip with the buttercream and pipe onto cupcakes.