When the hosts of the month for Daring Bakers are none other than the intrepid founders themselves, Ivonne and Lis, you know it will be something special indeed. These two lovely ladies who have created the web's most wonderful baking community, along with Fran of Apple Peaches Pumpkin Pie and Shea of Whiskful chose a beautiful and very apropos challenge for all who dare to bake: the Opera cake.
The very first time I made opera cake in pastry school, I felt like I'd scaled a baker's Everest, one made of cake and chocolate and cream and sugar. Like all the hard-core classics of French pâtisserie, opera cake offers a full-scale obstacle course to surmount: whipping egg whites, making joconde, mixing up buttercream, assembling multiple centimeter-thin layers of cake…anyone who finishes an opera cake should certainly feel the happy glow of accomplishment!
There's so much to learn from the opera cake: for example, the joconde is an almond genoise. Genoise is the French form of sponge or chiffon cake; these cakes are distinguished by the lack of leaveners in their batter. The only leavening in these cakes comes from the air whipped into the egg whites or eggs, which gives an added dimension to what's going on when you turn on your mixer. Unlike classic butter cakes, where you simply combine all the ingredients with a bit of baking powder or soda and let the chemicals do their thing in the oven, when making a genoise awareness of your actions becomes paramount. If you don't whip the eggs enough, there won't be enough air in the batter to let it rise. If you fold the ingredients together too roughly or let the batter sit out too long, you risk letting the air bubbles deflate, again losing that critical component of a genoise.
Some may prefer the robust, gloriously thick butter cake of American layer cake fame to the finicky, delicate sheets of genoise, but I find they both have their unique charms. Genoises are essential to the refined elegance of petit fours and other tea-time pastries; with the French penchant for individual-sized cakelets, you need thin, light layers for an effective presentation. The classic opera cake, which is composed of seven layers of cake, buttercream, and ganache, should be less that 1.5 inches total in height, meaning you've got to be pretty precise with all your pieces.
Then there's the buttercream: Ivonne and Lis chose a rich French buttercream for the opera cake filling. French buttercream is always a favorite because of its creamy, buttery flavor, but it can also melt faster because of its high fat content – I think I saw several DBs commenting on the softness of the buttercream. You need to work quickly with this buttercream, and don't be afraid to chill it if it's getting too soft. Myself, I tend to be more partial to the Italian meringue buttercream, because it's more stable and workable, and because it forces me to get over my fears about sugar cookery. Whichever form of buttercream you use, be sure to keep the layers of buttercream about the same thickness as the genoise layers – the genius of opera cake is the balance of textures and flavors between all the various components.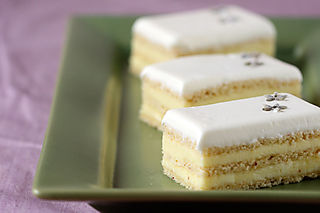 Finally, the top: classic opera cake is indelibly distinguished by its glossy smooth chocolate topping and swooping "l'Opera" writ in chocolate across the surface. But these days, all the classics are being interpreted and re-invented, and it's not surprising to find opera cake in all guises. I have to say one of my favorite versions is still Sadaharu Aoki's matcha version, which I tried to recreate. Ivonne and Lis specified a light-colored theme for the Daring Bakers challenge, and generously let us play around with flavors of our choosing. My mind immediately drifted to a lemon-lavender theme, and that's where I ended up: an opera cake brushed with lemon simple syrup, layered with lemon buttercream, and topped with lavender white chocolate mousse. Sweet, springy, and still lusciously decadent: I'd like to think French would approve of the modifications!
*By the way, for those that had trouble with making the white chocolate ganache mousse, I think the reason is that making a ganache with white chocolate and cream is quite different from making a ganache with dark chocolate. White chocolate is almost all fat, as is cream. Combining so much fat together can be almost impossible; overagitating the mixture will result in a clumpy curdled mess. The best strategy is to keep the cream and chocolate as cool as possible. Whip the cream to soft peaks, and then fold the melted chocolate in by hand. You can chill the mixture in the refrigerator to firm it up; this method is safer than trying to whip the ingredients together.
I always enjoy an opportunity to remake this pastry classic, and I especially enjoyed doing with all my fellow Daring Bakers! Thanks to Ivonne and Lis for creating the DB version of the opera cake – and for  inspiring hundreds of beautiful and scrumptious variants of this fabulous dessert!
This lemon and lavender opera cake is also dedicated to Barbara of winosandfoodies. Barbara is the founder of A Taste of Yellow, and I'm glad to have an appropriately-hued dessert to celebrate LiveStrong Day!
Tagged with: opera cake + lemon lavender + daring bakers + LiveStrong Day