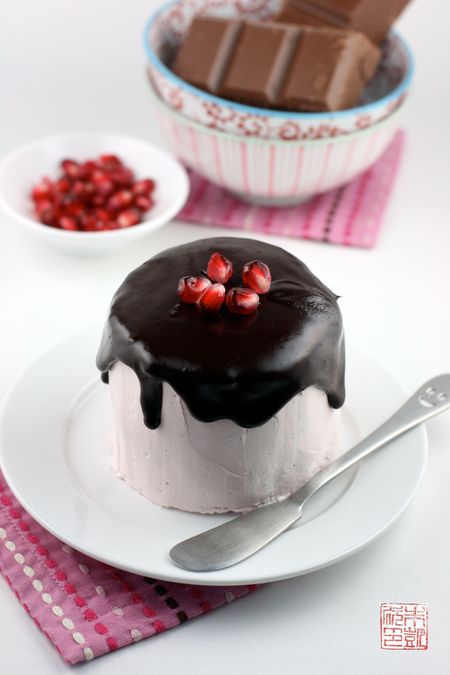 Thanks to all of you who made it out to my book party last weekend! We had a brisk fall afternoon, a lovely crowd, and chocolates for all! I was flattered that so many guests commented on the Vanilla Bean Chocolates I made, when there's so much good chocolate to be found in the city!
Also, for those of you who wrote in asking about seed chocolate, I've amended an explanation to the previous post to make it more complete. I realize I kind of breezed right by a definition of the term. The method of tempering using seed chocolate is also explained in detail in my new candy book.
Not only do I love fall for the slow shift in weather (it's like the sky has put on its own soft grey sweater, and the air smells of change, all leaves and smoke and spices), but because of all the new cookbook releases. After falling in love with about half of the selection at Omnivore Books, what a nice surprise to come home and find a review copy of Dede Wilson's Unforgettable Desserts
waiting for me!
Going through the cookbook-writing process myself has made me ever more cognizant of the intricacies of book production, and it always gives me a frisson of sensory pleasure to open a beautifully designed book. Unforgettable Desserts is a pleasure to hold in your hands and leaf through. The fuchsia-and-cocoa color scheme, the clean, thoughtful layout of the recipes, the crisp photography, all make this cookbook a joy to devour.
I'm not exaggerating with the last sentence: Wilson has assembled a collection of desserts ranging from homey to sophisticated, with descriptions that often made me wish I could just reach into the book and pull out the cake or tart in question to eat immediately. Most of her recipes are inventive takes on classic desserts, which give them both the reassuring feel of the familiar and the thrill of culinary inspiration. For example, butterscotch-pecan brownies with whiskey-soaked raisins elevate the brownies to a delightfully adult level, while a red and purple plum tart with marzipan crumble sounds like a cute play on the classic combination of plums and almonds. Wilson has got a knack for naming her creations – who wouldn't want to try making Thousand Leaves with Blackberry Pastry Cream or Melon Ribbon Tartlets or even The Giant Cream Puff?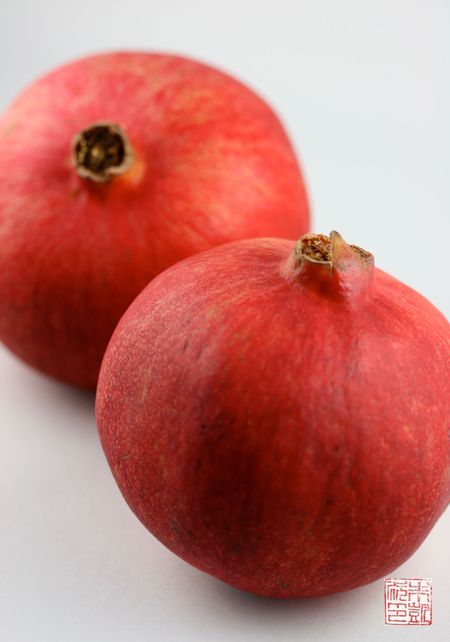 In deciding which recipe to try out first, I was drawn to the Pomegranate-Chocolate Mousse Cake, mainly because pomegranates seem to be everywhere these days. Aside from their fantastically tart flavor, pomegranates are such a vividly beautiful fruit. It's almost as if they were made to be art, with their blood-red arils suspended in white pith like paintdrops flung across snowy canvas.
You know what else is a snowy canvas? The nice white walls of my new kitchen. If you haven't cut open a pomegranate before, here's my advice: don't do it near anything you don't want stained. Extracting the arils of a pomegranate is ridiculously messy, almost satisfyingly primal affair, and if you don't want to leave permanent evidence of it, I'd stay away from white walls. I found it safest to do it in the sink over a bowl of water (hurray for new deep sinks!). I suggested my bf do the same when he wanted to eat up the remaining pomegranates from my baking, but he decided he didn't need to. I caught him scrubbing down the walls later:)
This buttercream layer cake does use pomegranate arils for decoration, but most of the pomegranate flavor comes from pomegranate juice and pomegranate molasses (which smells like heaven, by the way). One thing I noted about Wilson's book is that she is very precise about her ingredients – she gives the name of the pomegranate juice and molasses she uses, the exact brand of chocolate, flour, butter, etc. she prefers – in greater detail than most cookbooks. It's useful for those who may not have ready access to unusual ingredients and would appreciate specific brands, or for those who just want to know what brands the author uses. I often get asked, "What brand of chocolate do you prefer?" or "Where did you find ingredient such-and-such?" so this seems like a smart move on Wilson's part.
Part of the reason I was drawn to this cake is that Wilson describes being drawn to the combination of pomegranate and chocolate over her old favorite of raspberry and chocolate. Since I'm an ardent raspberry and chocolate fan, I was curious how this alternate pairing tasted.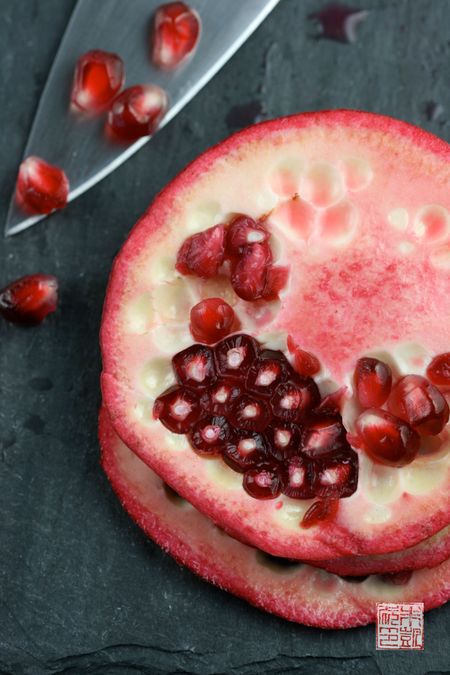 The recipe also allowed me to test out several of Wilson's basic components:the cake is composed of her basic chocolate cake layered with a milk chocolate pomegranate mousse. The cake is spread with a pomegranate buttercream and topped with a dark chocolate pomegranate ganache. Whew!
Everything came together pretty much seamlessly: the recipes are well written and flow smoothly. The pomegranate flavor comes through in the simple syrup brushed on the cake and the ganache, which are both made with pomegranate molasses. This ruby-hued stuff is like pure pomegranate concentrate and really adds a nice jolt of tart, fruity flavor. The chocolate cake is dark and moist as advertised, but I thought the pomegranate simple syrup really elevated it and helped meld the two main flavors together. The recipe called for making the Italian meringue buttercream with pomegranate juice, which would give it flavor and color. I found the intense red of the juice turned into a duller brownish-red, especially after it's been heated to make the meringue, so I added a few drops of pink food coloring to get the delicate hue I was envisioning. I'm not really a milk chocolate fan, and I thought the flavor of the pomegranate juice got lost in the mousse, but it does combine well with cake to create that perfect creamy cake-plus-filling bite, and the toppings contribute more than enough pomegranate-ness.
The result is an intense little number with zingy pomegranate playing off of the dark chocolate notes. It really is similar to a raspberry-chocolate combo, a happy discovery for me since I can now make this when raspberries aren't in season and vice versa.
I'm proud to give Unforgettable Desserts a place on my bookshelf, and I'm sure I'll be making many more recipes from there this fall!
P.S. I did a interview for the C&H newsletter (Domino on the East Coast). I'm thrilled to share the newsletter with Emily Luchetti, one of my favorite pastry chefs. Both of us share our favorite holiday sweet recipes, so click on through!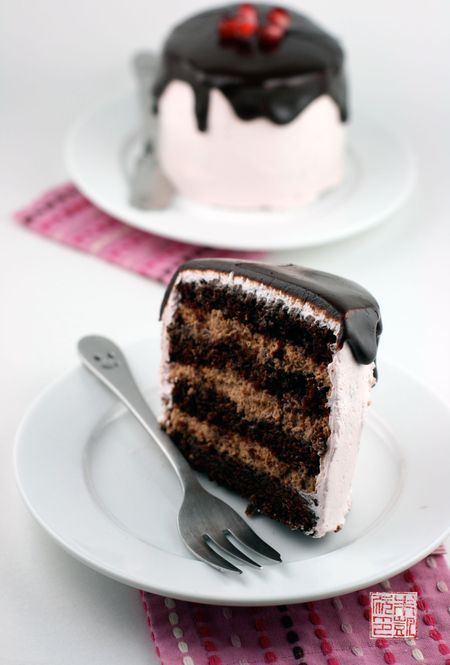 Pomegranate Chocolate Mousse Cake
This recipe uses Wilson's chocolate cake and italian meringue buttercream recipes. Because reproducing them all would make this post very lengthy and I don't want to give away too much of her material, please use your favorite chocolate layer cake recipe that makes (2) 9″ round layers and italian meringue buttercream that makes about 2-3 cups of buttercream.
Milk Chocolate Pomegranate Mousse
9 ounces dark milk chocolate, such as Valrhona Jivara 40%, finely chopped
1/3 cup pomegranate juice
1 1/2 cups heavy cream
Simple Syrup
1/3 cup sugar
1/3 cup water
1/3 cup pomegranate molasses, such as Al Wadi
Pomegranate Ganache
1 cup heavy cream
9 ounces semisweet chocolate, such as Ghirardelli 45%, Callebaut 52%, Valrhona Equitoriale 55%, or Bissinger's 60%, finely chopped
1/4 cup pomegranate molasses
For the mousse: Combine milk chocolate and juice in a double boiler or heatproof bowl over a pot of simmering water.
Melt chocolate, stirring until combined and smooth. Remove and let cool.
Whip cream to soft peaks.
Fold in the chocolate. Cover the mousse with plastic wrap and refrigerate until firm enough to spread or overnight.
For the syrup: Combine sugar and water in a small saucepan and stir to combine.
Bring to a boil. Remove when all the sugar has been dissolved.
Let cool and whisk in molasses to combine.
To assemble the cake: Level chocolate cake layers and slice each layer horizontally into two layers. Place one side bottom side down on a cake round and brush with the sugar syrup.
Spread a layer of mousse on top. Place another layer of cake on top and repeat process two more times.
Place last layer of cake on top and brush with sugar syrup. Refrigerate cake until mousse is firm, about 1 hour.
Make buttercream during this time. When you are ready to frost the cake, apply a thin layer of buttercream all over tops and sides the cake as a crumb coat. Refrigerate for an hour to let set.
Apply final coat of buttercream, spreading evenly all over top and sides of cake. Chill cake while you make the ganache.
For the ganache: Place chocolate in a medium heatproof bowl.
Place cream in a small saucepan and bring to a boil over medium heat.
Pour cream over chocolate. Cover bowl and let sit for 5 minutes.
Stir cream and chocolate until chocolate is melted and mixture is smooth.
Whisk in pomegranate molasses. Let cool slightly but do not let set.
Pour ganache over the top of the cake, letting it drip irregularly down the sides. Refrigerate until ganache has firmed, about 1 hour.