Italian Cherry Tart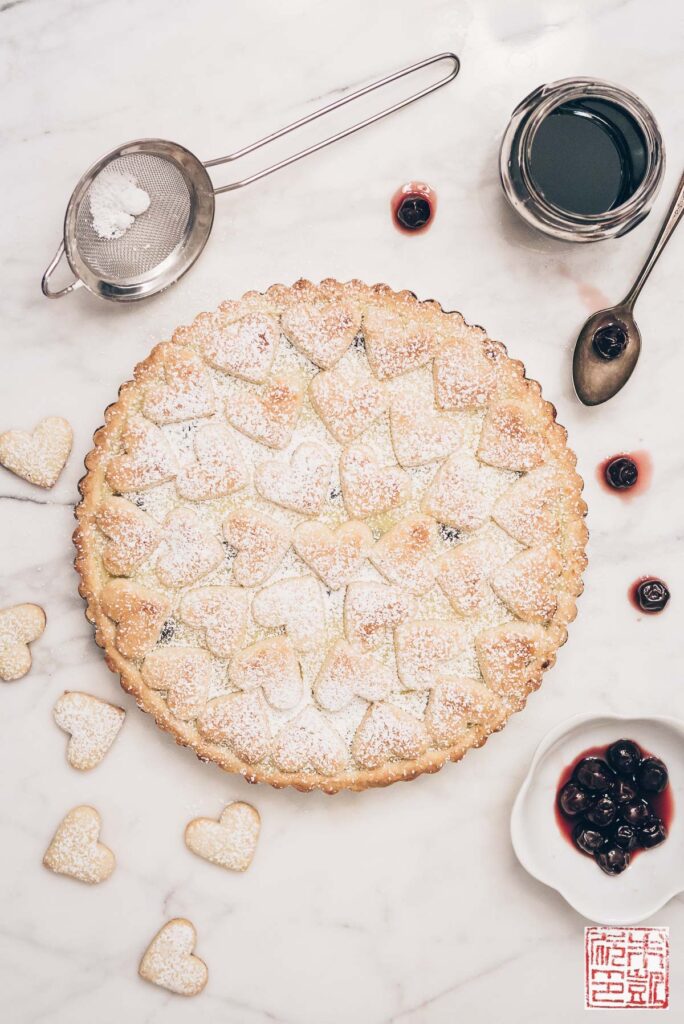 Serves:
(1) 9" round tart
3 cups (396 g) all purpose flour
¾ cup (150 g) sugar
1½ teaspoons baking powder
¼ teaspoon salt
¾ cup (170 g) unsalted butter, cold, cut into 1-in pieces
2 large eggs
1½ teaspoons lemon zest
2 cups whole milk
4 large egg yolks
¾ cup (150 g) sugar
¼ cup (32 g) cornstarch
¾ teaspoon vanilla extract
1 9-oz jar of cherries in syrup, drained
1 egg white for egg wash
Combine flour, sugar, baking powder, and salt in a food processor.
Add in butter and process until pea sized.
Add in eggs and lemon zest and pulse until dough comes together.
Divide dough into two and form each into a flat disk. Wrap in plastic wrap and refrigerate at least 1 hour to let firm up.
Place milk in a small saucepan. Heat on the stove over medium heat until bubbles appear on the edge of the pan - do not let come to full boil.
Meanwhile, whisk together the egg yolks, sugar, and cornstarch in a medium bowl.
Pour the hot milk into the egg mixture, whisking constantly to prevent the eggs from cooking.
Return the entire mixture to the saucepan and cook over medium heat, whisking constantly until the mixture thickens. Stir in the vanilla.
Scrape the pastry cream into a bowl, press a piece of plastic wrap to the surface, and refrigerate until needed.
Preheat oven to 375 degrees F. butter and lightly flour bottom and side of a 9" tart pan with removable bottom and at least 1-in high sides.
Roll out one pastry disk between two pieces of parchment paper to about 12 inches round and ¼" thick. Use flour as necessary. Invert dough into tart pan and press into bottom and sides. Trim pastry with a knife so it is even with pan edge. Place back in refrigerator to chill.
Roll out second pastry dish between to pieces of parchment paper to about ¼" thick. Use a 1" heart cookie cutter to cut out about 40 hearts. Place back in refrigerator to chill while you fill the tart.
Spread half of the chilled pastry cream over the bottom of the tart.
Distribute the cherries evenly over the pastry cream. Spread the remaining pastry cream over the cherries - they will not be fully covered but that's ok.
Arrange the pastry hearts over the pastry cream,
Brush the top of the hearts and tart crust with the egg was.
Bake tart for about 32-35 minutes, until the pastry cream is set and the top of the tart is golden brown.
Cool tart completely on wire rack. Dust with confectioners' sugar before serving.