After cookbook recs, here's my holiday gift guide 2016. Just a couple weeks left until Christmas! While I've been crossing names off my Christmas list, I've also been adding more and more items to my own wish list – occupational hazard of shopping? Does this happen to anyone else? So much for being virtuous and in the Christmas spirit – now that everyone else's presents are squared away I'm left to daydream about what I'm hoping to see under the tree.
Instead of the usual baker's dozen (ha) of must-haves for the baker, like stand mixers, baking mats, and the like, here are some more eclectic but hopefully just as sweet picks – a dessert lover's holiday gift guide, if you will. Some things to help me when I'm baking something sweet, and some things when I'm just craving something sweet; a collection of my favorite things I've spotted throughout the year.
King Arthur Flour Chocolate Butter Cookie Set
Every holiday season you see tins of those shortbread cookies covered in chocolate at all the fancy shops. With King Arthur Flour's Chocolate Butter Cookie Set you can now make your own. I love the elegant tin and the vintage-inspired molds. Check out the recipe for using this set on their website.
Heath Ceramics Hot Cocoa Set
Who can say no to anything from Heath Ceramics in the stocking? I love the little seasonal sets they create for the holidays; this year's Hot Cocoa Set has two of their iconic studio mugs, four coasters, and a tin of Cacao Prieto's Dominican Spiced Chocolate mix. Warm fuzzies guaranteed.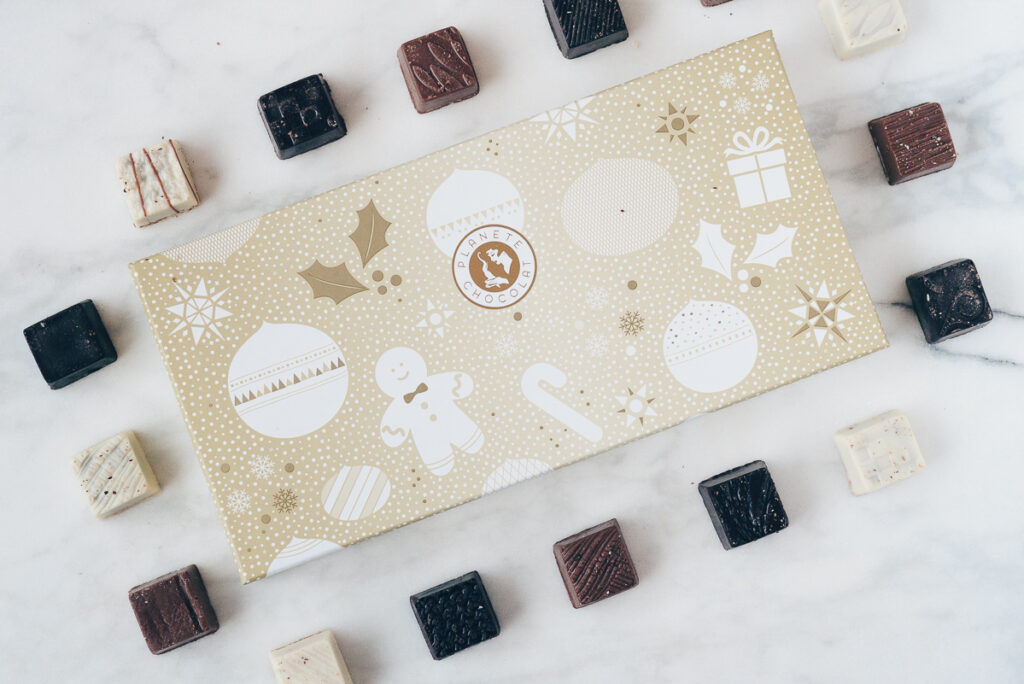 Planète
Chocolat Christmas Chocolates
Belgian chocolates are one of my major weaknesses – I can't resist those fabulous pralines.  Planète Chocolat, an artisan chocolatier based in Brussels, made my Christmas dreams come true with their Christmas Chocolates box. A stunning collection of their famous pralines in flavors from speculoos to honey and chestnut, it's the best advent calendar I could ever get. For ordering, visit their US delivery page.
Rodelle Reserve Vanilla
Fancy vanilla extracts abound everywhere these days. I've long been a fan of Rodelle and their vanilla products. If you're looking to impress your favorite baker, get them a bottle of Rodelle's Reserve Vanilla – a limited edition made from Madagascar vanilla beans and aged in French oak barrels. It's two-fold (double strength), so the vanilla flavor will be extra intense.
Lucerne Brownie Pan
I'm always balancing my practical side (lots of clean, no-frills baking basics) with the need for a bit of flair. This handpainted brownie pan will take pride of place in kitchen when you want something prettier than the basic aluminum square. The other items in this collection are just as charming.
Jessie's Nutty Cups
Peanut butter cups are kind of my guilty junk food pleasure, so I loved trying out the gourmet version. Jessie's Nutty Cups are made in small batches with Jessie's own homemade peanut butter and come in flavors like Nutty Oreo and Dark Sea Salt. I'm loving the holiday seasonal flavor, Nutty Peppermint Cups.
RawSpiceBar
One of my favorite ways to experiment with my baking is to try different flavor combinations – instead of the reaching for the usual vanilla-and-cinnamon, what other spices can I try? RawSpiceBar provides you with freshly ground spice blends inspired by different regions of the world to inspire your cooking. I'm really intrigued by the December: Iceland kit, which contains licorice salt, German gingerbread spice, and quatre epices.
Nordic Ware Holiday Pans
Nordic Ware has long been my go-to for their perfectly designed bundt pans, but I'm really getting into their other bakeware as well. My favorite this season has to be their Gingerbread Kids Cakelet Pan – an adorable changeup to traditional gingerbread cookies. Imagine leaving a gingerbread cakelet for Santa Claus.
Hope you are enjoying your holiday season. Come back tomorrow for my contribution to Rodelle's Holiday Cookie Campaign!