Striped Icebox Cookies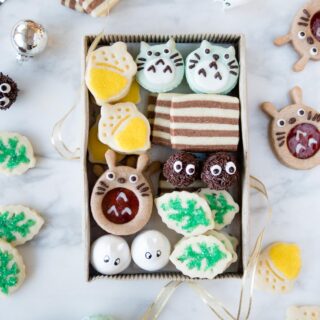 1½ cups all-purpose flour
¼ teaspoon baking powder
¼ teaspoon salt
½ cup (113 g) unsalted butter, room temperature
¾ cup sugar
1 large egg, room temperature
1 teaspoon vanilla extract
1 ounce bittersweet chocolate
Combine flour, baking powder, and salt in a medium bowl and set aside.
Cream butter in stand mixer with paddle attachment until smooth. Add sugar and mix on medium until fully combined and smooth.
Add the egg and vanilla and beat until combined.
Add in dry ingredients in three additions, beating on low speed just until combined.
Melt chocolate in microwave or on stove in double boiler.
Divide cookie dough into two equal portions. You can use a kitchen for best accuracy.
Mix the melted chocolate into one of the portions until it's fully combined.
Shape each portion of dough into a ¼" thick rectangle and wrap in plastic. Refrigerate for 1 hour or until firm enough to work with.
Remove dough from refrigerator and divide each portion into two, so you have four pieces total.
Roll each piece to roughly 6 inches by 7 inches by ¼" thick between sheets of parchment paper or wax paper. Try to make each piece the same size and shape so you can layer them. Chill the pieces again in the refrigerator, between sheets of parchment paper, if they are getting soft.
When the pieces of dough are stiff enough to work with, remove top layer of parchment paper from a vanilla piece. Lay a piece of chocolate dough on top and press down slightly to adhere them. Repeat with the other pieces of vanilla and chocolate dough.
Cover the stack in parchment paper and chill for another hour to let the layers set together.
Preheat oven to 350 degrees F. Line baking sheets with silicone baking mats or parchment paper.
Remove cookie dough from refrigerator and trim off edges all around to make the sides even. Slice a ⅛" thin strip parallel to the stripes in the dough. Cut the strip in half depending on the size cookies you want.
Lay the cookies flat on the sheets. Bake for about 9 to 11 minutes until the cookies are just set and firm to the touch.
Remove from oven and let cool on wire racks.