You know what I just realized? I don't think I've ever done a post on pie crust! Not that I have anything against pies – one of my most vivid memories of childhood summers was my mom bringing home fresh strawberry pies from the local bakery – but I'm afraid the French pastry-centric schooling I got, as well as my personal obsession with pâte sucrée and tart crust, has led to pies getting less attention than they deserve in my kitchen.
It seems like I'll need to rectify this omission in the future – sorry to say, it won't be in this post. I'm sure you can tell from looking at the photo that this is another tart post – but it's a really delicious tart post, I assure you!
These little tartlets are my take on another treasured pastry memory – Miette's key lime meringue tart. Miette is a fixture of the San Francisco pastry scene; their retro-chic, French-inspired confections have been the sweet ending to many a soiree, and, of course, I love their pastel color scheme!
Although Miette is famed for their princess cakes and French macarons, one of my favorite discoveries from their shop is their key lime meringue tart, a sophisticated version on key lime pie (I guess they are tart-over-pie fans, as well?)
I've made traditional key lime pie before, with the crumbled graham cracker crust, and the filling of eggs, condensed milk, and key lime juice. Miette's take features a lime cream, which seems like a lime curd to me, in a crisp graham cracker tart crust, topped with a dollop of meringue frosting.
What I really liked was how cleanly and intensely all the elements played off each other, each bite of the super-tart key lime filling mellowed with the sugary, pillowy meringue, the not-too-sweet base grounding all it with a touch of spice.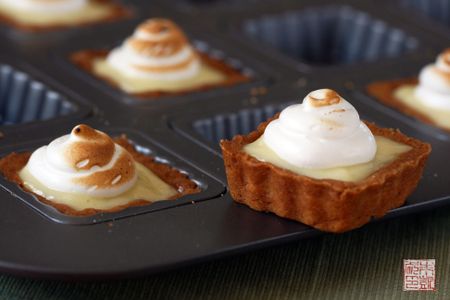 I was finally inspired to come up with my own home version, which I'm happy to say has become a favorite of the boyfriend – and, I'm pretty sure, anyone who enjoys tangy, zesty desserts. The lime curd is basically a modified version of my favorite lemon curd recipe, and is spoon-licking good all on its own. The brown sugar, honey, and cinnamon crust is very similar to making graham crackers – in fact, if you just roll out the dough and cut it into rectangles, it will bake into wonderful crackers, ready for S'mores or anything else. The topping is made similar to many 7-minute frostings and results in a nice, marshmallowy mass that pipes into beautiful little dollops; with a little bit of browning from the kitchen torch, you've got yourself some nicely topped tartlets!
As a final note, I think another reason I like these little guys so much is that they're a perfect fusion of European and American – while the pastry techniques may be French, the flavors are definitely American, giving this dessert a very fresh and modern feel. Enjoy!
Graham Cracker Tart Shells
makes about 16 3-in square tart shells
1 cup butter, room temperature
1/4 cup firmly packed dark brown sugar
1/4 cup granulated sugar
1/4 cup honey
2 cups all purpose flour
1/2 cup whole wheat flour
1 teaspoon salt
1/2 teaspoon ground cinnamon
Cream the butter in an electric mixer until smooth.  Add the sugars and continue mixing until the mixture is fluffy and light colored, about 3 minutes.
Add the honey and beat until combined.
Combine the flours, salt, and cinnamon together in a bowl, and add to the butter mixture in two batches, scraping down the sides of the bowl between additions.
Mix until the dough is well combined. Wrap the dough in plastic and form into a disk – the flatter the better. Chill until firm, at least an hour.
Preheat the oven to 325 degrees. On a lightly floured surface roll out the dough to be 1/8 inch thick. Cut out squares of dough to fit your desired tins.
Press the dough gently into the tins, prick dough with a fork all over, and let chill for 5-10 minutes or until the dough is firm enough to trim off the excess easily.
Bake tart shells until golden brown, about 18 minutes. Transfer to a wire rack to cool. You can store them in an airtight container for about a day or freeze them for up to 3 months.
Key Lime Curd

adapted from Pierre Hermé's Desserts
makes about 1 1/2 to 2 cups
1/2 cup sugar
2 eggs
1/2 cup key lime juice
1/2 cup unsalted butter, cut into 1 inch pieces, softened but not melting
Create a water bath by placing a saucepan of water over heat to simmer.
Whisk together the sugar and eggs in a metal bowl. Whisk in the key lime juice.
Place the bowl over the saucepan of simmering water, making sure the bottom does not touch the water. Cook the mixture, whisking constantly, until the curd reaches 180 degrees and thickens. Keep whisking while the mixture is heating up to prevent the eggs from cooking.
Take the curd off the heat and strain it into the bowl of a food processor or blender. Let the curd rest for a bit until it cools to about 140 degrees.
Add in the butter pieces a few at the time and combine on high speed. Once all of the butter has been added, let the mixture combine for a few minutes longer to ensure the mixture is perfectly smooth.
Pour curd into a container and let it chill in the refrigerator for about half an hour before assembly.
Swiss Meringue Frosting
1 cup sugar
4 egg whites
1 1/2 teaspoons vanilla extract
Combine the sugar and egg whites in a medium metal bowl and place over a pan of simmering water.
Whisk the sugar mixture constantly over heat until the sugar is dissolved and the mixture looks smooth and shiny, about 3 minutes.
Remove mixture from heat and pour into a stand mixer bowl. Whisk on medium speed for about 5 minutes until the mixture has cooled.
Beat on high speed until stiff glossy peaks form, about another 5 to 10 minutes. Add vanilla and beat to combine.
You can now scrape the frosting into a piping bag to pipe, or simply dollop onto cupcakes. Use a brulee torch to brown the meringue.