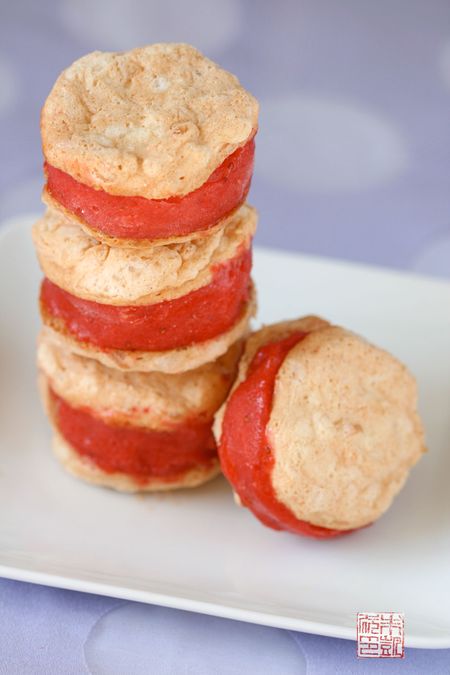 Ok, I have a confession to make. Actually, two. Remember when I made these mango coconut verrines a few weeks ago? Well, they were supposed to have these little discs of coconut dacquoise nestled inside the layers as a crunchy surprise. So I made these dacquoise discs a day in advance, and kept them in a nice dry place so they wouldn't go all soggy.
However, (first confession) it turned out the new dessert glasses I got were even itty-bittier than I thought they would be – way too small to fit the dacquoise in. So I set them aside, thinking maybe I could cut them down to fit. I went to finish making the coconut cream, and – here's the second confession – I forgot all about the dacquoise. I got all caught up in carefully the coconut and mango into the shiny new glasses, and decorating the tops just so, and it wasn't until I was getting ready to take photos, that I saw the plate of dacquoise sitting, quietly neglected, off in the corner.
Well, nothing to be done at that point but to keep going with the verrines. But, you know in the pastry world (and culinary world) there's a mantra that nothing gets wasted. You always find a way to use up some leftover ganache, extra fruit, bit of pastry cream – sometimes the best inspiration comes out of pulling stray components out of the refrigerator, leftovers-style, and letting your imagination roam free.
So I put my little dacquoise discs into a container, set it prominently on my kitchen table and left them alone for a day (the great thing about these dacquoise is that they can last quite a while, stored properly). I came back the following morning, looked in the refrigerator, saw a bunch of strawberries I hadn't eaten yet, and I knew exactly what I wanted to do: I wanted to make a strawberry sorbet, and I wanted to use the coconut dacquoise as end-pieces to make little sorbet sandwiches. And then I decided to throw some rosewater in, just to tie all the flavors together. It feels so good when inspiration strikes, you know?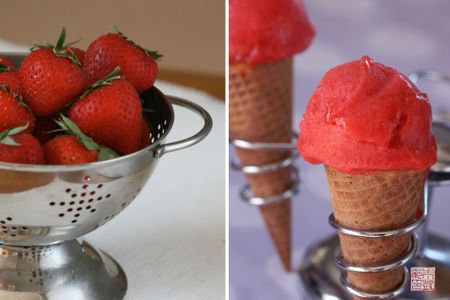 Back to the titular characters of this story, the coconut dacquoise: They are adapted from a recipe that originally had the dacquoise piped out into full side circles, to use as a base for fresh fruit. I really like dacquoise as a alternative to the traditional pâte sucrée tart crust; the flavor possibilities are boundless and the ability to pipe it into various shapes give it a lot of versatility. This coconut-infused version reminds me of a lighter, crispier version of a coconut macaroon: the important thing with dacquoise, as with all meringue-based recipes, is to be sure to bake it enough that it thoroughly dries out, to prevent it from turning soggy and sticky later. I live in California, where it's fairly dry, so I have a pretty easy time of it: if you live in more humid climes, keep these in a airtight container to preserve their freshness longer.
The strawberry rose sorbet is a new creation for me that I'm quite enamoured with: strawberry sorbet has always been a summertime pleasure for me, and I wanted to up a complexity a tad by adding a hint of rose. The scientist in me couldn't resist experimenting, and I actually made two batches, one with rosewater, and one with rose syrup, since the two are often called out interchangeably in recipes these days.
My preference was the strawberry and rosewater sorbet: Just about a tablespoon of rosewater gave a subtle, enchanting floral note to the strawberry – I could even smell it in the sorbet. Rose syrup, while equally rosey in scent, has a heavier, sweeter taste, since it's basically a rose-infused sugar syrup. It made my sorbet a little too one-dimensionally sweet, and the rose flavor didn't stand out as much. If I used it again, I'd probably dial back on the sugar added to compensate for the sweetness of the syrup. The syrup did make the sorbet an almost preternatural shade of red, though; I wondered if it would leave my mouth stained like the rocket pops from the ice cream truck did. (The answer is no, by the way).
Like most homemade sorbets, this one is best eaten fresh out of the ice cream maker, when it's so soft and lushly textured it's like spreadable summer. Most sorbets tend to freeze rather hard in a couple of days, since they are mostly water and there isn't much fat to keep the sorbet soft and creamy. I can't imagine this lasting long, anyways: to me, sorbets seem so much more ephemeral than ice creams; they're meant to be enjoyed, fleetingly, dripping down your chin and then gone.
Cocooned between coconut dacquoise, the sorbet turns into a sweet little after-dinner nibble. They almost look like macarons, don't they? Who says that good things can't come out of mistakes?
:
Coconut Daqcuoise
1 ounce ground blanched almonds
4 ounces confectioners' sugar, sifted
3 1/2 ounces grated coconut
5 ounces egg whites
1 3/4 ounces sugar
1/8 teaspoon cream of tartar
Preheat oven to 350 degrees F. Line several baking sheets with silicone baking mats.
Combine ground almonds and confectioners' sugar together in a medium bowl.
Add in coconut and stir to combine.
Place egg whites in a stand mixer and whisk on medium speed until they become foamy.
Add in half the sugar and the cream of tartar and whisk until soft peaks form.
Add in the rest of the sugar and whisk until peaks are stiff.
Scrape out meringue into a large bowl. Using a rubber spatula, fold the coconut mixture a bit at a time into the meringue until combined.
Spoon the mixture into a pastry tip fitted with a round tip. Pipe small rounds onto the prepared sheet.
Bake for about 15 minutes until dacquoise are golden and firm and dry to the touch.
Let cool before using.
Strawberry Rose Sorbet
Makes 1 quart
1 pint fresh strawberries
1/3 cup sugar
1 1/2 tablespoons rosewater
2 teaspoons lemon juice
1/8 teaspoon salt
Wash and hull the strawberries. Place in a food processor and puree until smooth. Strain through a sieve to remove the seeds.
Combine the pureed strawberries in a bowl with the sugar and 1/4 cup water. Stir in the rosewater, lemon juice, and salt.
Refrigerate the mixture overnight.
Freeze in an ice cream maker per manufacturer's instructions.