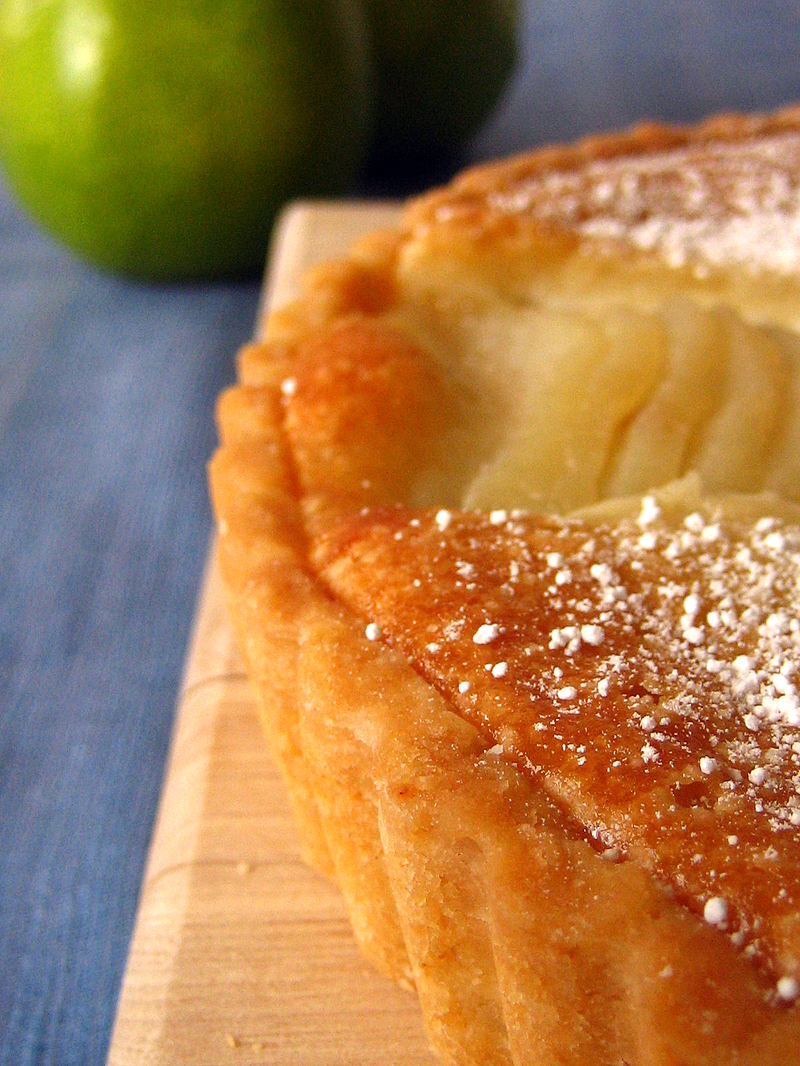 One of my very favorite things about autumn, when it's grey and blustery outside, fallen leaves skirling about rain-dampened streets: being safe and cozy indoors, with something baking in the oven, filling the place with warmth and the scent of spices and the promise of comfort food to provide a balm against the chill. It was just such a dismal rainy day yesterday, with the prospect of wet feet enough to keep me indoors, providing the perfect opportunity to make this tart I've had my eye on since I picked up some luscious-looking Anjous at the market.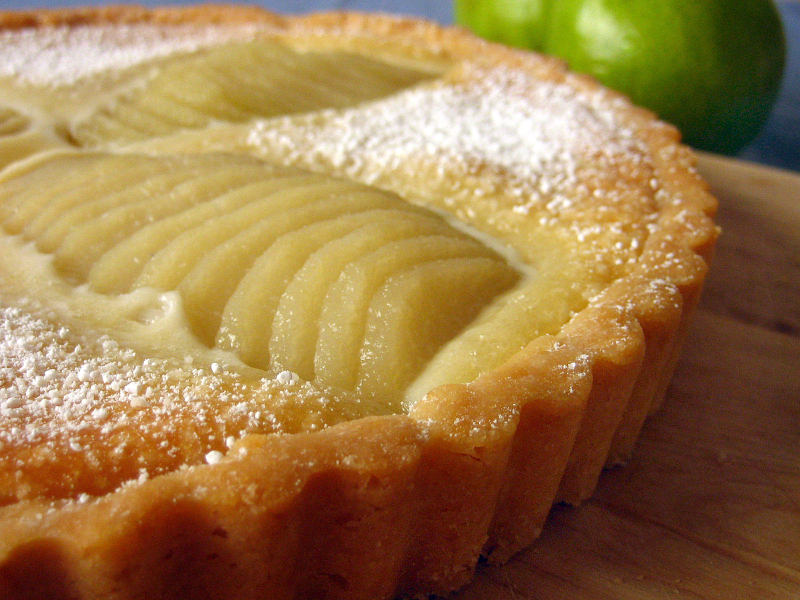 This is a classic French tart: marvelously simple to make despite its deceptively complicated appearance, and a perfect showcase of its ingredients: pears, almonds, butter, sugar. The pears are poached in a sugar syrup laced with cinnamon sticks, lemon zest, and vanilla bean – the resulting fragrance is intoxicating and leaves you with some succulent pears to place in a frangipane-lined tart shell of pâte sablée.
Frangipane is nothing more than an almond cream that is baked, unlike pastry cream, but that description barely captures the marvelousness of this filling. In the oven, it turns into a glorious, puffy, golden cloud enveloping the fruit. Think of it as the cold-weather version of those summer fruit tarts with fresh berries on top of a layer of vanilla pastry cream. Here, the fruit is cushioned inside a rich, custardy, nutty filling – warm, sweet, and utterly satisfying. I first made frangipane in pastry school – we did a version with plums, and if the sight of 13 golden brown, fragrant tarts lined on a table does not make your mouth water, I don't know what would! Frangipane is classically made with almonds, although you could make it with any nut – hazelnut and pistachio versions are popular – and of course, a multitude of fruits will find a happy home in this filling.
I should also mention that I have had a fondness for the word "frangipane" ever since I read about an imaginary Cafe Frangipane in wordsmith sui generis Karen Elizabeth Gordon's Paris Out of Hand
, a wildly imaginative and surrealistic romp through a Paris cobbled from her memories and imagination. If you are a fan of the absurdist dadaism of Max Ernst and Marcel Duchamp, or if you are a lover of clever wordplay (a entry for an imaginary Hôtel de Echecs is described as a haven for chess players and losers, the word "echecs" in French meaning both "chess" and "failure"), or if you just want to be able to say "I am one thirsty angel" (Je suis un ange vachement assoiffé) you should take a look at this unusual, intoxicating book.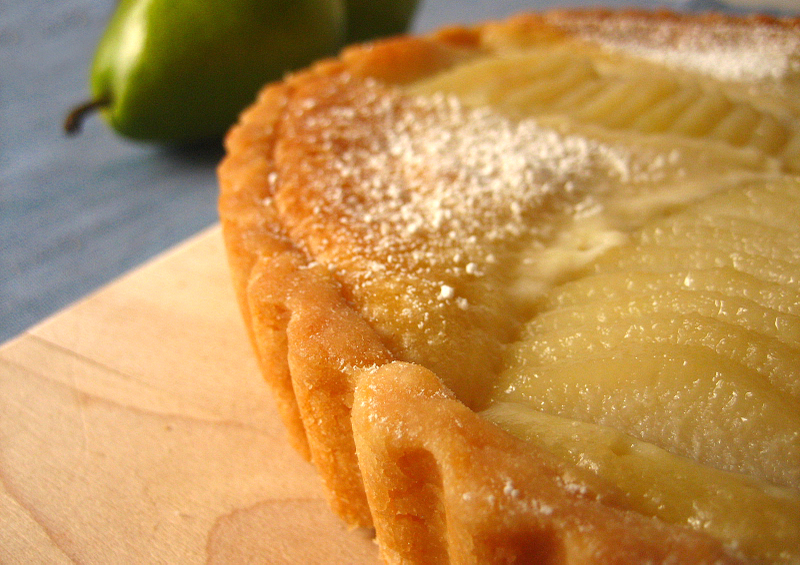 My version of this pear tart is taken from Dorie Greenspan's Baking: From My Home to Yours
, which seems to be to have been enthusiastically received by numerous bloggers, myself included. What I like about her recipe is that her pâte sablée can be made in a flash and requires no rolling out – you can simply press into the tart tin and freeze for half an hour before baking. That means it is quite possible to make this tart in one day – almost on a whim! Although her poaching syrup is made of sugar and water with a bit of lemon, you can easily embellish this, as I did, with vanilla, cinnamon sticks, cloves, even peppercorns, to give your pears more of a kick. Plus, the leftover syrup can be used again – poached pears on their own make a lovely dessert – or perhaps as a base for some fancy cocktail?
I also used this opportunity to make the pâte sablée in my brand-spanking new Cuisinart 7-cup food processor – picked up on sale thanks to a great friend. My previous food processor being of the meager two-cup variety, which was capable of grinding a handful of nuts but not good for much else, I find myself delighted to report that making dough in a food processor is a breeze. Especially for dough recipes that require cutting in cold butter, I find the food processor much more efficient than a stand mixer. It's also much prettier than my old processor – even though we're desperately short of counter space at this point, I like seeing it all shiny and sparkly, standing at attention in its spot of honor.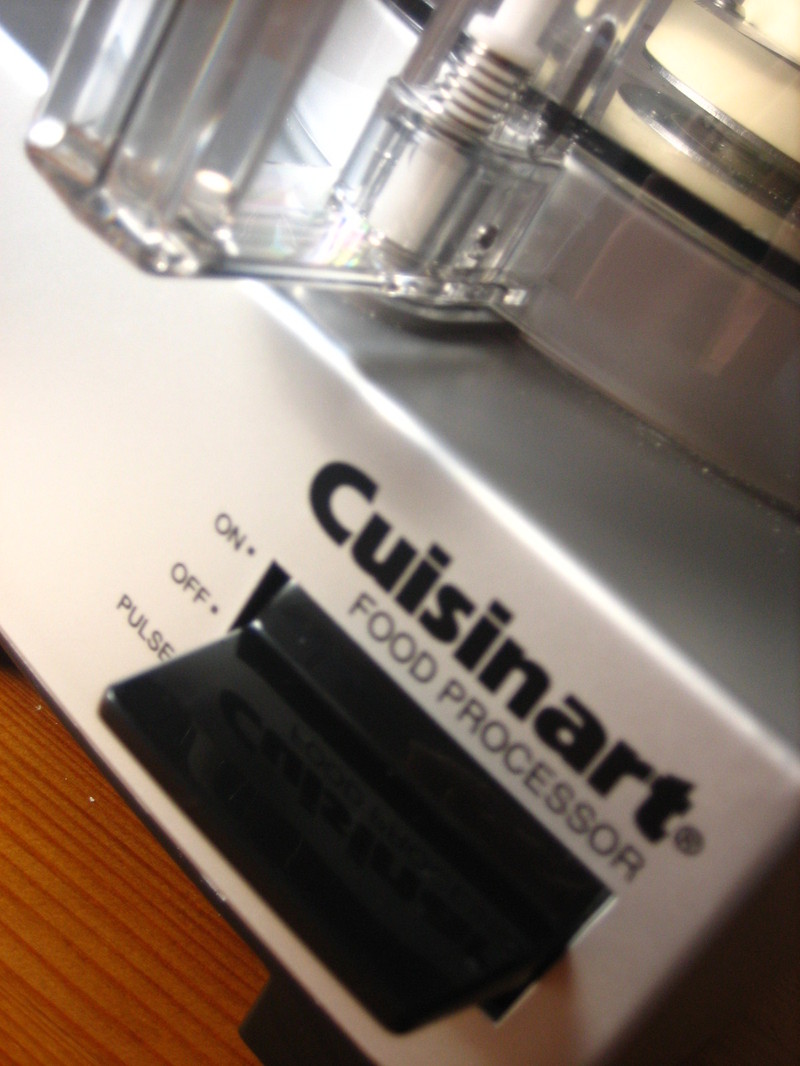 A slice of this pear and almond frangipane tart makes for a cozy bite as darkness falls outside and you can watch the lights go on in windows all around. If I look across the bay, I can see the last rays of the setting sun reflecting off the homes in the Oakland hills, fiery jewels scattered across the green sweep of hillside, mirroring the stars just emerging in the sky above.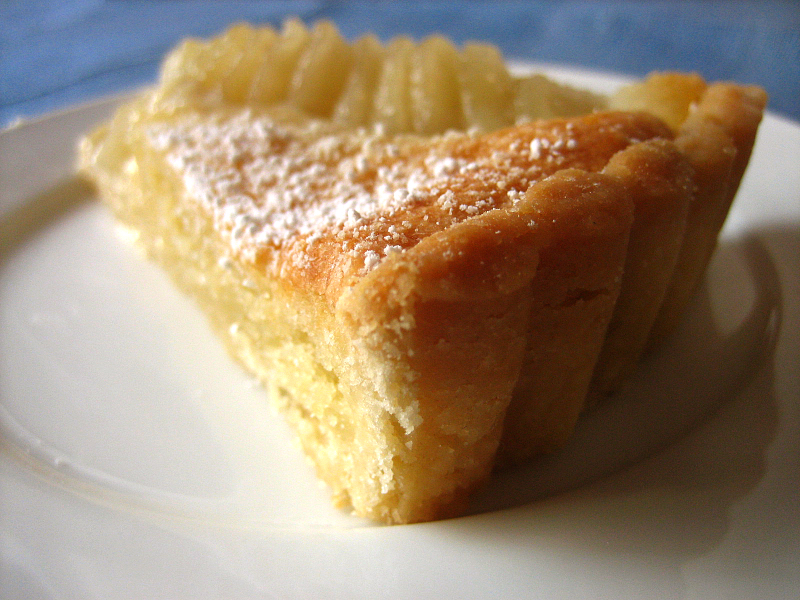 Pear and Almond Frangipane Tart
adapted from Dorie Greenspan's Baking: From My Home to Yours
makes one 9-inch tart
Pâte Sablée
1 1/2 cups flour
1/2 cup confectioner's sugar
1/2 teaspoon salt
9 tablespoon butter, very cold, cut into small pieces
1 egg yolk
Poached Pears
3 ripe medium pears (I used Anjou) – you only need 2 pears but I suggest having an extra one just in case you mess up a pear
3 cups water
1 cup sugar
2 tablespoons lemon juice
1 cinnamon stick
1 teaspoon vanilla extract
1/8 teaspoon salt
Frangipane
6 tablespoons butter, at room temperature
2/3 cup sugar
3/4 cup ground blanched almonds
2 teaspoons flour
1 teaspoon cornstarch
1 large egg plus 1 egg white
1 teaspoon vanilla extract
2 teaspoons almond extract
For the pears: Combine the water, sugar, lemon juice, cinnamon stick, vanilla, and salt in a saucepan large enough to hold all the pears and bring to a simmer over medium-high heat. Meanwhile, cut the pears in half, remove the seed core and fibrous cores at either end, then peel the pears.
Add the pear halves to the simmering syrup and reduce heat to low. Cover, and let pears poach for about 10 minutes, turning them halfway. The pears will become slightly translucent, very tender, and easily pierced with a knife or skewer.
Let the pears cool in the liquid until room temperature before using. Or, you can store them in their liquid in the refrigerator for up to 3 days.
For the tart shell: Put the flour, confectioner's sugar, and salt in a food processor and pulse a few times to combine. Add the pieces of cold butter and pulse until the butter is cut into pea-sized pieces. Add the egg yolk and combine in several pulses until the dough starts to turn from dry to clumpy. Do not let the dough form one giant ball or it will be be overworked – just keep checking after every pulse and when the dough pieces looks like they will stick when you press them together, stop.
Butter a 9-in tart tin with removable bottom. Turn the dough out into the tin and press into the bottom and up the sides with your fingers. You probably will not need all the dough – save the extra for patching the shell after you bake it. Do not press the dough too hard or it will become tough – just enough for it to form to the tin.
Freeze the tart shell for at least 30 minutes. When you are ready to bake it, preheat the oven to 375 degrees.
To partially bake the tart shell, take a piece of foil and butter the shiny side, then press the buttered side tightly to the shell. You do not need pie weights. Place the tart shell on a baking sheet and bake for about 25 minutes, until the shell is dry and lightly colored. If any places have cracked, repair with the extra dough. Let cool on a rack until room temperature.
For the frangipane: Combine the butter and sugar in the food processor and combine until smooth. Add the ground almonds and blend together. Add the flour and cornstarch, and then the egg and egg white. Process the mixture until it is very smooth. Add in the vanilla and almond extracts just to blend. The frangipane can be used immediately or you can store it in the refrigerator for up to 2 days. If it becomes too firm in the fridge, let it sit at room temperature for a while to soften before using.
To finish the tart: Preheat the oven to 350 degrees. Spread the frangipane evenly into the cooled tart shell (It should be liquid enough to smooth out on its own so you don't need to work to much on it).
Take the poached pears out of their liquid and drain them on paper towels. You don't want too much excess liquid or they will make the frangipane soggy. Cut each pear half crosswise into 3/8 in thick slices. Do not separate the pear half yet.
Slide a spatula or other flat utensil underneath the pear so you can transfer the entire half onto the tart. Press on the pear to fan the slices toward the top narrow end of the pear.
Slide the pear half onto the frangipane carefully – you can move the pear after you place it, but not much.
Repeat with three other pear halves until there are four halves on the tart, evenly spaced.
Place the tart on a baking sheet and bake in the oven for about 45-50 minutes, until the frangipane is puffed, golden brown, and firm to the touch. Cool the tart on a wire rack.
Before serving, you can brush the pears with some warmed apple jelly to glaze, or dust confectioner's sugar over the tart.
Tagged with: Pear Almond Frangipane Tart + Dorie Greenspan