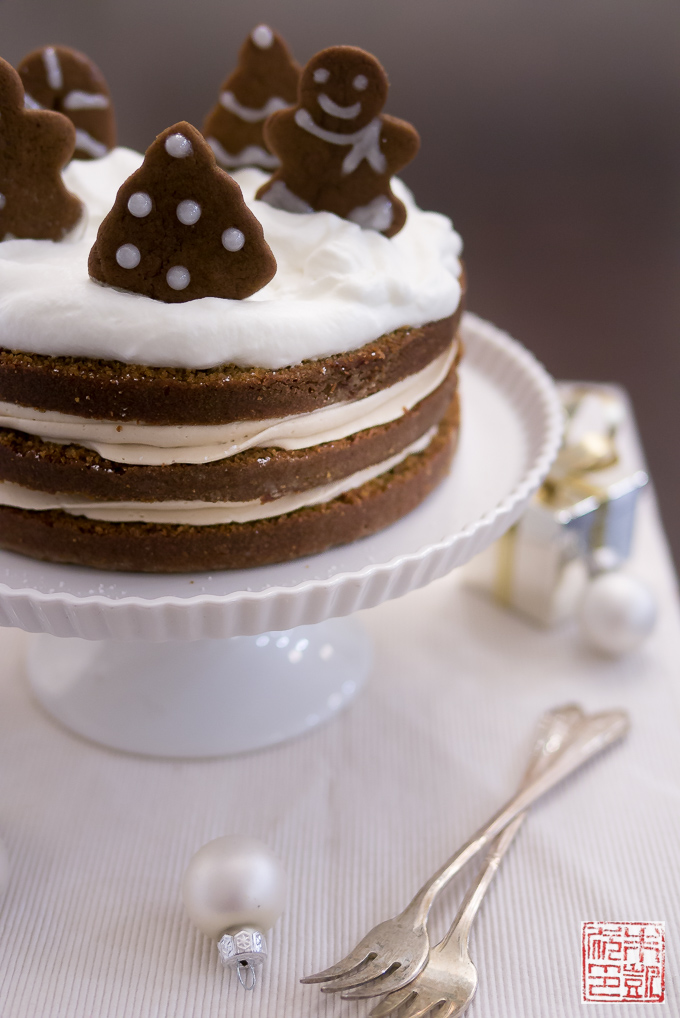 Happy birthday to my husband! When you're married to a food blogger people tend to say things like, "You must eat really well!" and "How lucky to have a house full of food all the time!" Well, to be honest, he's actually a better cook than me, so sometimes he comes home wanting dinner and there's only cake on the table. I did my part, how about you?
Also, although he gets a homemade dessert every year for his birthday, sometimes it can be a bit of a double-edged sword, because I'll want to make something blogworthy (I know, that word).
"I like yellow cake with chocolate frosting," he says.
"That's kind of too basic. How about…something holiday-inspired? Don't you like gingerbread?" I answer.
"Sure, I like gingerbread. A big pan of gingerbread sounds nice."
"That would look kind of boring though. Don't you want frosting? How about…cinnamon? Or caramel?"
"I just like whipped cream on my gingerbread. That's it."
"I already did gingerbread with whipped cream before! What about two cake layers with just a little frosting between and whipped cream on top? I know – we just got some speculoos cookie butter 
and that tastes a bit like gingerbread. What if I make some cookie butter frosting?"
"Ok, that sounds great. Thanks!!"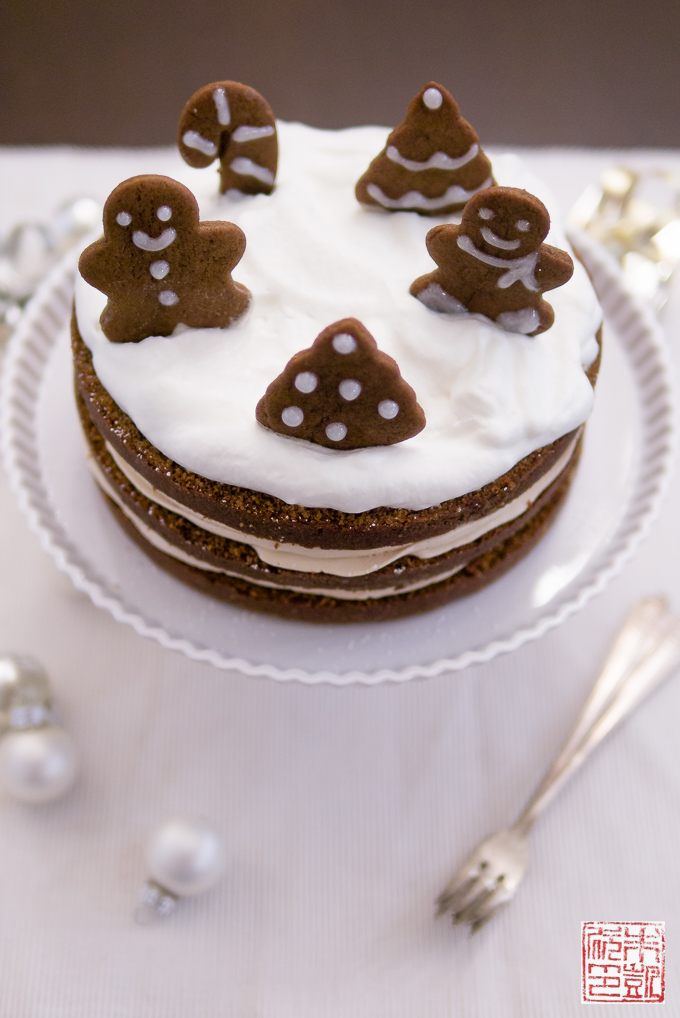 A day later…
"Surprise! Happy birthday!"
"Wait, this cake is three layers and that's…hmm, that's two layers of frosting, isn't it?"
"Oh yeah, it looked kind of lacking with two layers so I added a third. But I put a bunch of whipped cream on top. And your favorite gingerbread people! What do you think?"
"You know what, it's great. I love it. Thank you so much!"
So…maybe my husband is lucky that I love to bake, but I'm very VERY lucky that he's so easygoing and understanding of the wacky contortions a food blogger goes through in creating a recipe.
The final iteration for Mike's birthday cake this year? A gingerbread cake with cookie butter frosting topped with whipped cream and gingerbread men. Both birthday and holiday-appropriate!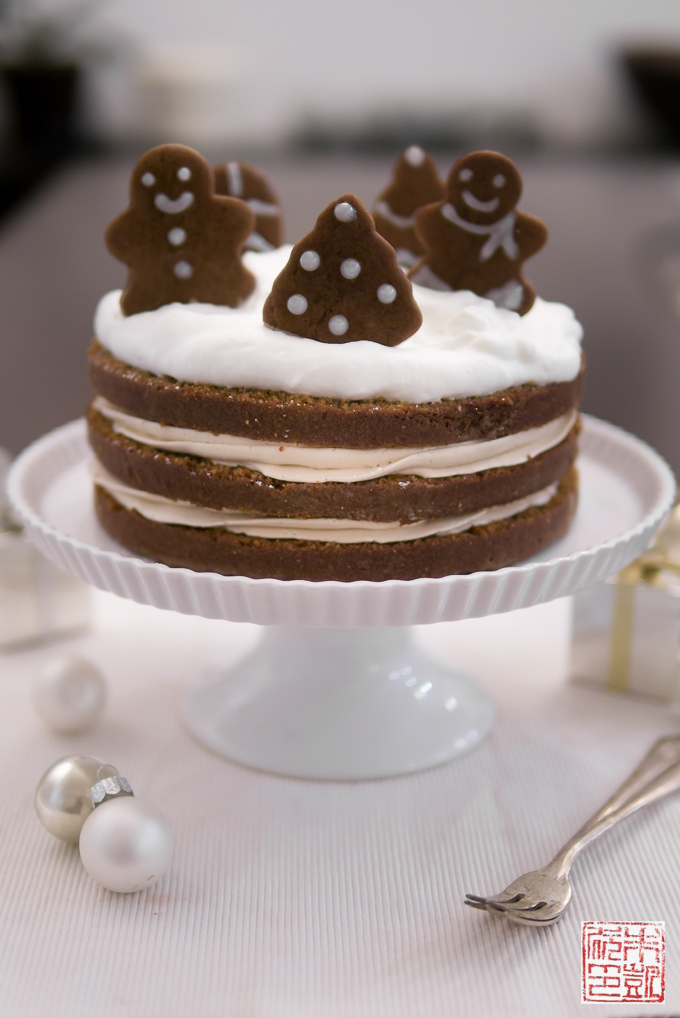 Mike actually really is a big fan of gingerbread; sometimes he will make a big pan of gingerbread and eat it all himself over the course of a week. All the more reason to bump it up just a notch for his special day! This is my favorite gingerbread recipe – I've used it to make cupcakes and it works great as a cake too. The recipe fills two 6″ round cake pans, and you split the two layers in half horizontally to get four thin layers that are ideal for stacking and filling. I only used three of the layers (four would have been pushing it for Mike), but you can easily make this a four layer cake – the buttercream frosting makes enough to frost three layers. You can also bake the cake in regular 8″ round cake pans as well if you want a larger cake – if you slice those layers in half they may be a little thinner, but because this gingerbread has a fairly dense, compact crumb, I think thinner layers work fine.
Mike like his gingerbread spicy, sometimes a little too intensely so for me, so I was really excited to come up with this cookie butter frosting. Speculoos or biscoff was all the rage about a year back; cinnamon tends to be the dominant spice in those cookies, so they're not as spicy as ginger and clove-heavy gingerbread, but the mixture of spices is still quite similar. I liked the idea of sweet speculoos cookie spread to counterbalance the gingerbread. The swiss meringue buttercream I made, enriched with a dollop of cookie butter, is quite possibly my favorite frosting right now. It's totally worth the extra time to make this; I went with swiss meringue instead of an American style buttercream because the cookie butter is already very sweet and I didn't want to add a bunch of powdered sugar in. The swiss meringue buttercream is beautifully creamy and smooth while letting the cookie butter flavor come through. If you let the cake sit in the refrigerator for a day, the buttercream will also start softening the cake layers and it will meld together in perfect harmony.
Mike was also right that whipped cream is a wonderful complement to gingerbread, so I put a big billowy cloud on top of the cake to make a little snowy winter landscape. If you don't have time to make the gingerbread cookies, you can skip them or just use some store bought ones. But with a little planning this cake is not that difficult to do. I'd make the cookie dough first and let it chill in the refrigerator overnight. Then the next morning, bake the cakes. While they are cooling, take out the cookie dough and bake the cookies. Then make the frosting, slice the cooled cakes and frost them. Before you serve the cake, top with whipped cream and decorate with the cookies.
Maybe I'll get to the yellow cake with chocolate frosting next year. For now, I'm glad hubby enjoyed his birthday cake, and I have a new holiday dessert staple!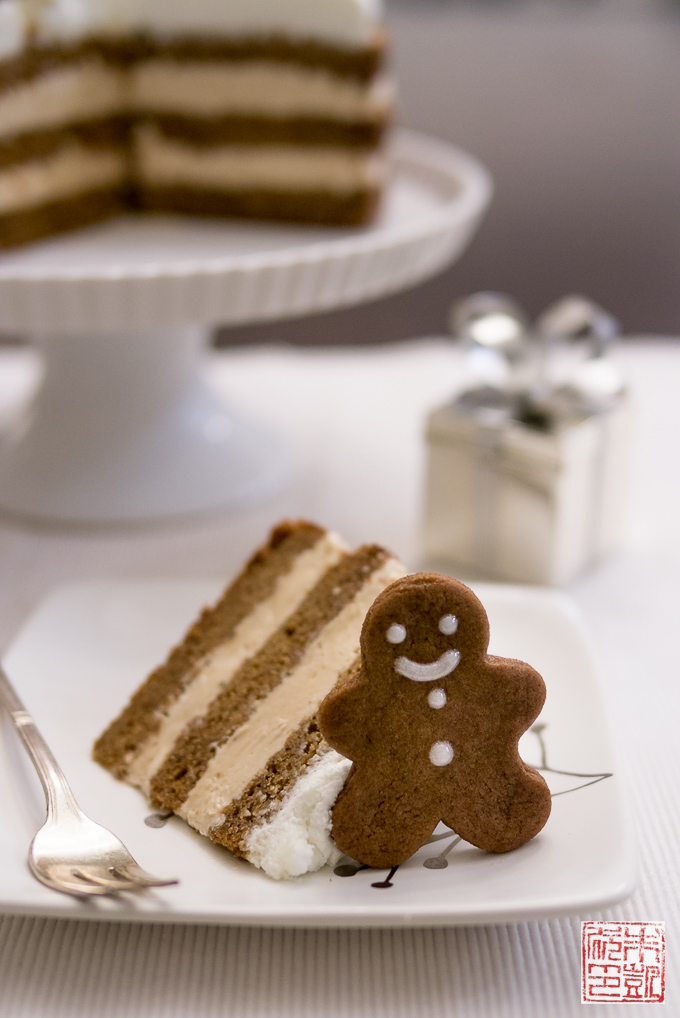 Gingerbread Cake with Cookie Butter Frosting
You can find speculoos cookie butter at Trader Joe's or, you can find cookie butter or biscoff spread online.
Serves:
One 6" three or four layer cake
Ingredients
Gingerbread Cake
1½ cups (210 g) all purpose flour
1 teaspoon (5 g) baking powder
1 teaspoon (5 g) ground ginger
1 teaspoon (5 g) ground cinnamon
¼ teaspoon (1 g) ground allspice
¼ teaspoon (1 g) ground nutmeg
¼ teaspoon (1 g) salt
2 ounces (55 g) unsalted butter, room temperature
½ cup (100 g) light brown sugar
½ cup (130 g) dark molasses
2 large eggs
½ cup (115 g) whole milk
Cookie Butter (Speculoos) Swiss Meringue Buttercream
2 (60 g) large egg whites
3½ oz (100 g) sugar
4 ounces (113 g) unsalted butter, room temperature, cut into 1-in pieces
½ teaspoon vanilla extract
¼ cup (64 g) speculoos cookie butter or biscoff cookie spread
Gingerbread Cookies
1 cup all-purpose flour
¼ cup packed dark brown sugar
¼ teaspoon baking soda
1 teaspoon ground cinnamon
1 teaspoon ground ginger
⅛ teaspoon ground cloves
⅛ teaspoon salt
4 tablespoons softened unsalted butter, cut into pieces
¼ cup molasses
2 teaspoons milk
¾ cup whipping cream for topping
Instructions
For the cake:
Preheat oven to 350 degrees F. Grease and flour two 6" round cake pans.
Sift flour, baking soda, spices, and salt together into a medium bowl. Set aside.
Combine butter and brown sugar in a stand mixer bowl. Beat on medium speed until light and fluffy, about 5 minutes.
Combine molasses and eggs together in a small bowl. Add to mixer and beat until combined.
Add flour mixture and milk in 5 alternating additions, starting and ending with the flour mixture. Beat until well combined.
Divide batter between the two pans. Bake for 22-25 minutes. Remove when a tester inserted in the center comes out clean. Let cool on wire rack.
For the buttercream:
Combine the egg whites, sugar, and salt in a bowl (I used the bowl of my stand mixer).
Place the bowl over a pan of simmering water. The bowl should not touch the water, nor should the water be at a rolling boil. It's the steam that's going to heat the egg whites, since we don't want scrambled eggs.
Heat the egg white mixture until it reaches 145-150 degrees fahrenheit, whisking frequently so as not to get scrambled eggs.
Remove the bowl from the heat, and whip the egg whites on medium high using the whisk attachment of your stand mixer.
Whip the egg whites until they become fluffy and double in volume. The bowl should be cool to the touch (this will usually take several minutes).
Turn the mixer down to medium low, and add the butter in one chunk at a time, until it has all been incorporated.
If the mixture looks curdled at this point, this is normal. Just keep whipping for a few more minutes until it comes together. If the mixture looks soupy, you can add a few cubes of chilled butter, or stick the whole bowl in the refrigerator for about 15 minutes and then continue beating.
Once the buttercream has become smooth, and the vanilla and cookie butter and beat until incorporated.
For the cookies:
In a food processor, combine the flour, brown sugar, baking soda, cinnamon, ginger, cloves, and salt. Process about 10 seconds until combined.
Scatter the butter pieces over the dry mixture and process again until the mixture is fine and sandy, about 15 seconds.
With the machine still on, slowly pour in the molasses and milk and process until the dough forms a soft moist mass, about 10 seconds. It will be VERY soft and sticky. (This dough can also be made in a stand mixer).
Gather dough into a ball, flatten into a disk, and cover with plastic wrap. Refrigerate for at least 4 hours or overnight.
Roll out dough between two sheets of parchment paper to about ¼" thick. You can use flour to help keep the dough from sticking. If it gets too, place back in the refrigerator for 10 minutes to firm up.
Preheat the oven to 350 degrees F. Line a baking sheet with parchment paper.
Use desired cutters to cut shapes out of the dough, and transfer to the baking sheet with a metal spatula. The scraps may be gathered and rerolled to be cut into more shapes.
Bake cookies until they just slightly give in the middle when pressed, about 6-8 minutes, rotating sheets halfway. Do not overbake or they will became hard crispy gingerbread.
Let cool on sheets for a couple of minutes, then remove and finish cooling on wire racks.
Decorate cookies as desired
To assemble the cake:
Level the two cake layers and slice in half horizontally to create 4 layers.
Place one layer on a cake round or cake plate. Spread or pipe some of the speculoos buttercream over the layer.
Place a second layer over the buttercream and press down lightly. Spread or pipe some more buttercream over the top.
Place a third layer over the buttercream and press down lightly. At this point you can stop and have a three layer cake. You can also pipe more buttercream on the layer and place the last cake layer you have on top for a four layer cake - there will be enough buttercream. If you stop at three layers you can snack on the remaining cake layer you didn't use:) At this point you can refrigerate the cake covered for up to 3 days - be sure to take the cake out of the refrigerator and let it come to room temperature before finishing and serving.
Whip cream in a stand mixer. Spread whipped cream generously over the top of the cake. Decorate with the gingerbread cookies before serving.