Sakura Strawberry Cream Puffs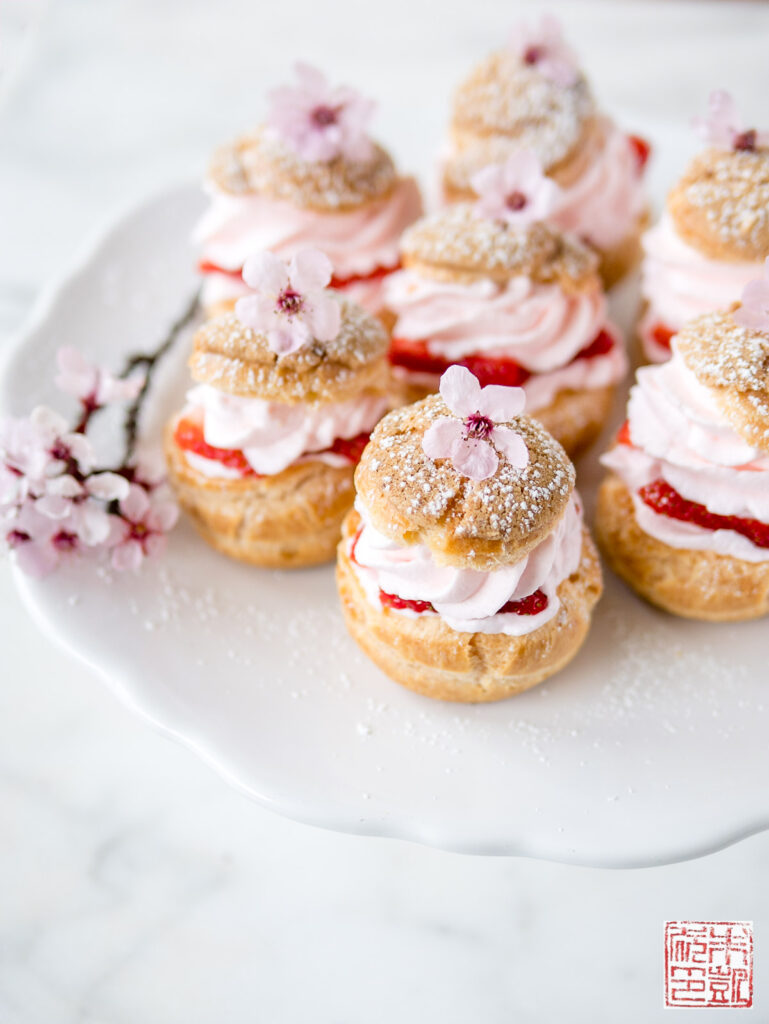 Serves:
About 2 dozen puffs
1½ ounces (43 g) unsalted butter, room temperature
¼ cup (50 g) light brown sugar
⅓ cup (50 g) all-purpose flour
½ cup (115 g) whole milk
½ cup (115 g) water
4 ounces (110 g) unsalted butter, cut into pieces
¾ teaspoon sugar
¼ teaspoon salt
1 cup (140 g) all-purpose flour
4 large eggs, room temperature
2 cups (460 g) whipping cream
½ teaspoon cherry blossom extract
Few drops food coloring, as desired
½ lb (226 g) strawberries, hulled and sliced
Powdered sugar for dusting as desired
Place butter, brown sugar, and flour and process until combined and smooth.
Place the dough between two sheets of parchment paper and roll the dough to about ⅛" thick.
Chill the dough in the refrigerator while you make the cream puffs.
Preheat oven to 350 degrees F. Line a baking sheet with a silicone baking mat or parchment paper.
Combine milk, water, butter, sugar and salt In a heavy bottomed medium saucepan and heat on medium high.
Once the mixture is at a rolling boil, add all of the flour at once, reduce the heat to medium
and start to stir the mixture vigorously with a wooden spoon. The dough should come together into a ball. Continue stirring for another 3-4 minutes until it is completely smooth and soft.
Transfer the dough into a bowl of a stand mixer fitted with the paddle attachment and beat to cool it down slightly. Add in four eggs one at a time, beating after each egg has been added to incorporate it into the dough. The dough should be very thick and shiny but not liquidy.
Transfer the dough to a pastry bag fitted with a 1 inch plain tip. Pipe out mounds of dough on the prepared baking sheet, spacing about 2 inches apart.
Take out the craquelin dough from the refrigerator. Using a round cookie cutter about the same diameter of the puffs, cut out circles of the dough and set them on top of the puffs.
Bake in oven for about 40 minutes, rotating halfway through. The puffs should turn golden brown and be dry to the touch. It's easier to underbake than to overbake; make sure they are dry before taking out.
Place sheet on a wire rack and let puffs cool before slicing in half. Pull out any underbaked bits still inside.
Combine whipping cream, confectioner's sugar, cherry blossom extract, and food coloring as desired in a stand mixer bowl fitted with whisk attachment.
Whip the cream in a stand mixer with the whisk attachment until soft peaks form.
Place whipped cream into a pastry bag fitted with a round tip.
Fill bottom halves of puffs with whipped cream. Place layer of sliced strawberries on top and pipe more whipped on top.
Place cream puff top halves on the cream.
Serve immediately or store in an airtight container in the refrigerator for up to 2 days.
Recipe by
Dessert First
at https://dessertfirstgirl.com/2020/03/sakura-strawberry-cream-puffs.html