Perfect Dark Chocolate Pudding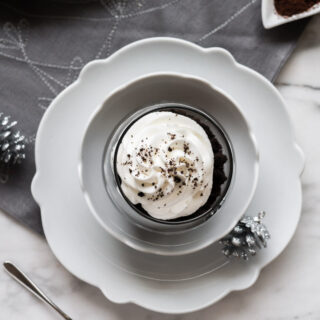 1½ cups (345 g) whole milk
¾ cup (173 g ) heavy cream
⅓ cup (67 g) sugar
2 tablespoons cornstarch
2 tablespoons unsweetened cocoa powder
¼ teaspoon salt
1 large egg
2 large egg yolks
¼ pound (113 g) semisweet or bittersweet chocolate (I used Guittard 66% semisweet wafers), melted and still warm
1 teaspoon vanilla extract
2 tablespoons unsalted butter, room temperature
1 cup (136 g) all-purpose flour
⅓ cup (67 g) packed light brown sugar
¼ cup (21 g) unsweetened cocoa powder
2 tablespoons sugar
½ teaspoon salt
5½ tablespoons (78 g) unsalted butter, cold, cut into small cubes
1½ cups (345 g) whipping cream, whipped to soft peaks
Combine milk and cream in a heavy saucepan. Heat on stove over medium heat just until bubbles start to form at the edges.
While the milk and cream are heating, whisk the sugar, cornstarch, cocoa powder, and salt together in a medium large.
Whisk in the egg and egg yolks until well combined.
Place the bowl on a kitchen towel or potholder to keep it from moving. Pour about a quarter of the hot milk mixture into the egg mixture, whisking constantly to keep the eggs from scrambling.
Pour in the rest of the milk mixture and whisk to combine.
Pour everything back into the saucepan and return to the stove, cooking over medium heat while whisking constantly, until the mixture thickens and starts to bubble, about 3 minutes.
Cook for 1-2 more minutes, whisking constantly to prevent burning, until very thick.
Pour through strainer into bowl. Add in the melted chocolate, vanilla extract, and butter and whisk until combined and very smooth.
As a last step, run a handheld immersion blender a few times through the pudding to further smooth and to aerate slightly. You can also run through a food processor briefly.
Pour pudding into individual cups or ramekins, cover with plastic wrap, and refrigerate at least 4 hours, until set.
Combine all the ingredients except for the butter in a large bowl and whisk to combine, breaking down any lumps.
Add in the butter and incorporate with your fingers until small curds and clumps form. You can also use the food processor.
Cover and refrigerate for at least 2 hours.
Preheat oven to 300 degrees F. Line a baking sheet with a silicone baking mat.
Scatter the chilled mixture evenly over the baking sheet.
Bake for 15 to 18 minutes, until it feels dry and sandy. Let cool on wire rack.
When you are ready to serve the pudding, scatter some of the chocolate crunch over the top, then pipe whipped cream over everything.
Recipe by
Dessert First
at https://dessertfirstgirl.com/2018/12/perfect-dark-chocolate-pudding.html