I love getting things in the mail. Growing up, I was obsessed with the book/stamp/sticker/etc of the month clubs and heading out to the mailbox every day in anticipation of packages for me. Now the modern version of those clubs, subscription boxes, are calling my name. Hey, on the days I'm at home with the baby, a package on your doorstep is a big event, know what I mean?
Although there are subscription boxes for pretty much every interest and need imaginable, there weren't any sweet-related ones that really caught my eye. However, recently I was introduced to two sweet subscription boxes that impressed me with their quality and creativity. Happy surprises at my door, indeed!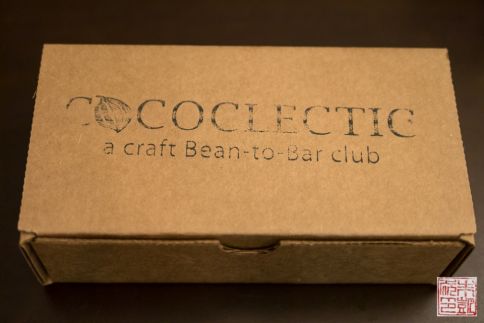 Cococlectic
There are surprisingly few craft chocolate subscription boxes out there. In the Bay Area, we're pretty spoiled with top-notch chocolate, so I've never felt much need for a chocolate subscription box, but as the craft chocolate world continues to grow by leaps and bounds, it's nice to have a way to keep up with up and comers.
Cococlectic was founded by Doreen Leong in San Francisco. Growing up in Malaysia, Leong had very limited access to fine chocolate. Once she came over to the US, she started sending chocolate bars back home to her sister.  Now she's looking to extend her love of chocolate and make the very best chocolate available to everyone.

image courtesy of cococlectic
Leong looks to feature new, emerging chocolate makers rather than the well-known ones. The box she sent me included four bars from Twenty Four Blackbirds, a small operation located in Santa Barbara, California. The 75% Bolivian Pacos Blancos was surprisingly creamy and earthy, almost soft and brownie-like, very easy to eat. The 68% Dominican Republic and 75% Madagascar have more fruit and acidic bite. I love the simple but striking pattern embossed on the front of the bars. Leong suggests trying all three bars side by side to really get a sense of the differences between them.
Some of the chocolate makers Leong is looking to feature in upcoming boxes are French Broad and Ritual. She's also looking to create sets featuring more than one chocolate maker, which would be a great development.  I look forward to seeing what other new chocolate makers Leong's discerning palate discovers.
You can sign up for a monthly subscription, buy a one time gift box, or purchase individual bars throughout the Cococlectic site. I'm also pleased to offer a $5 discount code towards any purchase of any subscription. Just type in 5DFG when you are checking out.

Treatsie
If it's candy you're craving, Treatsie is the best sweets-dedicated box I've seen. Each box has about eight to nine confections from three to four different artisan candymakers. I got their January 2014 tasting box, which contained:

Popbar's Hot Chocolate on a Stick – little squares of chocolate on a stick that melt when stirred in hot milk. I'm familiar with their gelato on a stick so it was fun to try out their newest concept. It was difficult to not want to eat it straight like a lollipop.
Lillie Belle Farm's Lavender Caramel – I've had Lillie Belle's sweets before so these little caramels were a welcome inclusion. These caramels have intensely floral lavender flavor and are pleasantly soft and gooey.
AvenueSweets Caramels – These traditional caramels have the perfect amount of chew and came in espresso and pumpkin spice. I think it would have been nice to try a more seasonal flavor than pumpkin spice, but both flavors were lovely, and had great consistency.
Brittle Brothers' Gourmet Peanut Brittle – I'm more of a toffee fan than brittle fan, but this excellent brittle might have temporarily swayed me. I like that it's more nuts than sugar, so instead of being a sugar bomb and the focus is on the flavor of the peanuts.
What I like about Treatsie is the variety of ordering options. You can get a regular subscription with a monthly box of sweets (starting from $19.95 a month), or choose from curated boxes with themes like bacon or caramel, or pick your favorite sweets a la carte. There's a myriad of ways to try out Treatsie, but I think they're doing a great job of being an artisan sweet discovery resource.
I'm also excited to be running  a giveaway with Treatsie for one of their subscription boxes. Just click on the various options in the giveaway image below and enter away! The contest will run from today until next Tuesday, and Treatsie will contact the winner.