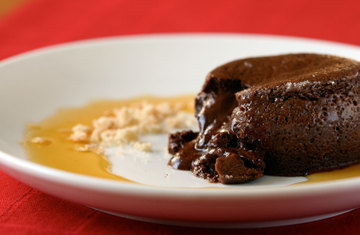 I have a secret to share: you know the sexy, ubiquitous warm molten chocolate cakes that appear on many a Valentine's Day menu? I've never made them before. At least, not until last weekend, when I decided this was an omission in my repertoire I needed to rectify. After going through several recipes, I decided that the version where you place a ball of ganache in the middle of the batter was the way to go. This ensures that the while the cake bakes up light and delicately souffléd, the center melts into a sensual liquid flow. Making ganache truffles also gave me the opportunity to play around with recipe and create two versions – one for each of the fabulous presents I received last week!
The wonderfully talented and thoughtful Ivonne sent me a box full of sweet surprises, which included a jar of her own vibrant blood orange syrup. I knew it would make a lovely accompaniment to a chocolate cake, and so Molten Chocolate-Chipotle Cake with Blood Orange Sauce and Cinnamon-Cardamom Crumbles was created. A bit of ground chipotle pepper added to the chocolate ganache gives it a smoky heat that leaves a pleasantly warming tingle on your tongue. The subtle spiciness actually seems to boost the rich chocolatey-ness of the cake, giving it a lingering, smooth finish. The blood orange syrup adds a gorgeous sweet-tart note to the dessert – it's like framing the cake in a bright, citrusy sunburst. As a final touch, the buttery cinnamon-cardamom crumbles (I actually just made a spiced cookie and pulverized it in the food processor) provide crunchy contrast. Together, all the components combine into a bold symphony of flavors.
If the first version is an effervescent modern painting, the second, Molten Chocolate Matcha Cake with Tonka Bean Crème Anglaise – is a serene Zen garden. Although matcha is often combined with white chocolate so its verdant hue may be preserved, I found that matching it with dark chocolate made for an austerely sophisticated flavor. The smooth, slightly bitter taste resonated like a stone dropped in still, dark pool. As for the tonka beans, the uber-fabulous Helen surprised me with a packet of those suddenly trendy little seeds; I'd been eager to get some since I'd seen them on her blog. In their little wax paper bag, they gave off the most mysterious, compelling fragrance: almond, apricot, vanilla, cloves. It's unfortunate that the potentially dangerous properties of tonka beans have made them an exotic oddity; perhaps, however, like the Japanese blowfish, the thrill of knowingly flirting with danger can add an extra frisson of enjoyment to the act of consumption. Grated into a classic crème anglaise as a substitute for the traditional vanilla extract, the tonka bean gave the sauce a nutty, floral sweetness. Combined with the cake, it's a haiku of a dessert.
Two different takes on the same delectable cake; just two of the myriad of variations that can be spun out of this recipe. I like to think of it like those paper valentines you gave and received as a child; remember working with red paper and lace and glue, trying to create the perfect valentine for each of your friends? I'd like to dedicate these cakes to my lovely friends Ivonne and Helen. And to all the rest of you, I hope you have a wonderful Valentine's Day!
Molten Chocolate Cake Two Ways
adapted from Pichet Ong's The Sweet Spot
Makes 8 cakes
Ganache
4 oz semisweet or bittersweet chocolate, 62% to 70%
2 Tablespoons (28 g) butter
3 Tablespoons (45 g) heavy cream
1/8 teaspoon salt
Either: 1 ½ teaspoon ground chipotle pepper or 3 teaspoons matcha powder
Blood Orange Sauce: I was lucky enough to receive some as a gift: if you'd like to make your own, here is a similar recipe for Blood Orange Caramel Sauce that is also delicious.
Tonka Bean Crème Anglaise
¾ cup (183 g) milk
¼ cup (60 g) heavy cream
1 tonka bean
3 egg yolks
¼ cup (50 g) sugar
Cake
5 ½ oz semisweet or bittersweet chocolate, 62% to 70%
5 ½ Tablespoons (84 g) butter
4 large eggs, separated
¼ teaspoon salt
3 Tablespoons sugar
To make the ganache, combine the chocolate, butter, cream, and salt in a bowl and melt over a saucepan of simmering water on the stove. Stir occasionally to make sure it melts evenly.
Stir in the ground chipotle pepper or matcha powder. You can add more or less to your taste.
Pour the ganache into a container and place in refrigerator for about an hour until it starts to set up. You can also place it in the freezer to speed up the process.
When the ganache is firm enough to scoop, use a spoon or cookie scoop to make ¾" round balls. Place in a container and store in freezer to keep them firm while you make the cake.
To make the crème anglaise, combine milk and cream in a small heavy saucepan. Grate the tonka bean into the milk mixture.
Heat on medium until it just starts to bubble. Meanwhile, whisk the eggs and sugar together in a bowl.
Pour in the hot milk, whisking constantly to temper the eggs.
Return the mixture to the saucepan and place back on the stove. Cook on low heat, stirring constantly with a wooden spoon, until the mixture thickens and coats the back of the spoon.
Remove and strain into a bowl. You can chill in an ice bath or in the refrigerator until ready to use. Place a piece of plastic wrap directly on the surface to prevent a skin from forming. This makes about 1 cup.
To make the cake, preheat the oven to 350 degrees F. Line a couple baking sheets with parchment paper. Take eight 2 ½" diameter metal rings and butter and sugar the insides well. Arrange rings on the baking sheets.
Place the chocolate and butter in a bowl and melt over a saucepan of simmering water on the stove, stirring occasionally.
When chocolate and butter are fully melted and combined remove from heat and let cool until warm.
Whisk egg yolks, salt, and sugar together in a large bowl. Pour about a third of the melted chocolate into the egg yolks, whisking constantly to temper the eggs.
Pour in the rest of the chocolate and whisk to combine.
In a stand mixer with the whisk attachment, whip the egg whites until medium peaks form – do not overwhip.
Carefully fold in about half of the egg whites into the chocolate batter to lighten it. Then fold in the rest of the egg whites, taking care not to deflate them too much.
Fill the rings a little less than halfway up with the batter. Place a ball of ganache in the center of the batter. Cover with more batter, filling the rings about ¾ full – the cake s will rise when baking like a soufflé so don't fill them too high or they will spill over.
Bake cakes for 10 to 12 minutes. The cakes should be done – a tester inserted in the side should come out with a few crumbs, but the centers should have melted. You may want to test with one cake first to gauge how long the right baking time will be.
Remove cakes and let cool on racks for a couple minutes. Use a wide metal spatula to move the cakes onto serving plates, and then carefully remove the rings. Drizzle sauce around the cakes and serve immediately.
Tagged with: molten chocolate cake + blood orange sauce+ tonka bean creme anglaise + matcha chocolate + chipotle chocolate