Merry Christmas and Happy Holidays to all my readers and your loved ones. 2010 was a sweet year for me and I hope it was a great one for you.
Presents wrapped and under the tree, last minute Christmas cookies baking in the oven (I'm nibbling on some of this leftover Buddha's hand and ginger cake to keep from eating the cookie dough). May your Christmas be merry and bright!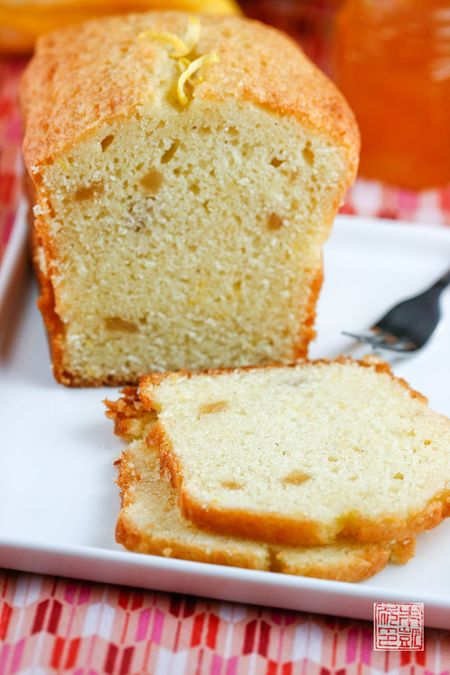 Buddha's Hand Ginger Cake
adapted from Dorie Greenspan's Baking From My Home to Yours

1 1/2 cups flour
1 1/4 teaspoons baking powder
pinch of salt
1 3/4 cups sugar
1 tablespoon Buddha's hand zest
3 large eggs, room temperature
3/4 teaspoon vanilla extract
1 tablespoon fresh lemon juice
1/3 cup heavy cream
7 1/2 tablespoons (3 3/4 oz ) unsalted butter, melted and cooled
2 tablespoons candied/crystallized ginger, cut into small pieces
Preheat oven to 350 degrees F.
Butter and flour a 8 1/2 x 4 1/2 x 2 1/2 loaf pan.
Sift flour, baking powder, and salt together in a small bowl.
Combine sugar and zest in a medium bowl.
Add eggs and whisk to combine.
Add vanilla, lemon juice, and cream, and whisk to combine.
Using a wooden spoon, stir in dry mixture in 3 additions until smooth and combined.
Add melted butter and fold into mixture until combined. Stir in the pieces of candied ginger.
Pour mixture into prepared pan and bake for 55 to 60 minutes, until top is golden brown and a tester inserted in the center comes out clean.
Let cool on wire rack before serving.