One near-axiom of opening a business is that there will always be unforeseen obstacles. The trick is whether you have the agility to sidestep these pitfalls and maintain as much forward momentum as possible.
When I first learned about Tell Tale Preserve Company, the storefront was projected to open by the end of this year. However, delays in schedules and other issues have led to a revised date of early next spring.
News that no business owner wants to hear. However, Tell Tale has chosen to make the most of this extended "soft open" and branch out into alternative markets – something they might have done eventually anyway, but which has proven to be an essential strategy for keeping the kitchen going while the storefront remains in the future still.
Aside from selling a online monthly subscription, Tell Tale now also sells at the Ferry Building Farmers' Market on Tuesdays and Saturdays. One of the best known farmers' markets in the Bay Area, and a perfect opportunity to build brand recognition and customer loyalty.
If you notice the wooden display case, it was made by Chef William himself. Tell Tale has a very particular aesthetic, which you'll pick up on if you scroll through this post or go to their website, and I think going to the extra effort of creating a display that reflects your identity can go a long way to distinguishing your brand.
Like the little display cards and the caramels in the ball jar, a sort of rough-hewn, non-precious flavor of vintage.
A shot of some chocolate-dipped marshmallows from behind the display that I happened to like.
Besides the farmers' market, the next most popular stepping stone to a permanent storefront: the pop up shop. Most of the time, a pop up shop might be a weekend event or a table set up in the corner of an existing store. However, Tell Tale likes to do things with style and has set up their pop up shop, called the Tell Tale Trunk Show, in an entire room of an antique store in Potrero Hill.
The space about four hours before opening. Lots of work to do. Did I mention yet what I was doing last Thursday?
There's a lot of synergy going on in the pairing up of Tell Tale and Big Daddy's Antiques. Tell Tale was already planning to purchase some pieces from the place to furnish the main store, as Big Daddy's collection fit their style. Big Daddy happened to have a side room in their store (pictured above) that could be easily transformed into a cafe space.
I suppose the takeaway from this is to talk to everybody when you're starting your business, because you never know where opportunities will emerge and the nice store owner you're talking to will suddenly offer to let you set up shop in his space. There are all kinds of people helping to launch Tell Tale: bakers, designers, photographers, accountants, publicists, etc. The more people you know, the more skills and connections you'll have to draw upon. (yes, being nice and genuine and having awesome pastries to offer people helps a lot).
Tell Tale Trunk Show is open from M-Sa from 9-5 through the month of December. Pastries, jams, confections, and drip coffee will be served.

Antique stools pressed into service as display pedestals for the pastries. Much more stylish than your regular old bakery display case.
A sampling of pastries offered at the Trunk Show.
In the jewel box: White chocolate-matcha-black sesame guns, just for fun.
I helped make some of these! or at least the batch that went into the monthly society bags.
The final counter set up for the Trunk Show, awaiting customers. The really cool thing about having the pop up shop in an antique store, is that not only was there no need to buy furniture, but all the furnishings are for sale. So if you go in for your croissant and you happen to admire the bookcase or the lamp, you can buy it from Big Daddy's. Convenient, yes?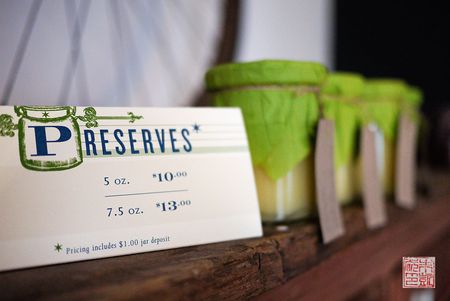 Numerous retail items – including jams, natch – adorning the rest of the store. Yes, there is a vintage bicycle behind those jars of jam.
And caramels peeking out of the apothecary-style chest of drawers.
Society bags also for sale. If you haven't ordered your January bag, you can (and should) do so.
And yet more jams arranged in baskets. It was actually really fun to figure out how to utilize all the fantastic pieces in Big Daddy's  – a lot more interesting than arranging generic cafe furniture.
Looks much better all cleaned up and lit up for the holidays, doesn't it? Tell Tale threw an open house Thursday night to celebrate the opening of the pop up shop, and the next morning the Trunk Show was officially in business. It's possible that if there's enough interest, the Trunk Show will go on next year. So if you live in SF, please stop on by!
It's been a little over two months since I started my association with Tell Tale. I thought I'd just be writing about the opening of a pastry shop, but it's turned out to be not quite so straightforward, and a lot more interesting.
Tell Tale Trunk Show
at Big Daddy's Antiques
1550 17th Street
SF, CA 94107