Happy (belated) New Year – I hope you all enjoyed the holidays and are looking forward to 2008 (well, as much as I can – it's raining cats and dogs in San Francisco today). Returning from sunny, tropical Hong Kong was quite a shock to the system!
This shock was due in no small part to the indulgences I partook in while on holiday: sleeping in, a parade of family activities (I saw some cousins I haven't seen in almost 10 years – my gosh we're all grown up!), shopping that easily tripled the contents of my suitcases (not that I'm a shopaholic – well, maybe a little – but it's hard not to be when it seems like 50% of Hong Kong is retail space), and of course the eating (that would be the other 50%).
I get asked often, "How do not gain weight when you go to Hong Kong and eat so much?" Well, I actually think the answer lies in the preponderance of stores and restaurants in the city. You basically follow this routine:
1. Go to mall/downtown/outside your hotel/anywhere and start shopping. Keep shopping until you realized you've probably walked several miles and are exhausted.
2. Go to nearby restaurant/cafe/street stall and eat.
3. Go back to shopping.
4. Repeat cycle.
Essentially you will spend so much time walking around and shopping that you will burn up all those delicious calories you've ingested. A beautifully efficient system, really.
In all honesty, there are many other wonderful things to do in Hong Kong besides shopping and eating – the Hong Kong Zoological and Botanical Gardens are but a handful of steps from my parents' flat in the Mid-Levels, giving us the unusual opportunity to be both close to the hyper-urban downtown Central district as well as a zoo. A little more strolling takes you to beautiful Hong Kong Park, which contains an amazing aviary and conservatory, as well as gorgeously landscaped grounds. As a bonus, it's a popular spot for newlyweds to get pictures taken, as the marriage registry is just outside the park: go on the weekend and you're likely to see a dozen beaming couples posing by the flowers or waterfalls.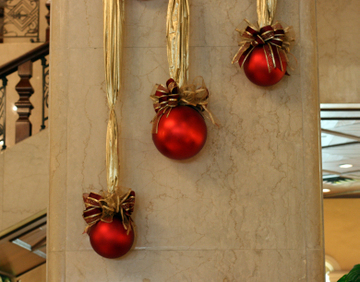 You can also visit Macau, which is but a 45 minute hydrofoil ride away from Hong Kong. A former Portuguese colony, it maintains an old European charm in many parts of the islands that makes it an ideal getaway from the bustle of Hong Kong. However, it's no secret that the gaming industry in Macau is rising faster than a soufflé in an oven – and it's not likely to deflate anytime either. A walk down the Cotai Strip shows construction as far as the eye can see – construction of a Strip that will rival the one in Las Vegas (Macau's gaming revenue has already surpassed that of Sin City). My suggestion? Explore old Macau during the day – the colonial architecture and narrow cobblestone streets will transport you to Europe – then visit the gaming tables at night for glittery hedonism at its most exciting.
All right, on to the part I'm sure you're most excited to read about – sweets in Hong Kong. What I love most about pastry in Hong Kong is the variety and innovation. You can buy a bag of eggettes (a kind of waffle) from a streetside vendor for a dollar or have high tea at the Peninsula Hong Kong. You can sample perfect French pastries or have classic Chinese dessert soups, perhaps on the same street. I also think that Hong Kong, like all major cosmopolitan cities, has a sort of ADD – the citizens are always on the lookout for the new and exciting, so stores constantly have to come up with new items to retain customers' interest. See some of the items I saw in the bakeries there:
Holiday cakes from Maxim's, a popular bakery chain. The snowman was lovely – vanilla sponge cake on crispy feuilletine over a chocolate cake base. Surprisingly sophisticated and well done for a chain shop.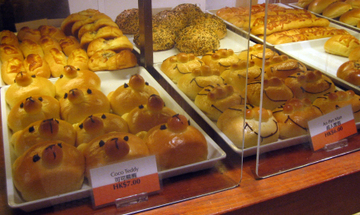 The variety of breads in even the humblest of bakeries is staggering. See the "Coco Teddy" bear shaped bun filled with chocolate. Coco Teddy, you were delicious – I love you!
I will also note that Beard Papa's and Krispy Kreme are part of the culinary landscape now as well – and even these chain shops were offering special holiday items like black sesame cream puffs and tree-shaped donuts – I really wish they would do things like that here in the U.S.!
My list of great places to get a sweet bite in Hong Kong: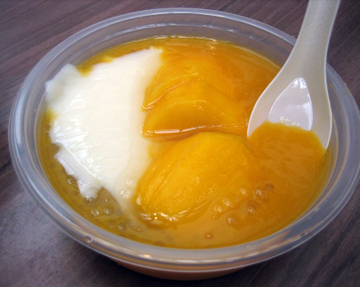 Hui Lau San
I've rhapsodized about this place before; the red-and-gold festooned shops are ubiquitous, which makes them the stop of choice when your feet are tired and you're thirsty. They are sort of like Starbucks, only everything is made from fruit so it's much healthier (and tastier, in my opinion). You can get anything from a bowl of fruit mixed with sago to aloe jelly with coconut juice. I always get something from the Mango Mania section, because Hong Kong residents can't seem to get enough of mango and neither can I. The mango jelly in mango and coconut juice is a favorite. The Hui Lau San I seem to frequent the most is the one in Causeway Bay, just across from Sogo and a block away from the Times Square mall – the height of convenience.
Honeymoon Dessert
Another popular series of dessert shops, this one centered around traditional Chinese desserts like walnut and black sesame soups, almond tea with tapioca, or thin crepes filled with red bean or mango. They also have items with durian, that olfactory menace of a fruit – try it but be prepared for your table companions to make a hasty departure! Honeymoon Dessert shops are scattered around Hong Kong; there's one in the ifc mall in Central and at the apm mall in Kwun Tong.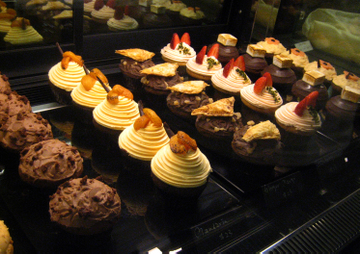 Dessert at Elements
I made a visit to Elements, the highly touted new mall in Tsim Sha Tsui (I am always amazed that they are always building new malls – the Hong Kong appetite for shopping is truly insatiable). It is elegant, modern, and occupied by every high end luxury brand you can imagine, from Armani to Versace. If your pocketbook is feeling a little light after your stops at Cartier, Fendi, and Valentino, you can get a little pick me up at PETiTs by Deschamps, offering the most couture of cupcakes, or at La Création De Gute, a swank little patisserie.
Dessert Buffet at the Tiffin, Grand Hyatt Hong Kong
Remember my dreamy experience there? Desserts with a French pedigree and an Asian flair – chestnut seemed to be the theme ingredient (I loved a chestnut and chocolate mousse) but there were many other delights to sample, from fruit tarts to cream cakes, homemade ice creams and sorbets, Belgian waffles made to order, chocolate fondue with skewers of marshmallows and fruit lined up like ornaments, sweet soups and fresh fruit. You can nibble on your plate of sweets while gazing out the floor to ceiling windows at the panorama that is the Hong Kong skyline – a true feast for all the senses.
Bambu
I'll also mention a few favorite experiences in Macao: The Bambu at the Venetian offers an excellent Asian-themed buffet with an impressive selection of desserts, including homemade ice cream.
Pasteleria Koi Kei
Go to the old districts in Macau and you'll likely find shop selling Macau sweet specialties like peanut candy, seaweed wrapped wafers, and almond cookies. You can see the baker above making them; many pastry shops have demonstrations like this outside the shop and give samples away liberally, encouraging lookers to stay and buy. Koi Kei has some of the tastiest almond cookies, especially hot and freshly made.
That just about scratches the surface of what's available in Hong Kong. I look forward to my next visit…and discovering what has changed in my absence. Meanwhile, I'm excited to back home in my kitchen baking again!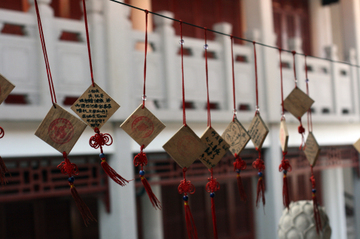 Tagged with: Hong Kong desserts + Hui Lau San + Honeymoon+dessert + Tiffin dessert buffet