If you would like a refreshing break from walking around the streets of Hong Kong, there are few places more well known or more appealing than the Hui Lau Shan dessert restaurant chain. Why don't they have more of these types of places in the US instead of opening more Starbucks? (Actually, I just found out Hui Lau Shan has opened in California under the name Creations Desserts– take a look at the menu to see some of Hui Lau Shan's typical offerings. I will have to check out the local branch soon!)
Imagine after a long day of shopping and sightseeing, you are dusty, tired, and all those shopping bags are getting way too heavy on your arms. Just then, you spot the distinctive red-and-gold exterior of one of these restaurants, the juice machines running merrily on the front counters, the servers calling out the dessert specials of the day. A bowl of fresh fruit over ice cream or a cold fruit sago drink sounds quite delicious right now…
Hui Lau Shan was opened over 50 years ago as an herbal tea shop, specializing in Chinese-style desserts featuring traditional remedies like tortoise jellies – apparently the original Hui Lau Shan store still has a 60-year old old tortoise on the premises. Along the way they started offering fresh fruit drinks and desserts, and evolved into the hugely popular chain they are today.
The house signature dish consists of fresh fruit, like watermelon, strawberries, cantaloupe, and mangoes, sliced and arranged over a base of sweet ice cream. The dish I had, which you can see on the red banner in the picture below, has a scoop of mango ice cream in a soup of thickened chilled mango juice, with pieces of mango and sago(similar to tapioca pearls). Mango is a very popular dessert flavor in Hong Kong, as you can see from the Mango Mania section of the menu, and Hui Lau San does an excellent job with this tasty fruit.
Hui Lau San's tortoise jelly, or kwai ling go, is still on the menu! Kwai ling go is made from the bottom shell, or plastron, of a turtle, plus several Chinese herbs to make a black jello-like substance. It is supposed to have many health benefits, including reducing fevers and improving the skin. I'm personally not that fond of it – it has a rather bitter taste – but combined with some ice cream and fruit, it might not be so bad. Other traditional Chinese health items also included on Hui Lau Shan's menu are bird's nest and harsmar, which has been euphemistically renamed "crystal snow" on the US menu – but which really just refers to snow frog fat! Both items are reputed to improve the body's functions and give you a glowing complexion – think of these as the Chinese version of those "nutrition boosts" those health cafes put in your smoothies!
The dessert break at Hui Lau San kept me going until we got to dinner in Causeway Bay as the neon lights started to come on in the city. A necessary disclaimer: my facility in Chinese is far from fluent – while I know enough to ask for my favorite dishes or to get directions to the subway, I can't navigate the quickly-scrawled, constantly-changing handwritten menus in restaurants. So the burden fell to my wonderful parents, Hong Kong natives who took me to the local places I wouldn't have found on my own and ordered the dishes I wouldn't have known about.
Dinner that night was a perfect example – we went to a little restaurant on a small side street with no visible address or name (I believe the Chinese name translates roughly to "Home Cooking Restaurant") but was already filling up quickly at a quarter to six.
True to its name, Home Cooking Restaurant offers simple Cantonese fare like you might find from a home kitchen, well executed and at reasonable prices. One of our dishes was a version of sweet and sour fish, with a sea bass lightly fried and then covered in a tangy tomato sauce with pine nuts.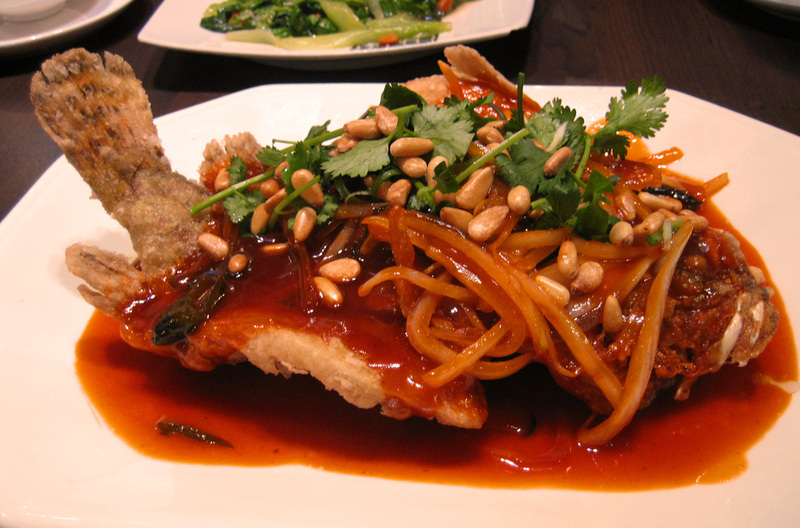 We also had the "Grandma's Chicken", where pieces of chicken are marinated in a "secret sauce"(Grandma's?) – the resulting dish is moist,tender, and savory – a bit like soy sauce chicken but without such heavy soy sauce overtones.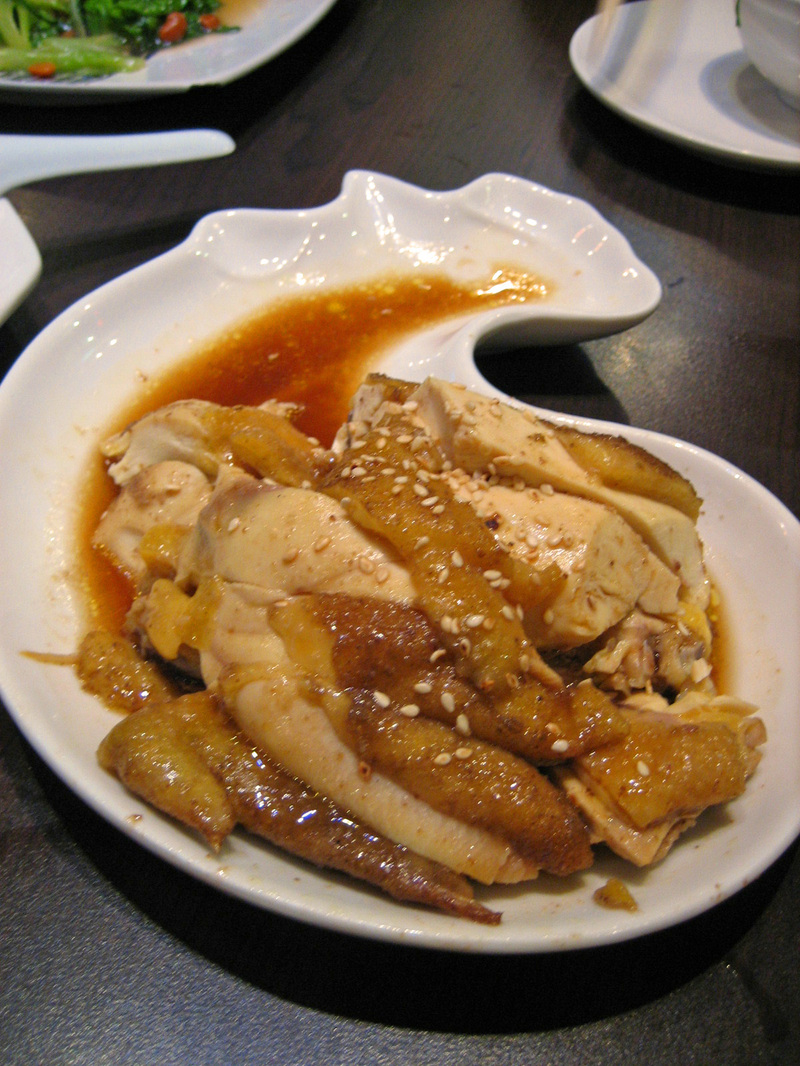 We also had a classic Chinese home dish – steamed egg custard. It is very similar to an omelet except it is cooked in a steamer instead of pan, giving it the tender, velvety texture of custard. Bits of pork, mushrooms, scallions, and soy sauce are also mixed in, making a wonderfully filling comfort food.
After a traditional dessert of red bean soup, we had plenty of time to stroll the streets thronging with nighttime crowds before we finally took a taxi back to the apartment, the glittering lights following us all the way home.
Next: Bakeries in Hong Kong!