Living in San Francisco, most people would think there is easy access to great Chinese food. I won't say there isn't good Chinese food to be found, just that it is not as prevalent as one would assume given the large Chinese population. The thing about Hong Kong is that not only is there great Chinese food, but is it everywhere. You can get an elaborate meal with abalone, bird's nest, and other delicacies at a beautiful rooftop restaurant, or you can get a fantastic bowl of wonton noodle soup in a streetside shop. My first meal of choice upon arriving in Hong Kong? Dim sum.
My favorite place for dim sum is Sheung Wan Ho Choi Seafood Restaurant on the Hong Kong Island. Like many establishments in space-deprived and ever-more-vertical Hong Kong, it is located on the upper floors of a nondescript building and has a rather unassuming storefront. Once you exit the elevator into the restaurant proper,though, you are faced with tanks upon tanks of fish, crabs, clams, and all sorts of sea creatures – a good sign of the freshness of the food to come.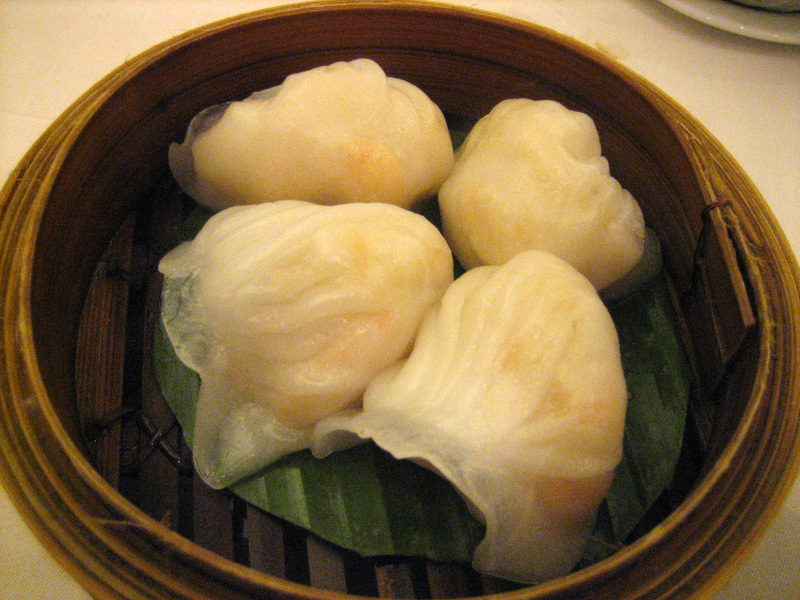 A beautiful example of har gow or shrimp dumplings, a classic dim sum item. The wrapper is translucent, hinting at the shrimp goodness inside, firm enough to hold together when picked up but delicate enough to tear easily under a bite. The shrimp were huge, plump, and juicy, cooked perfectly. They were mixed with bits of crunchy bamboo shoots that combined with the shrimp juices to form a heavenly mouthful.
This is another favorite of mine, lo bak gao, or turnip cakes. The turnips in question are Chinese white radishes, which are grated and combined with rice flour, scallion, black mushrooms, Chinese sausage, dried shrimp, and other goodies (many dim sum items seem to be made by combining as many ingredients as possible in a tiny mysterious package that smells and taste outrageously good. When growing up I would often ask my mother what a particular item was, to which she would respond, "It doesn't matter, just eat it, it's good." She was right.) The mixture is steamed, chilled to form a firm cake and then fried. Cut into slices, they are greasy, hot, and richly flavored – perfect dim sum.
As another side note, lo bak also refers to carrot – the pointy orange kind. As I was not very fond of carrots as a child, I refused to eat lo bak gao for quite a long time – until I discovered my tragic misunderstanding.
Other dishes we had included siu mai, dumplings made of ground pork and shrimp in a wonton wrapper (more trivia: the characters for siu mai literally mean "cook" and "sell" – perhaps an allusion to the fact that these items are so popular they sell as quickly as they are cooked); fung jau, chicken feet in black bean sauce; lo mei gai, sticky rice with chicken and Chinese sausage wrapped in a lotus leaf; and a twist on the popular cha siu bao (barbecued pork bun) that I adore, cha siu so, where the barbecued pork is put inside a pocket of puff pastry and baked. When you bite into one you get flaky, buttery pastry and then salty, juicy cha siu – it's like dinner and dessert in one bite! I have never found any cha siu so done well in the Bay Area, so the reason I have no pictures of this wonderful creation is that I ate them as soon as they arrived on the table!
Dim sum is a beloved tradition in Hong Kong – while the most common image of dim sum is of cavernous restaurants overflowing with families and waitresses pushing carts, with everyone screaming at the top of their lungs, it can also be a more sedate afternoon affair, or a leisurely morning event. In smaller, quieter restaurants like Ho Choi, you will see many elderly people sitting at the tables reading the newspaper, with perhaps one or two dishes in front of them, drinking tea and relaxing. They will sit there for much of the morning and no one will shoo them away.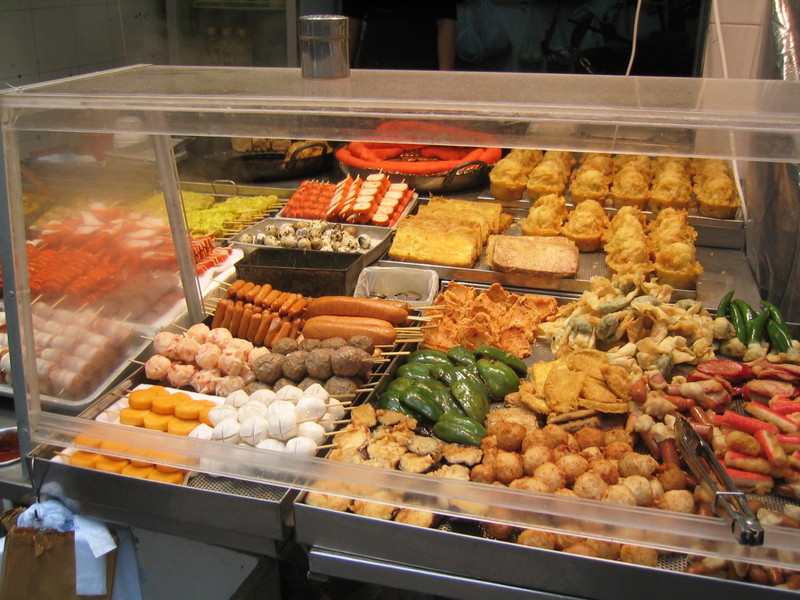 Dim sum is also available on the streets from vendors. Usually these take the form of several siu mai or other dumpling types on a stick, to be happily bitten off as you continue wandering the city. Some of the street dim sum can be just as good as the restaurant kind – and it's pretty hard to resist the smells as you walk by!
I had arrived in Hong Kong at 6 in the morning, and by the time I finished with dim sum it was 10 – just in time for most malls to open (while many places are open early, most big malls do not open until later – important to know in the summer when reaching an air-conditioned place is critical). While my fits of consumerism come and go, it's impossible not to feel the itch in Hong Kong. The newest mall in Hong Kong (they never seem to tire of building more shopping meccas, either), the APM Mall in Kowloon, does not close until 12 AM has some shops that are open 24 hours.
I managed to make rounds in about two malls before jet lag started kicking in and I needed a break. Fortunately, one of these was close by:
Perhaps you can tell from the picture that I could not make it that long without some dessert!
To be continued with a dissertation on desserts in Hong Kong…
Sheung Wan Ho Choi Seafood Restaurant
287-291 Des Voeux Road Central, Hong Kong
Tel: 2850 6722