I thought I would take a moment to update my dear readers on what other food-related events have transpired recently in my life. First off, my second article has been published in Edible East Bay! You may remember that I toured Charles Chocolates' new factory and store a while back; now the full story plus photos I snapped of the production line are in the Fall 2007 issue of Edible East Bay.
This issue is filled with fascinating articles, from a history of cattle ranching in the East Bay to a profile of a local beekeeper and artisan honey maker, to a tour of Hangar One, an innovative vodka distillery on the little island of Alameda. Incidentally, Hangar One is where I went this weekend and where I took the top photo: they make the striking Buddha's Hand citron vodka that Alice Medrich recommends for her Citron Vodka chocolates in her new book, and they also make an absolutely divine dessert wine:
Just be careful when pronouncing that name aloud in polite company!
If you aren't near a copy of this issue of Edible East Bay, they will soon post up electronic versions of the articles on their website. You can also read my earlier profile of Charles Chocolates.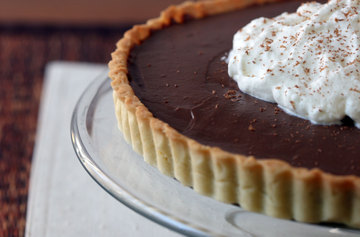 Second, I'm happy to announce that Sarah Phillips of Baking 911, one of the most comprehensive and helpful baking sites available on the net, invited me to contribute to her monthly newsletter. Sarah is one of the nicest people I've ever met, and a fabulously accomplished baker: I am amazed at the amount of information on her site, from recipes to step by step tutorials for making just about anything in pastry. I'm very pleased to be part of Baking911, and for the November newsletter I've created a recipe for a chocolate caramel pie – a wonderful addition to the holiday table!
In order to view the newsletter, you will need to become a premium member of Baking911. Membership is $24 a year, but Sarah is currently running a promotion where membership will only cost $14 if you join before the end of the year. Read here to see all the benefits of becoming a premium member. Even if you don't join Baking911, I hope you still find it a useful baking resource – I've found many of her articles helpful when researching a recipe or pastry technique.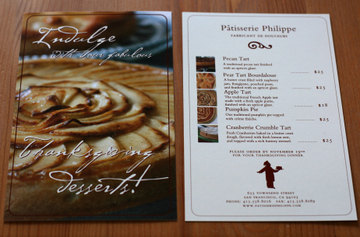 Finally, the capper to a really lovely weekend: I got to see the advertising cards for Pâtisserie Philippe – with my photography on them! You may remember me rhapsodizing about Philippe's peerless pastry; I recently did a photo shoot for his holiday line and now the Thanksgiving advertising card is out!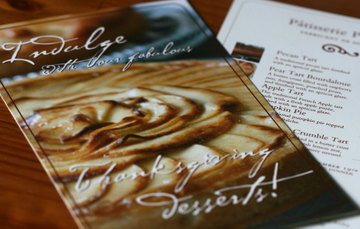 There's just something about the tangible realness of a photo on smooth, substantial stock that's completely different from an image on a computer screen. If you have MooCards, you know what I mean. I have to admit it was quite thrilling to see my photos hung in the store windows and on the beautifully produced cards. I was also very relieved when Philippe told me he thought the pictures looked "like (he) wanted to eat them," – so glad I'd done justice to his creations!
If you live anywhere near Pâtisserie Philippe, I urge you to pick up one of his desserts for Thanksgiving; I can personally assure you they are all fantastic. If you want a closer look, descriptions along with some more of my photos are on his holiday menu, and you'll get a bonus peek at a shot I did of his Yule log!
You may have noticed the outrageously beautiful apple tart on the front of Philippe's card; he gave me one to take home after the photo shoot and I ate about half of that! Check back later this week to see my humble take on this apple tart!
Tagged with: Edible East Bay + Charles Chocolates + Baking911+ Hangar One+ Patisserie Philippe