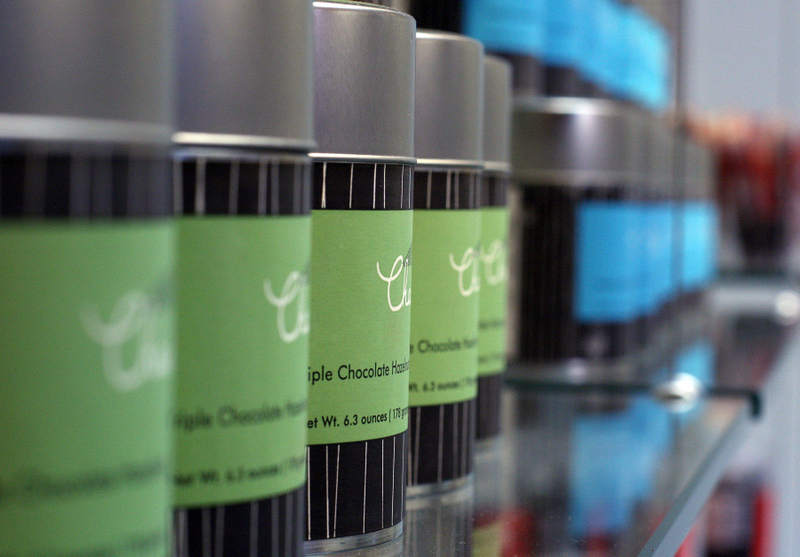 I've been a fan of Charles Chocolates since I tried the passion fruit heart at CocoaBella. Last year I visited the temporary store in San Francisco, and I got to see Chuck Siegel himself do a demonstration at CocoaBella with fellow chocolatier Christopher Elbow. Now it looks like Chuck is realizing his dreams, as well as those of all Bay Area chocolate lovers, with the opening of his new store in Emeryville.
I was lucky enough to see not only the store but to get a tour of the candy kitchen by Chuck himself – by the way, he's just about the nicest guy you could meet – Willy Wonka's got nothing on him.
Right now the store is a sleek little space, with boxes of chocolates seeming to hover on glass shelves backed by art-gallery-chic brick walls, but this is only phase one: a brand new candy kitchen is being built right behind the store, and when it is finished customers will be able to get a cup of coffee or hot chocolate, sit down, and watch Charles Chocolates being made through big glass windows.
"I really want to customers to see what goes into the process of making our chocolates, to understand what we mean when we say everything is made by hand,", says Chuck. All of his chocolates are handmade by his workers in small batches – there is no huge warehouse full of candy since everything is made to order and shipped out within a few days. Walking into the current candy kitchen next door, one can see white-clad workers making blood orange marmalade on the stove for the chocolate yankees, pouring hot caramel into frames to be cut later with a guitar, or wrapping the chocolate bars individually in foil. Everything is clean, efficient, and precise – just as Chuck likes it.
When so much of the experience of fine chocolate is tied to appreciation of the finished product, to the fine glossy sheen of a chocolate bar, the perfect smooth roundness of a truffle, the delicate crisp give of the chocolate shell as you bite through to the ganache, attention to detail becomes paramount, and when the new candy kitchen is finished, it is Chuck's hope that the public will really be able to appreciate how this dedication translates to the beautiful product for sale in the store.
But I would urge you not to wait for the new kitchen to be finished (it should be a couple of months away) but to head over to his store now, and check out all the goodies awaiting your hungry gaze and eager tongue. Some of my favorites follow:
This a new collection of tea-infused chocolates that I was quite taken with – Chuck has used some very fine eastern teas from Teance of Berkeley and created some very unique tasting chocolates that range from delicate (jasmine) to earthy (oolong). I've made tea-infused chocolates before and it's always a trick to balance the flavor and intensity of the tea with the right chocolate – Chuck explained to me that each tea is paired with a different blend of chocolates to achieve a perfect harmony in taste. I really like the lichee and osmanthus chocolates!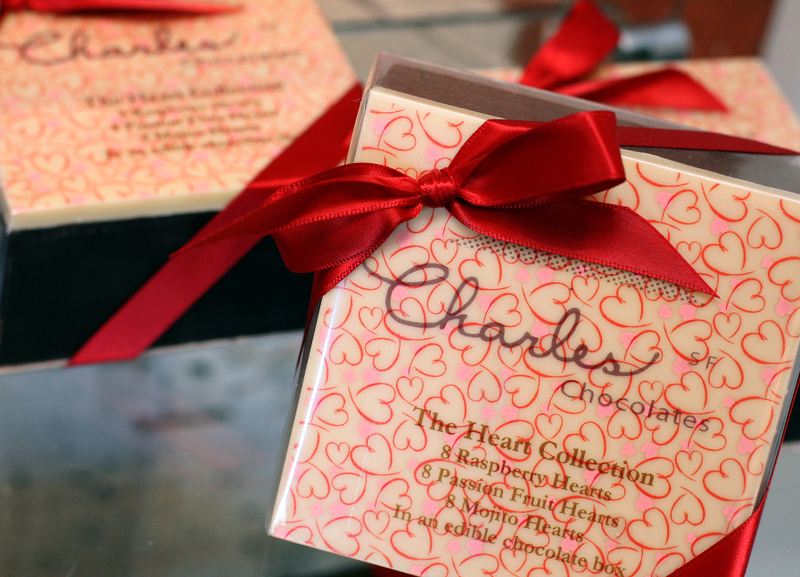 One of their signature edible chocolate boxes – I asked Chuck how he came up with idea and he replied that it was actually born out of necessity – at one point his supplier was unable to deliver enough packaging for Chuck and his chocolates, so Chuck decided to make his own boxes out of chocolate. This brainstorm has turned into one of their trademark items – new designs for new collections are constantly coming out, from a Chinese watercolor-inspired lid for the tea chocolates to a pretty floral pastel for the spring collection.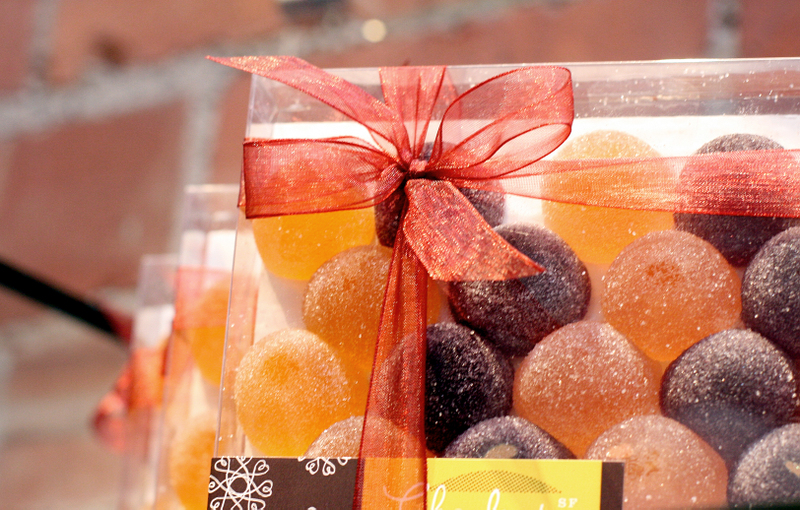 Chuck doesn't just make great chocolates – he also makes some awesome pate de fruit. I am seriously in love with his new collection of wine infused pate de fruit; they taste like perfect distillations of the grape. Chuck uses wines from the gorgeous Artesa Winery in Napa to make his little hemispheres of bliss – the gewurztraminer and champagne flavors are light and sweet, the merlot and cabernet sauvignon delectably intense.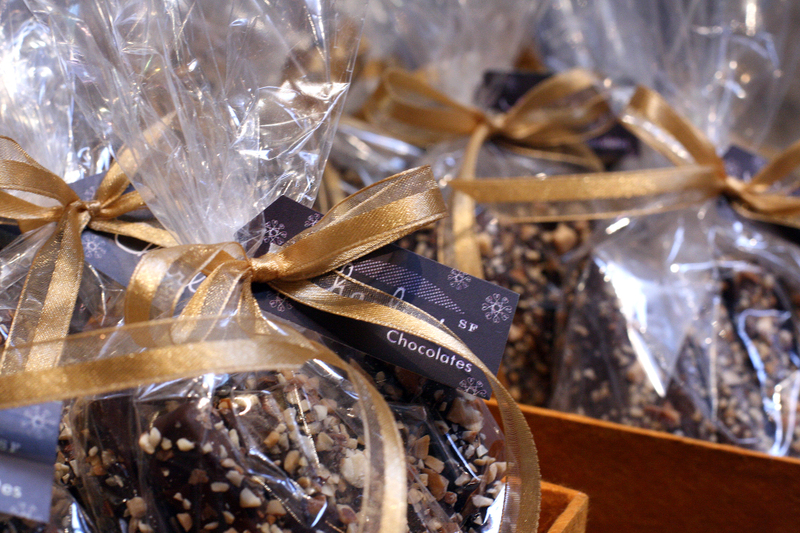 One of their newest products, a chocolate-covered stick of caramel sprinkled with toasted nuts. Chuck is starting to branch out from his original box of chocolates – these little lovelies are like a supercharged version of those Japanese Pocky sticks – very portable and munchable.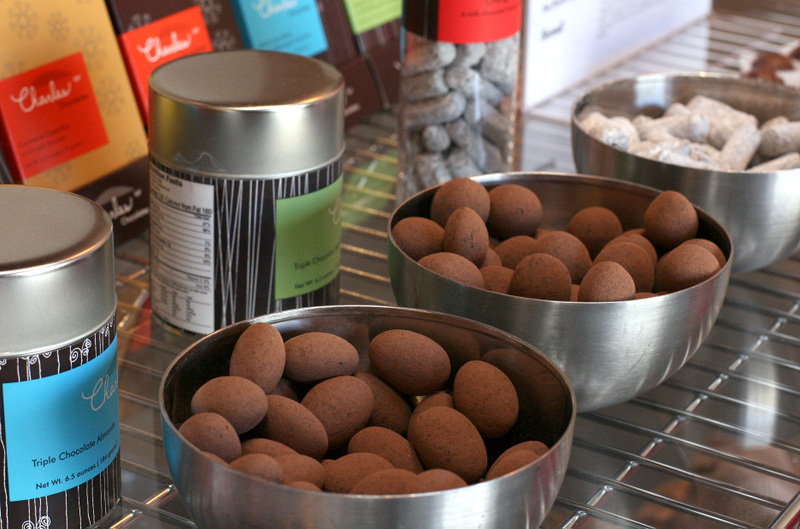 Beside the fact that the entire collection of Charles Chocolates is available at the store, another reason you should go is that you can try anything there! The staff is quite friendly and knowledgeable and eager to recommend the chocolates that will delight your tastebuds. Also, through the month of March, there will be free tastings every Saturday of certain chocolates – you can learn about how Chuck came up with the idea for different chocolates and how they are made.
I'll give another update when the new kitchen is open and I get to take a peek inside, but I hope in the meantime you get a chance to make your way to Emeryville and try some of the best local chocolate around!
Charles Chocolates
6529 Hollis Street
Emeryville, CA
510-652-4412
Open daily 11AM – 7PM
Tagged with: Charles Chocolates + Bay Area chocolate + artisan chocolates
Stumble this post!