About a month ago I got a very fun and exciting opportunity passed on to me by the awesome Amy of Cooking with Amy. Nordicware, the maker of those beautiful and whimsical bundt pans in which you can make a cake in practically
any
shape
nowadays
, was in the final round of its annual bundt cake recipe contest. The final bake-off was going to be held in San Francisco and they needed a third judge, which turned out to be…me!
Before you start wondering whether I put on my best Simon or Paula from American Idol impression, I'll tell you that everyone, from Dana the Nordicware rep, to the other judges, to all ten finalists were super nice and friendly. Considering that the grand prize was $10,000 (did you hear that? I expect to see all my fellow baking bloggers out there entering next year!) the atmosphere was quite casual and relaxed. All the finalists had been flown out to San Francisco and got to stay here for a couple days for the bakeoff, and they all seemed as excited about getting a trip out to the west coast as a chance to win first place!
I arrived at the professional kitchens in the morning as the first 5 contestants were finishing up their cakes. They were displayed, photographed for posterity, and then we judges got to sit down and dig in while the other 5 contestants baked their cakes. It was nice that the baking and judging were done in two rounds because the bakers all got more space to spread out in the kitchen, and we judges didn't have to eat ten cakes at once!
The theme of the contest this year was Holiday Bundts, and entrants were to create a bundt cake recipe celebrating one of ten American holidays. The finalists were each chosen to represent one of those holidays, so it was a sort of "best in show" final. The cakes were judged on several criteria, including originality, taste, texture, appearance, use of ingredients, and an essay. What, you thought all I had to do was eat cake? I was very impressed with the cakes, all of which were lovely and festive tributes to the holidays – really, it felt like I was celebrating a year's worth of holidays in one afternoon! One interesting rule Nordicware had was that since bundt pans by their shape are supposed to create beautiful cakes on their own, contestants were discouraged from elaborate decorations on their cakes, and we judges were supposed to account for that during judging. I liked seeing how the finalists managed to decorate their cakes to accentuate the form rather than overpower it.
I'm sure you're eager to see the finalist cakes for yourself and play judge, so here they are:
Father's Day: Daddy's Double Espresso Chocolate Cake with Cappuccino Froth
Easter: Lemon Lime Easter Cake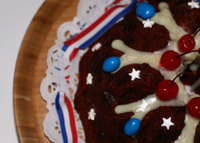 Fourth of July: Ameri-candy Doodle Dandy Bundt Cake
Halloween: Candy Corn Halloween Bundt Cake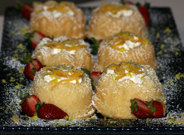 Mother's Day: Meyer Lemon Baby Cakes with Candied Lemon Zest
St. Patrick's Day: Irish Whiskey Bundt Cake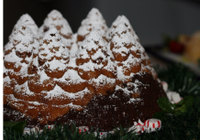 Christmas: Mint Mountains
Thanksgiving: Caramel-copia Thanksgiving Bundt Cake
Hannukah: Magen David D'Light Cake
Valentine's Day: Chocolate Cherry Bundt Cake
I'm sure you've noticed how gorgeously all the cakes were plated and styled – the ladies went all out! I believe the finalist who baked the Fourth of July cake even wore a red, white, and blue shirt to go with her cake! Many of the cakes also came with fancy accompaniments, like sauces, chocolate-dipped cherries, even chocolate-covered espresso beans!
You can get recipes for all the cakes here. So who won? I'm afraid I can't tell you yet! Nordicware is revealing the winner on November 15th, so check back then. I'll also let you know after the 15th what I thought of the winning cake as well as the other favorites. In the meantime, I'd love to know which one you like! Take a look at all the cakes, check all the recipes, and post your favorite – and see in a few weeks if you picked the winner! Hopefully these cakes might give you a new inspiration for your holiday baking. As for me, I had a great time judging, although I'll admit it's easier to be baking than to be trying to choose between ten different delicious cakes!