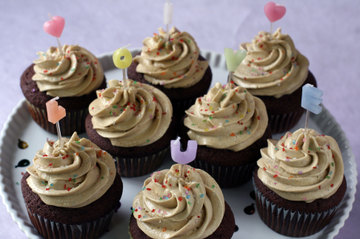 I like to think that the desserts I create my kitchen tell a story. Maybe they say that I like trying new and unusual recipes. Or that I like making the classics too. That sometimes I get obsessed with perfecting a recipe. Or that I get obsessed with certain French pastry geniuses.
Maybe this says, I really feel like tackling that six-component dessert that requires a special trip to the grocery store to the ingredients, every pan and tool in the kitchen, a long unfettered day for baking, and a deep breath with a quick prayer to the pastry gods before starting.
Or perhaps this says, I was at the market and these apples and pears looked so fab, and I knew I had brown sugar and butter at home, so I bet I could whip up a fabulous little crisp in no time at all.
These definitely say, I've got a brand new toy and I can't get enough of it.
Oh, and of course, this says that I belong to a fabulous group of fellow bakers who all inspire and brighten my days.
I like to think that whatever I bake, carries and conveys some of my thoughts and feelings I had while I was making it, about what inspired its creation, about how I hope it will turn out, about what people's reactions will be when I serve it.
But just in case the message isn't always clear, sometimes it's nice to spell it out.
These cupcakes are saying:
Happy birthday to my sweetie, who inspired these cupcakes a year ago and has inspired a re-invention of them using one of Dorie Greenspan
recipes. These cupcakes are also saying that I'm going to take him here for dinner, but shh! it's a surprise.
Isn't the power of baking a wonderful thing?
Happy Thanksgiving, everyone!
Oh, and P.S. I forgot to post this, but the winner of the Nordicware bundt cake contest was…the Minty Mountains cake! Definitely one of the prettiest cakes and quite tasty – and it's just about Christmas time, so what a perfect time to try it out!
Cocoa-Buttermilk Cupcakes
from Dorie Greenspan's Baking
makes 20 cupcakes
2 cups (10 oz) flour
1/2 cup cocoa powder
1/2 teaspoon baking powder
1/2 teaspoon baking soda
1/2 teaspoon salt
8 oz (2 sticks) butter, room temperature
1 1/2 cups sugar
2 eggs
2 egg yolks
1 teaspoon vanilla extract
1 cup buttermilk
4 ounces bittersweet chocolate, melted and cooled
Preheat the oven to 350 degrees F. Line cupcake pans with paper liners or silicone baking cups.
Sift the flour, cocoa powder, baking powder, baking soda, and salt into a bowl and set aside.
Beat the butter in a stand mixer for a few minutes on medium speed to soften it up. Add the sugar and beat for several more minutes until it is light-colored and fluffy.
Add the eggs, one a a time, to the the batter, letting the first one incorporate fully before adding the second. Repeat with the egg yolks.
Add in the vanilla.
Reduce the mixer speed to low. Add the sifted dries in 3 additions, alternating with the buttermilk so you start and end with the dries. Beat each addition just until it is combined into the mixture; do not overbeat. Scrape down the bowl as necessary between additions.
Pour in the melted chocolate and use a rubber spatula to fold it in until it is combined.
Divide the batter between the cupcake tins, filling each cup about 3/4 full.
Bake in the oven for about 15- 20 minutes, until the tops feel firm and springy to the touch and a toothpick inserted into the center comes out clean.
Remove cupcakes from oven and let cool on wire rack.
Coffee Buttercream
makes about 3 cups
1 1/2 cups butter, room temperature
1/2 cup milk
3/4 cup sugar
5 egg yolks
1 tablespoon granulated coffee flavoring
The butter should be very soft but not melting for this recipe.
Heat the milk and coffee flavoring and 1/4 cup of the sugar in a saucepan over medium heat, until small bubbles appear around the edge of the pan.
Meanwhile, beat the egg yolks and remaining sugar in the mixer bowl with the whisk attachment until pale and thick (ribbon stage). Reduce speed to low and pour in the hot milk mixture. Return the entire mixture to the saucepan.
Cook the mixture in the saucepan over medium heat, whisking constantly, until it registers 170 degrees on a thermometer. Pour the mixture into a clean mixer bowl and beat with the whisk on medium until cool, about 5 -10 minutes. Add in the butter in 4 additions, allowing each addition to incorporate before adding another.
The buttercream can be used immediately, or stored in the refrigerator for up to 3 days. If you store it in the refrigerator, let it soften first and whisk by hand or in the mixer to bring back to proper consistency.
Tagged with: Dorie Greenspan + chocolate cupcakes + coffee buttercream