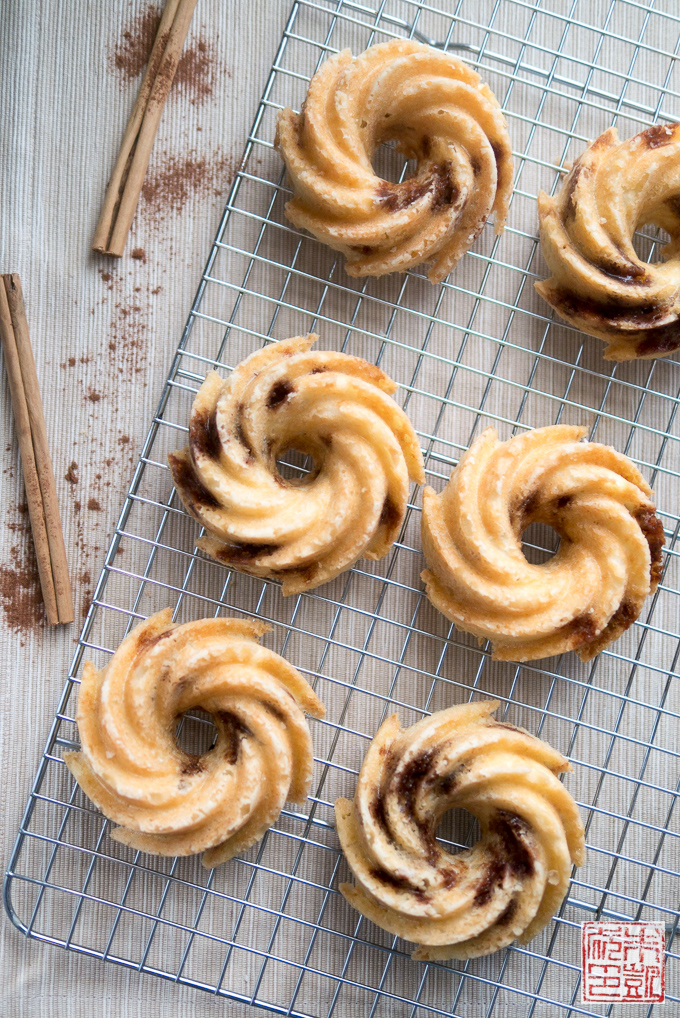 I know fall and October are all about pumpkin-ing everything, but for me it's the scent of spices that speak of grey skies, cooling weather and holiday season to me. Example #1: This pistachio-cardamom cake from a couple weeks ago. Example #2: This cinnamon roll pound cake – or mini cake, to be exact, that gives me the warm, wrapped-in-a-cozy-sweater fuzzies.
Disclosure: There are Amazon affiliate links in this post.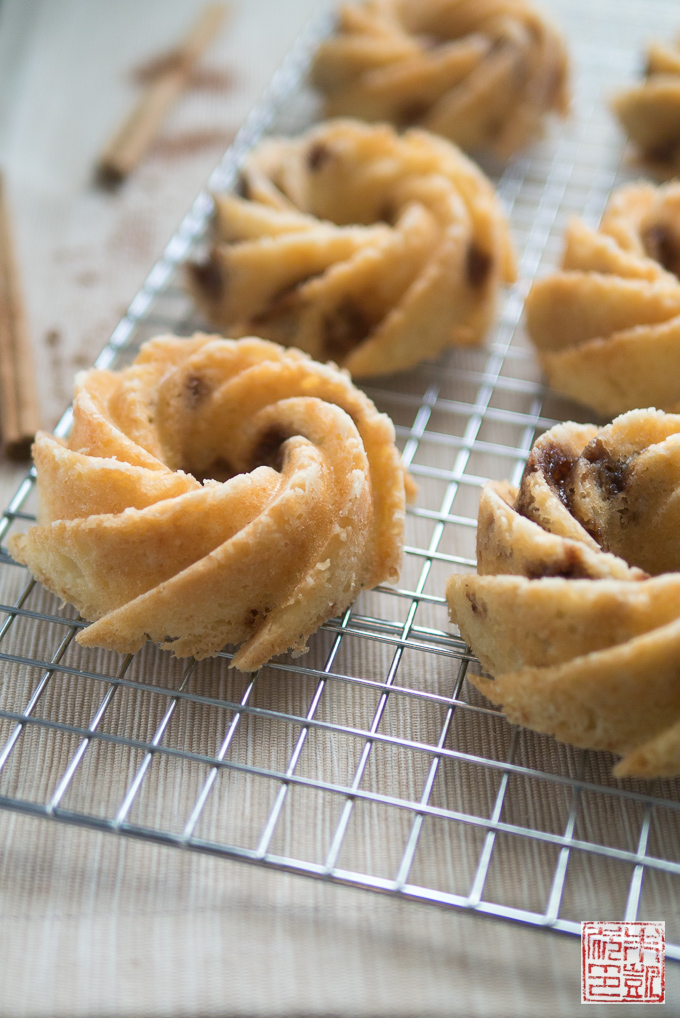 Fellow food blogger Jocelyn Delk Adams's new cookbook Grandbaby Cakes
, titled after her own blog, is the equivalent of a big, warm hug from your grandmother. The "baking gene" runs in Jocelyn's family, and her site is a tribute to them, especially her grandmother "Big Mama", and to how they inspired her to start baking and create her own delicious recipes.
Jocelyn's cookbook is similarly filled with warm reminiscences about her childhood and the constant stream of goodies coming out from her grandmother's kitchen. The old family photos and personal headnotes throughout the book really make it seem like you're reading a treasured family cookbook, passed down through the generations. As I read through the book, I felt like I was in Jocelyn's kitchen listening to her share stories about her aunts and uncles and cousins while she was whipping up a cake for me. She's managed to capture one of the true joys of cooking and baking: the love that's shared between making and eating food together.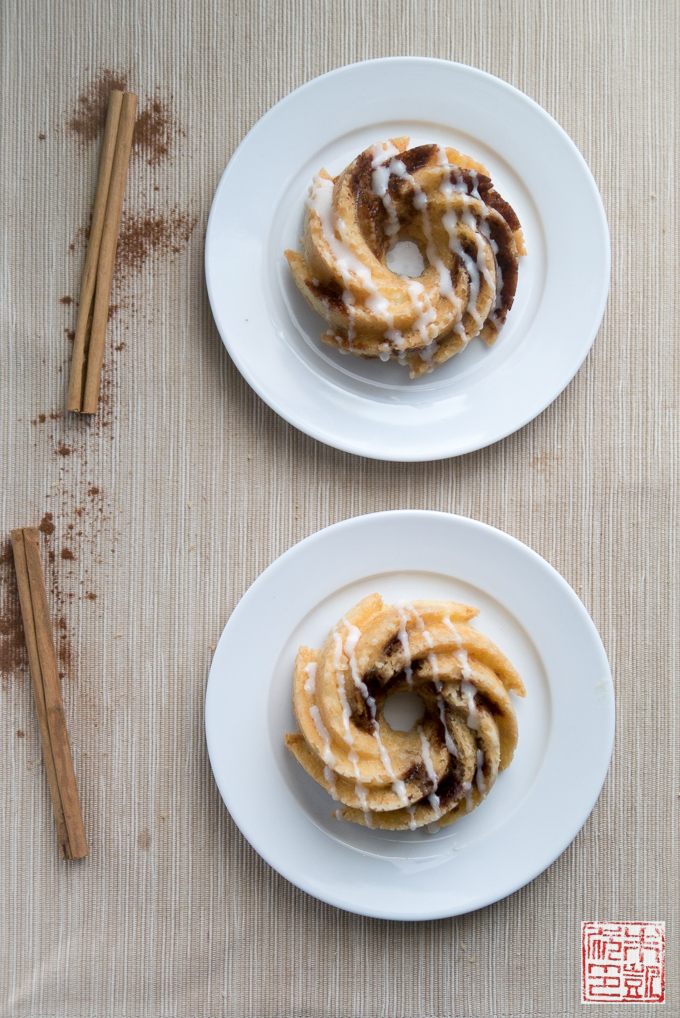 Leafing through the book, the Cinnamon Roll Pound Cake caught my eye. Among all the spices in our cupboard, there's no disagreement in our house on cinnamon. I love cinnamon, my husband loves cinnamon – cinnamon rolls are a no brainer for our household. I loved that Jocelyn described this cake as a way to have cinnamon rolls without having to deal with yeast. How could I not give it a try?
The recipe is designed for a standard 12 cup bundt cake pan. Because I had a new Bundtlette Cake Pan 
that I really wanted to try out, I halved and modified the recipe slightly to make it fit. (See Jocelyn's original recipe here.) Check the capacity of your bundt pan; my mini bundt pan had a 4 cup capacity so even after halving the recipe I had some batter left over, which I baked in a small loaf pan. This recipe bakes up best in a bundt pan, so I'd use that instead of a regular cake or loaf pan, but they will work in a pinch.
The cake batter, sweet with butter and sugar, is swirled with a rich streak of cinnamon goo, just like the best cinnamon rolls. The drizzle of cream cheese icing on top completes the homage to the traditional cinnamon bun. It's kind of a cross between coffee cake, pound cake, and bundt pan, but whatever you choose to call it, it's delicious. The crumb is solid but not too dense, and wonderfully tender  – a perfect tea time cake. If you like the contrast of a crisp exterior to a soft interior, baking this cake mini-style in this swirl pan means more crisp outside surface area. Look at all the swirly ridges!
My husband could not stop eating these; that's how tasty they were. They baked up beautifully in the mini bundt pan (just remember to grease and flour generously), and funnily enough I think they look a lot like French crullers! So they look like donuts, taste like cinnamon rolls, and are as easy to make as a cake. Sounds like a total winner to me!
There are dozens of equally inviting recipes in the book, like Red Velvet Cake with Blackberry Cream Cheese Frosting, Sea Salt Caramel Layer Cake, or Peach Cobbler Shortcake, all delectable, modern spins on some classic American favorites. If you're looking to fill your house with the sweet scent of baking cake, of baking in the warm haven of your kitchen as the daylight wanes and the weather chills, I think you'll enjoy this cozy gem of a book.
Cinnamon Roll Pound Cake
adapted from Jocelyn Delk Adams' Grandbaby Cakes. If you double this recipe, it will fit in a standard 12 cup bundt cake pan.
Ingredients
Cake
¾ cup (170 g) unsalted butter, room temperature
1 cup (200 g) sugar
2 large eggs, room temperature
1½ cups (206 g) cake flour, sifted
½ teaspoon salt
¼ teaspoon baking soda
½ cup (115 g) sour cream, room temperature
1 tablespoon vegetable oil
2 teaspoons vanilla extract
Cinnamon Swirl
2½ tablespoons (36 g) unsalted butter, melted
⅓ cup (74 g) light brown sugar
2½ teaspoons (6½ g) all purpose flour
¾ teaspoon ground cinnamon
½ teaspoon vanilla extract
Icing
1 ounce cream cheese, room temperature
1 tablespoon (14 g) unsalted butter, room temperature
¾ cup (90 g) confectioners' sugar
⅛ cup(30 g) milk
½ teaspoon vanilla extract
Instructions
For the cake:
Preheat oven to 325 degrees F. Generously grease and flour a 6-cup mini bundt cake pan (or you can use a smaller pan and have some batter left over).
Beat butter in stand mixer with paddle attachment for 1 minutes on high speed.
Slowly add the sugar. Cream together for another 5 minutes until very pale yellow and fluffy.
Add eggs one at a time, beating well after each addition.
Add the flour in 2 additions and beat on low speed just to combine.
Add the salt and baking soda and beat just to combine.
Add the sour cream, oil, and vanilla extract. Scrape down the sides and bottom of the bowl and mix just until batter is combined. Be careful not to overmix. Set the batter aside.
For the cinnamon swirl:
Whisk together all the ingredients in a small bowl. Set aside.
To bake the cake:
Pour ½ of the batter into the prepared pan.
Drizzle ½ of the cinnamon swirl mixture over the the batter. Using a butter knife or skewer, swirl the mixture through the batter.
Pour the rest of the batter over the pan, making sure not to fill it more than ¾ full to avoid overflowing.
Drizzle the rest of the cinnamon swirl mixture over the top and swirl.
Bake for 20 to 30 minutes, until a toothpick inserted into the center of the cake comes out mostly clean.
Let cool on the wire rack for 10 minutes, then invert cakes onto a serving plate. Let cool to room temperature.
For the icing:
Beat cream cheese and butter together in a stand mixer with paddle attachment for 2 minutes on medium-high.
Reduce mixer speed to low and add in confectioners' sugar in two additions, beating to combine.
Add in milk and vanilla extract and beat until very smooth, with no lumps.
Drizzle icing over the cooled cakes. Serve at room temperature.