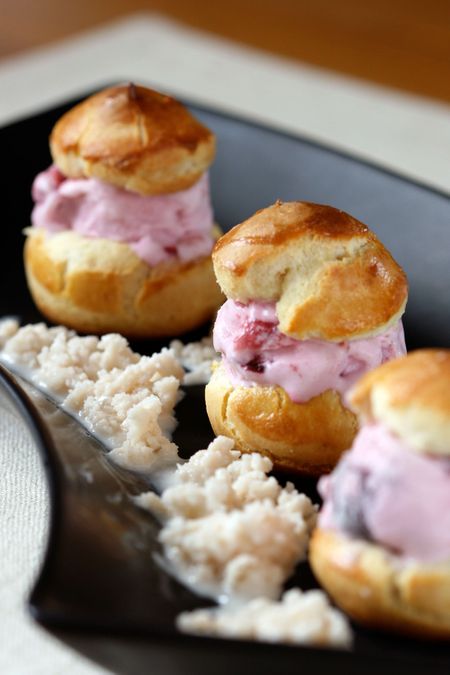 Is everyone swooning over cherry season like I am? Of all the myriad sybaritic pleasures of summer, a bowl of ripe cherries ranks near the very top. At the waning of a lazy, sun-drenched afternoon, bare legs turned a few shades darker, book propped open and half-finished in your lap, a pile of cherry pits and ruby-stained fingers – perfection.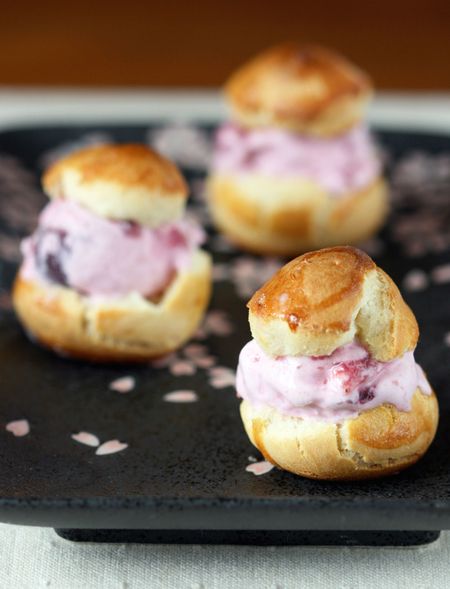 So, what to do when you get carried away at the market and come home with more cherries than even you can possibly eat? Solution: Ice cream, another summertime icon.
When I make fruit ice creams, I like to try and preserve as much of the fresh fruit as possible. So instead of pureeing the cherries to a perfectly smooth coulis, I roughly chopped them up, then cooked them in a saucepan with a little sugar on a low simmer until the cherries had softened up, and their juices had thickened slightly. Then I swirled the cooled, jammy mixture into ice cream base, poured it all into my ice cream maker and let the machine do its magic. The result? A gorgeous cherry-blossom-pink ice cream studded with pieces of cherries, tasting vividly of the fruit. There's no eggs in this ice cream, so it's closer to a sherbet; especially when trying to showcase fruit, I find the fewer ingredients, the more your star flavor will shine.
Now, I could also just sit on the porch and eat my way through a tub of this ice cream (are you sensing a theme here?), but to take this ice cream to the next level, I decided to make some pâte à choux and create some cherry ice cream profiteroles. To finish it off, I remembered an almond granita that I'd had at a local restaurant – I'd been wanting to try to reproduce it and now it seemed like the perfect accompaniment. If you're wondering how this simple summer treat turned into a major dessert project, umm, it seems to happen to me quite often. Inspiration may be a capricious muse, but I'm never one to turn down her visits!
Granita is the Italian version of snow cones, made from water mixed with fruit puree or other flavorings, which is then frozen and broken up into sparkling crystals. Icy-cold fruit granitas are a natural refresher for a hot day in Rome; however, I'd encountered an almond granita served with espresso cream at an osteria in SF that had me swooning. 
While most granitas are made with water, this one is also made with almond milk and almond paste, which gives extra depth of flavor. It's also why it's less icy-looking. I spent an interesting morning trying to make almond milk from almonds – while the result is tasty and certainly a tasty alternative to dairy milk, you're perfectly fine picking up some almond milk from the store.
Making granita is a fascinating exercise as well: to get the crystals to form, you should break up the granita with a fork about every half hour so it doesn't freeze into a solid block. If you're the multitasking type, you can work this into the pate a choux making process, so that when you're finished baking the puffs and filled them, you'll also have a beautiful granita ready!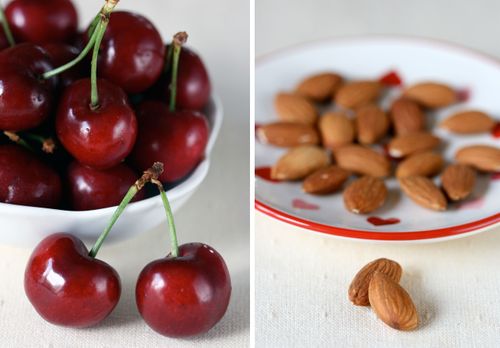 Does it seem like an awful lot of work to get up from the poolside lounge for? Well, I think it's worth it – I'll certainly be making another batch before cherry season is over!
Oh, and by the way, if you haven't noticed to the right of the Dessert First page, I've put some some of the videos I made for Chow to promote my Field Guide to Cookies. I demonstrate a few cookie-making tips in the kitchen. I also hope to have some news to share about the candy book very soon!
Cherry Ice Cream

makes about 1 1/2 quarts
3/4 pound cherries, pitted and roughly chopped
2/3 cup sugar
1/4 teaspoon salt
1/2 teaspoon lemon juice
2 cups heavy cream
1 cup milk
Combine cherries, 1/3 cup sugar, salt, and lemon juice in a medium saucepan. Cook on medium heat for about 10 minutes, stirring occasionally, until the cherries turn soft and jammy and the mixture is  bubbling. Remove from heat and let the mixture cool to room temperature.
In another medium saucepan combine the cream, milk, and remaining 1/3 cup of sugar. Heat over medium heat, stirring occasionally, until the mixture is almost simmering.
Remove from heat, pour mixture into a bowl, and chill over an ice bath until it is room temperature.
Stir in the cherries. Cover and chill the mixture in the refrigerator for 4 hours or overnight.
Freeze in an ice cream maker per manufacturer's instructions.
Pâte à choux Dough

makes 20-24 puffs
1/2 cup milk
1/2 cup water
4 ounces unsalted butter, cut into pieces
3/4 teaspoon sugar
1/4 teaspoon salt
1 cup all-purpose flour
4 + 1 large eggs, room temperature
Preheat oven to 375 degrees F. Line a baking sheet with a silicone baking mat or parchment paper.
Combine milk, water, butter, sugar and salt In a heavy bottomed medium saucepan and heat on medium high.
Once the mixture is at a rolling boil, add all of the flour at once, reduce the heat to medium
and start to stir the mixture vigorously with a wooden spoon. The dough should come together into a ball. Continue stirring for another 3-4 minutes until it is completely smooth and soft.
Transfer the dough into a bowl of a stand mixer fitted with the paddle attachment and beat to cool it down slightly. Add in four eggs one at a time, beating after each egg has been added to incorporate it into the dough. The dough should be very thick and shiny but not liquidy.
Transfer the dough to a pastry bag fitted with a 1 inch plain tip. Pipe out mounds of dough on the prepared baking sheet, spacing about 2 inches apart.
Beat the last egg with a little water to form an egg wash, then brush lightly over the puffs.
Bake in oven for about 15-18 minutes, rotating halfway through. The puffs should turn golden brown and be dry to the touch. It's easier to underbake than to overbake; make sure they are dry before taking out.
Place sheet on a wire rack and let puffs cool before slicing in half and filling with ice cream to make profiteroles.
Almond Granita
1 cup almond milk
1 cup water
3 ounces almond paste
3 tablespoons sugar
1/4 teaspoon lemon juice
Combine all the ingredients in a blender and process until very smooth.
Strain into an 8 inch square baking pan (stai nless steel is best).
Place in freezer and let freeze for about an hour. Using a fork, break and crush the mixture into small pieces. Freeze for another 30 minutes and repeat the process, turning the pieces into even small crystals. The mixture should be firm and ready to serve after about 2 hours of this process.