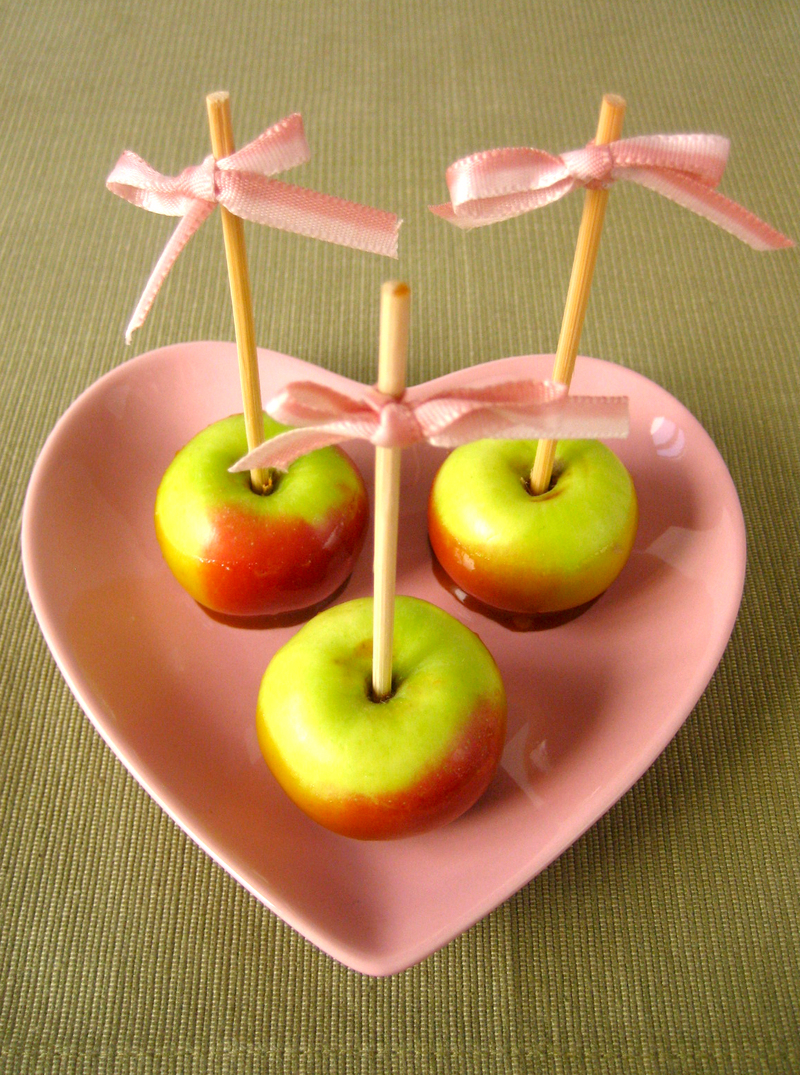 I've already established my love for mignardises, so I couldn't let another opportunity to make some little bites of delight, as Jeanne so aptly calls them, pass me by.
Of course, with petit fours, the question, whether you're making or eating them, is not which one? but which ones? I think one of the most enticing things about petit fours besides their diminutive stature is the sheer variety of choices, the panoply of possibilities. Allow me a few shots from a party we threw during my pastry school days to illustrate the joys of too much to choose from: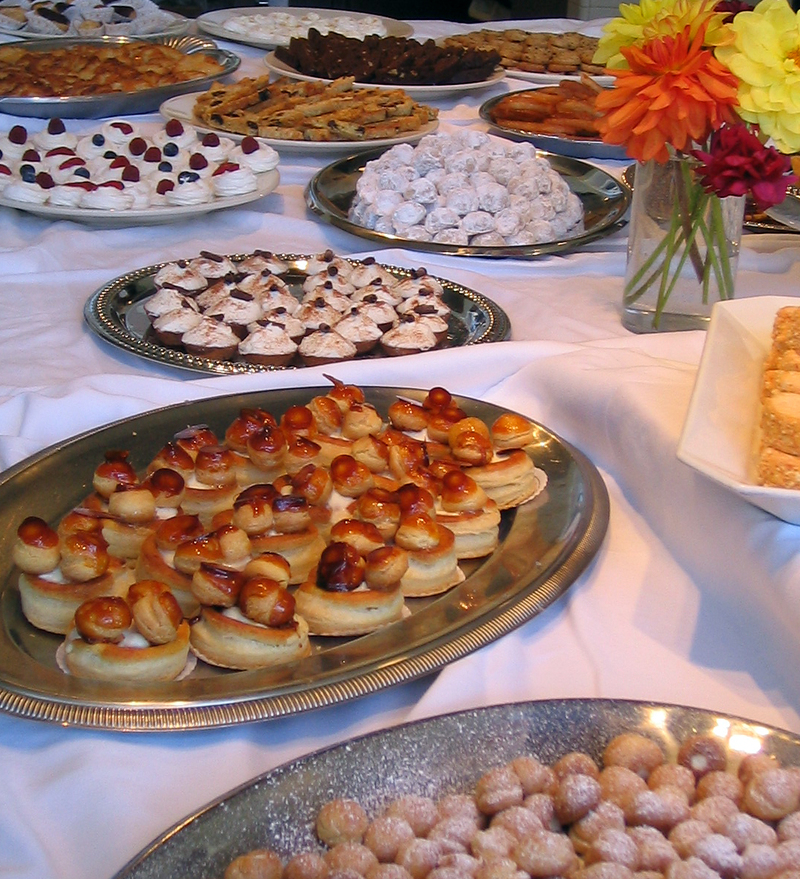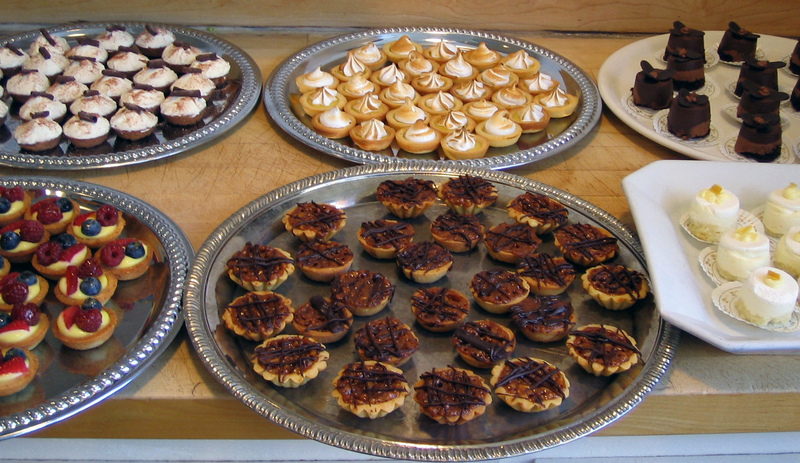 For the dessert lover who agonizes over the dessert menu and wishes she could try a bite of each, the petit four spread is like falling into Aladdin's cave of wonders – every sweet thing you can imagine in a dazzle before your eyes – and you can have it all, as long as you've got room in your stomach.
So it should be no surprise that upon learning on the theme for this month's Sugar High Friday I spent several days buried in cookbooks, wishing I could make every adorable little tidbit that caught my eye. Compounding the dilemma was the realization that not only are there many recipes for petit fours to be found, but just about any recipe can be turned bite-size if you have enough miniature cookie cutters, tins, ramekins, icing tips, etc., etc….
Finally awakening to the fact that I did not actually have several hundred mini tartlet tins or infinite time, I winnowed down my choices to an autumny trio of sweets:
Taffy Lady Apples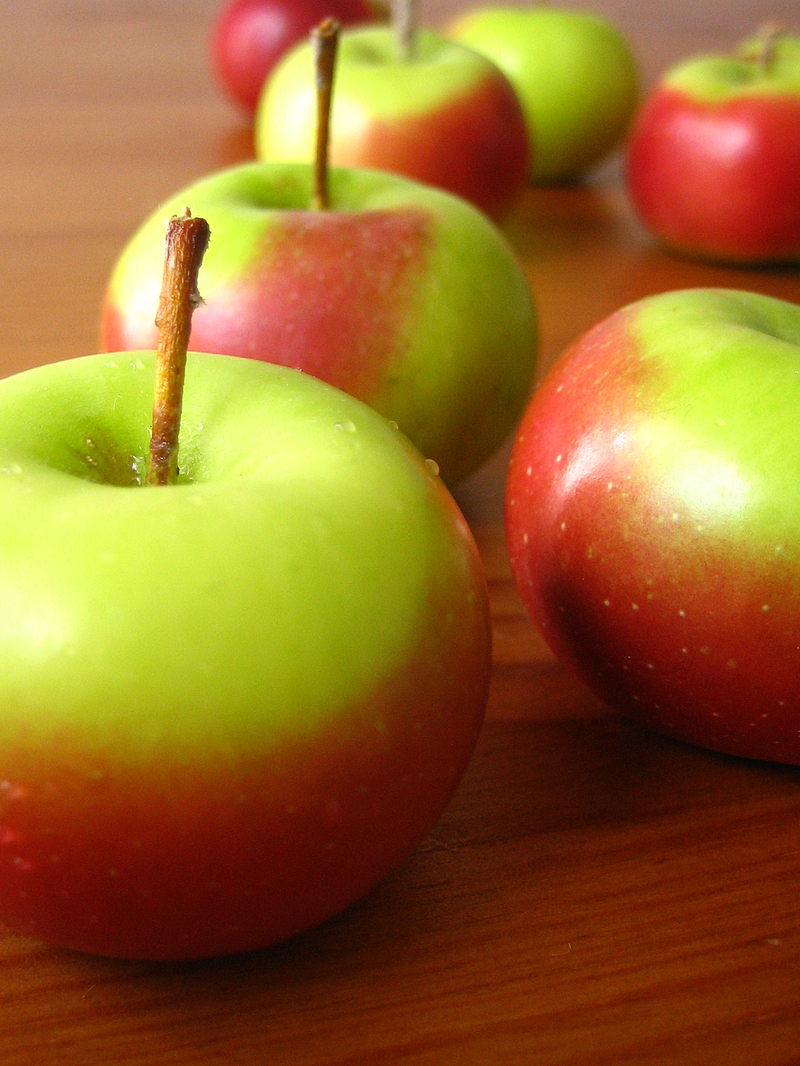 How adorable are lady apples? They are like apples dreamed up in a child's imagination: perfectly round, sweetly blushing red, and just the right size for the palm of your hand. They look so much like toys that I wanted to line them up on my shelf at home like I did with my dolls. Sweet and tart at once, lady apples are in season during the winter months, which is why they are also known as Christmas apples. They have just started appearing in the markets, and I thought them perfect for a tiny version of a caramel apple, as dreamed up by Gale Gand in her Just a Bite
(incidentally, just about every recipe in that book could have been submitted for this month's theme!)
Honey Madeleines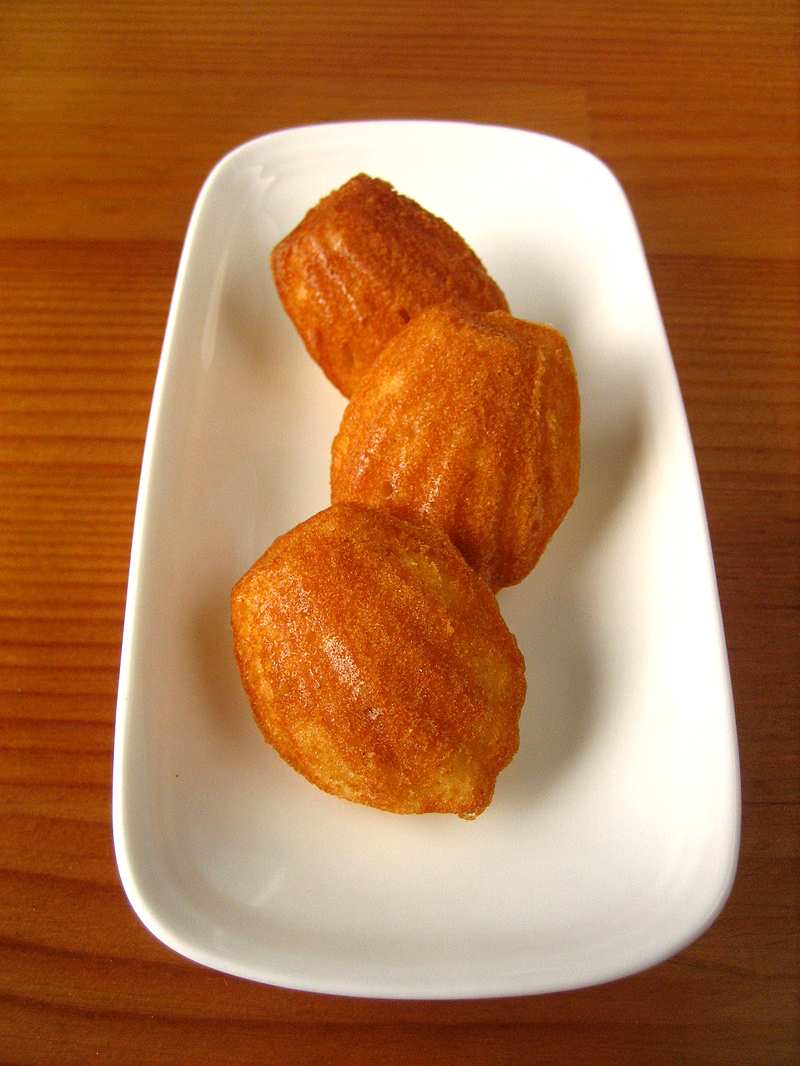 How to make something already delicate and cute even cuter? Make it smaller, of course! These mini-madeleines are adapted from Claudia Fleming's recipe in The Last Course
, and are a sterling example of the beloved cakelet: rich, buttery, and sweetly mellow from the addition of some honey. Perhaps it's difficult to gauge scale in the photos, but these really are cuties – about an inch long, you can pop them in your mouth like candy, although it might be nicer to savor them with a cup of lime-flower tea à la Proust. Just about every madeleine recipe I went through advocates eating them right away, and I must concur – they have an ethereally light, spongy texture that quickly fades upon cooling to a more simply fluffy mouthfeel. However, I have found that warming them up in an oven for a few minutes will restore them to almost-new so you can still enjoy them for a day or so after baking, at least.
Hazelnut Crème Brûlée
Finally, an example of how a regular-size recipe can be rendered into the diminutive simply by changing the container: instead of presenting crème brûlée in the traditional ramekins, this creamy dessert is served by the spoonful, so you can experience the delightful crunch of the caramelized sugar crackling with every bite. This version of crème brûlée, taken from Regan Daley's In the Sweet Kitchen
, has a sublimely rich and nutty flavor from the hazelnuts added to the custard. She also adds crushed hazelnuts to the sugar for caramelizing, turning it into a praline that adds another dimension of flavor to the end dessert. Adapting the recipe to petit four status was surprisingly simple: by storing the finished custard in a container, you can easily scoop out portions with dessert spoons and torch them before serving time.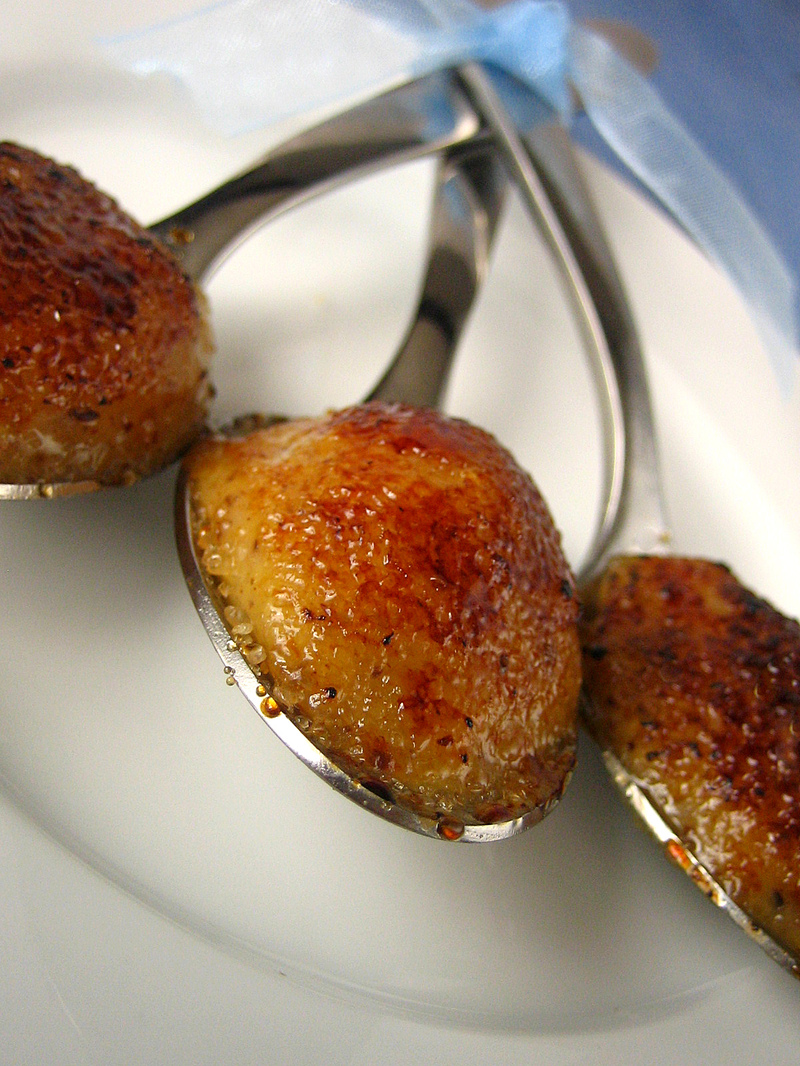 Any one or all three of these would work beautifully for tea time, pre-dessert, or dessert itself. Alas, I'm already musing over the other recipes that I didn't choose this time. But that's part of the seduction of petit fours: you're always wishing you had room for just one more.
Taffy Lady Apples
from Gale Gand's Just a Bite
makes 12 apples
12 lady apples
1 1/4 cups sugar
1 1/2 tablespoons butter
5 tablespoons cream
12 pointed wooden skewers, about 6 inches long
Remove the stems from the lady apples. Push the skewers into the apples from the top, lollipop-style.
Place a silpat on a baking sheet, or grease the sheet well.
To make the caramel, put the sugar and 1/3 cup water into a saucepan. Be sure the sugar is covered by water and do not let sugar grains get on the saucepan walls. Bring the mixture to a boil over high heat and cook until deep amber in color (be very careful as the sugar will be very hot at this point).
Remove saucepan from heat and stir in butter with a wooden spoon. Slowly add the cream and stir in. The mixture will start bubbling like crazy and then calm down. Let the caramel cool until it thickens a bit.
Holding the apples by the skewers, dip them into the pot of caramel and swirl to coat. Place the apples on the baking sheet to let the caramel set.
Honey Madeleines
adapted from Claudia Fleming's The Last Course
makes about 2 dozen regular madeleines, or about 4 dozen mini madeleines
12 tablespoons (1 1/2 sticks) butter
4 large eggs
1/2 cup granulated sugar
2 tablespoons dark brown sugar
1/4 cup honey (Fleming uses chestnut honey; other suggestions are clover, lavender, or wildflower)
1 cup all-purpose flour
1/2 cup cake flour
2 teaspoons baking powder
1/4 teaspoon salt
Make beurre noisette: melt the butter in a skillet over medium heat until some white milk solids separate and cook to a deep brown and the butter takes on a nutty scent. Don't let it burn! Strain the butter into a bowl.
In an electric mixer, combine the eggs, sugars, and honey together with the whisk attachment until the mixture is pale and foamy, about 3 minutes.
Sift the flours, baking powder, salt over the egg mixture and carefully fold in with a rubber spatula. Add the beurre noisette and fold in gently. Cover the batter and refrigerate for at least 8 hours. This is important in helping the madeleines form that distinctive "bump".
Preheat the oven to 400 degrees. If you don't have a nonstick madeleine tray, butter your trays well. Spoon the batter into each mold – about 3/4 full is good, or your madeleines will overflow!
Bake for about 5 to 7 minutes, until the madeleines are golden brown. Let cool on a rack for a few minutes, then unmold and let them finish cooling. Madeleines are best served the same day, but you can store them in an airtight container and refresh them by placing in a 300 degree oven for a couple of minutes.
Hazelnut Crème Brûlée
from Regan Daley's In the Sweet Kitchen
makes 20 to 30 spoonfuls
1/2 cup hazelnuts, toasted and skinned
1/2 tablespoon confectioners' sugar
1 cup cream
1 teaspoon vanilla extract
2 large egg yolks
1/4 cup sugar
1 tablespoon cold butter, cut into small pieces
1/2 tablespoon Frangelico
Turbinado sugar for caramelizing
Put the hazelnuts and confectioners' sugar in a food processor and pulse until the mixture is smooth and creamy, but not too oily.
Bring the cream and vanilla extract to a boil in a saucepan over medium heat. While you are waiting, whisk the egg yolks and sugar together in a large bowl and place over a bain marie (water should be just simmering).
Keep whisking the egg yolks and sugar together until they have thickened slightly. The cream should be coming to a boil at this point. Add the cream to the egg yolk mixture in small increments, whisking constantly. When the cream is all added, switch to a wooden spoon and continue stirring the mixture over the bain marie until the custard has thickened and coats the back of the spoon.
Strain the custard into a bowl and add the butter, stirring to help it melt and combine. Add in the hazelnut paste and stir to combine. Add in the Frangelico.
Let the mixture cool to room temperature, then pour into a storage container. Place in the refrigerator for at least 4 hours or overnight, until set.
To serve, fill spoons by scooping into the chilled custard. Round the tops with an offset spatula or your finger. Keep the filled spoons chilled (else the custard will start sliding off the spoons).
Cover the surface of the custard with a layer of turbinado sugar. Place the spoons on a baking sheet or other surface that won't get damaged by a blowtorch. Torch the spoons until the sugar is melted and browned but not burnt. Let cool for a minute before serving.
Tagged with: SHF + Sugar High Friday + Taffy Lady Apples + Gale Gand + Honey Madeleines + Claudia Fleming + Hazelnut Creme Brulee + Regan Daley