I received a pleasant surprise in the middle of last week when I discovered the winners for September's Does My Blog Look Good in This had been announced by Katherine of ToastPoint– and I was sharing the top spot with the lovely Bea of La Tartine Gourmande! Of course, Bea is one of the standard-setters for gorgeous (not to mention prolific) food photography in the blogosphere, so I have to say I'm quite humbled to be mentioned alongside her!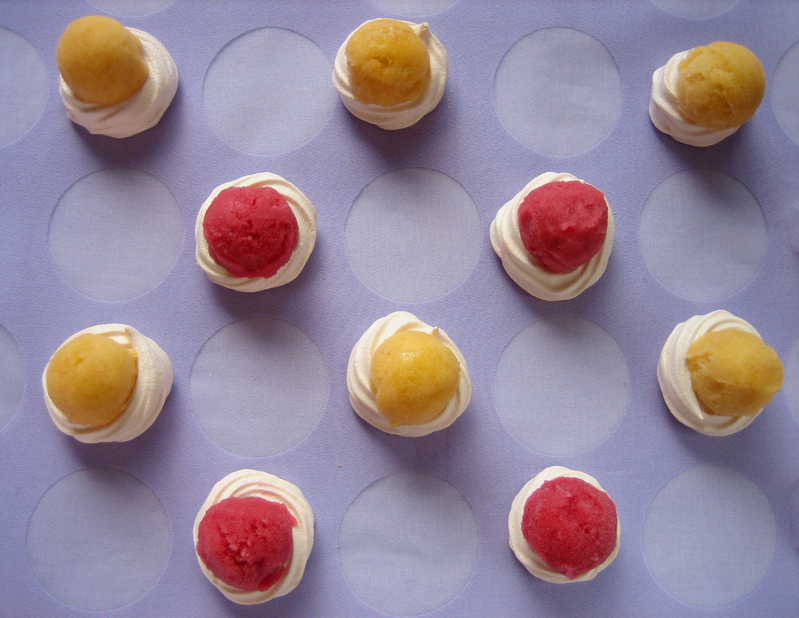 And, just to round out the weekend, I came home to find that Emma of Laughing Gastronome had put up the winners for the October round of DMBLGIT – and I had been chosen for Most Originality in a Photo! That setup was a stroke of luck – I had just purchased the polka-dotted placemat the weekend before, and when I made the meringues, they fit perfectly with the dotty scheme! Another secret – the sorbets started melting as I was shooting and when I removed the meringues, there were red and orange drips all over the placemat! Thank goodness it washed out!
Be sure to check out the other winners on Katherine's and Emma's sites! Many thanks again to them for hosting these rounds of DMBLGIT and for organizing the judging- I'm immensely flattered to have been chosen out of so many beautiful and drool-inducing entries!
Tagged with: DMBLGIT