It is probably no surprise to anyone that dessert is one of my favorite parts of any meal, which is why I was so delighted the first time I was treated to mignardises at a restaurant. Mignardises, from the old French word mignard, meaning pretty or delicate, is the perfect word to describe the little after-dessert desserts that accompany your coffee, allowing you to extend the pleasure of the evening just a bit longer. And who could argue against more sweets? It's added an additional layer of challenge to my satiation-judging abilities: I've always saved room for dessert, not having the endless stomach of some other foodies, but to save extra room for mignardises? On a couple of occasions at some very fine establishments, where the sweets almost literally came to the table in a shower, I've had to admit defeat, nearly in tears that I couldn't fit one more nibble in my mouth.
Mignardises were perhaps more commonly known as petits fours in the US several years back, even though there is some debate over whether they mean the same thing. My understanding is that petits fours refer to small, bite-sized cakes, cookies, or other baked items, not necessarily served after dinner and dessert. In fact, what usually comes to mind when I think of petits fours are those dainty little multi-layered cakes of genoise and buttercream, covered with icing in pastel colors. Mignardises can include baked items as well as chocolates and confections, but they are always served at the end of the meal after dessert. Variety counts, as this is the pastry chef's last chance to display his skill -you'll see caramels, pates des fruits, truffles, tuiles, candied nuts -it's like opening up a fabulous jewelry box full of the most perfect little treasures.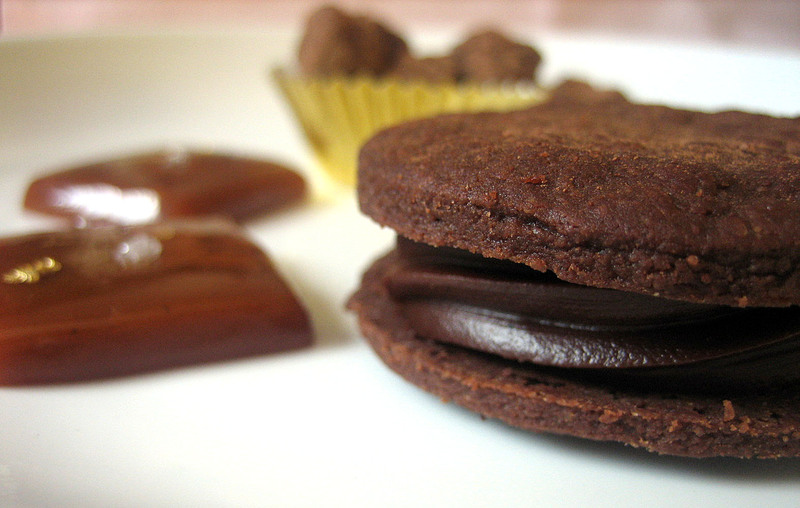 While flipping through Michael Recchiuti's Chocolate Obsession I was inspired by several of the recipes to make a little plate of mignardises, to serve after tonight's dinner. Although usually chefs go for a variety of flavors, I chose to focus on a chocolate-caramel theme.
Chocolate-Covered Caramelized Hazelnuts
Those little nuggets spilling out of the foil cup were a nice way to use up the hazelnuts in my pantry. Covered with a layer of caramel, then tempered chocolate, and finally a dusting of cocoa powder, they are addictively easy to pop in your mouth.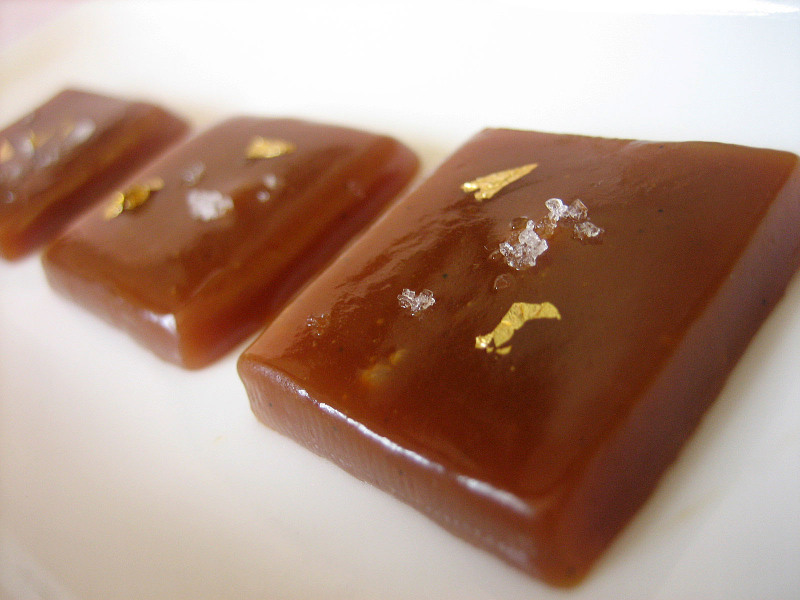 Fleur de Sel Caramels
Certainly the trendiest sweet du jour, restaurants are all coming up with versions of this sweet-salty delight. Recchiuti's recipe has fleur de sel in the caramels themselves, not just on top, to add a little extra crunch and flavor. He also suggests covering them in tempered chocolate; I tried that, and the results were even more delicious, although the warm weather made it difficult for the caramels to hold their shape and therefore they unfortunately just weren't photogenic enough in their little chocolate coats!
Chocolate Shortbread Cookies with Caramel Chocolate Cream Filling
A decadent little number, crisp chocolate cookies sandwich a rich ganache filling. Although the original recipe did not have caramel for the cream filling, I added in a bit of Recchiuti's burnt caramel base to give it an extra dimension of flavor. Very rich and chocolatey!
Tagged with: Michael Recchiuti + chocolate dessert + caramel