While driving through Walnut Creek's posh downtown (where you can see a Pottery Barn next to a Williams-Sonoma next to Restoration Hardware, with a Tiffany's across the street) this weekend, I stumbled upon a Moonstruck Chocolate Cafe, another addition to the growing number of chocolate-focused stores in the Bay Area.
Moonstruck Chocolates is a chocolatier based in Portland, Oregon, and have expanded their business online and to their "Chocolate Cafes". The cafe I entered resembled a Starbucks in design and presentation, from the sleek polished wood floors covered with rugs and lounge chairs to the fancy drink-making apparatus behind the counter, to the side wall covered with various gift items to peruse. But Starbucks doesn't have the sparkling display cases filled with truffles and chocolates, or a drink menu with selections that range from mocha lattes to milkshakes to hot chocolate.
Moonstruck does have an impressive range of chocolates – even if the flavors aren't cutting edge the chocolates look very sharp and well made. I had the Ocumarion, a little nugget of dark chocolate from the Ocumare Valley in Venezuela with chili pepper inside. The shell was a little thick but the filling rich and smooth, with the chili kicking in well at the end. Actually quite a spicy chocolate.
I also had the Mayan, a drink made with chocolate, cinnamon, and almond syrup. Although potentially tooth-achingly sweet, the chocolate was dark and rich enough that the cinnamon and almond worked as pleasant top notes – an altogether satisfying and hot drink to hold onto as strolled outside on a very nippy Saturday.
We also couldn't resist picking up a little chocolate lab – he's still sitting on the kitchen table, too cute to be eaten!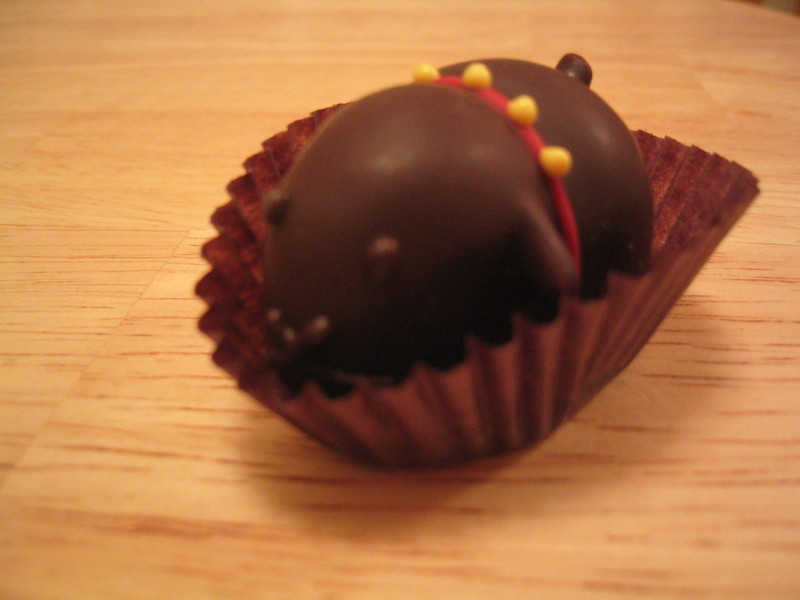 Moonstruck Chocolate Cafe
1273 Locust Street
Walnut Creek, CA 94596