One of the highlights of my visit to Hong Kong was a long-awaited reunion with one of my favorite patisseries: Pierre Hermé. While the macaron craze seems to have leveled out in the US, it's going strong in Hong Kong. Ladureé and La Maison du Chocolat, among others, have already opened branches in Hong Kong, but Pierre Hermé remained tantalizingly out of reach. For the last few years all I had was my visit to Paris and a class in New York to sustain me. I was over the moon when I learned that Hermé was finally opening shop in Hong Kong, as it's so much more accessible to me than Paris or Japan. His first store opened in the IFC mall in Central in May 2013; his second store quickly followed in Harbour City, Tsim Sha Tsui, in November, right before I arrived.

I visited the IFC store as soon as I could after my arrival; this was my first takeaway, a sweet seven piece macaron box featuring art by Soledad Bravi, a frequent collaborator with Hermé. The illustrations show various famous attractions around Hong Kong. I think I've been to them all except for the "junk boat!"

Unlike other patisseries, Pierre Hermé does not sell macarons singly; he prefers to have customers experience as much of his collection as possible. Given that there were almost twenty flavors available in the shop, it's not hard to fill the little box up. Most customers spend quite a bit of time dithering over their selection.
My choices, from left to right:
Infiniment Praline Noisette – Hazelnut Praliné and Praliné Crisp
Infiniment Caramel – Salted Butter Caramel
Infiniment Vanille – vanilla from Mexico, Tahiti, and Madagascar
Jardin Merveilleux – Mandarin Orange, Olive Oil, and Cucumber Water
Infiniment Jasmin – Jasmine Flower and Jasmine Tea
Mogador – Milk Chocolate and Passion Fruit
Ispahan – Rose, Litchi, and Raspberry

Right before I left Hong Kong and I bought another box – this one the Paris version that's available at all his boutiques.

How could you not want to collect them all?

Upon speaking to the store staff, I was invited by the communications manager, Joanne, to visit the Harbour City shop for a private tasting. I can safely say this was probably one of the most exciting invitations I've ever gotten in the pastry world. Joanne also very kindly let me take photos of the store, which is usually not allowed, so a big thank you to her for letting me share my experience with you all.
The Harbour City shop is bigger than the one in IFC and photographs more impressively; both are designed by Japanese designer Masamichi Katayama. As you can see, the macarons are definitely front and center, but look to the side and you can see some of his other wares, including a line of handbags designed by Hermé's wife!

Pretty much what macaron heaven looks like, non? The macarons are flown out from Hermé's Paris kitchens regularly, and selections rotate with the seasons. When I was there they were finishing up the Les Jardins collection, inspired by flowers, fruits, spices, and herbs, and would be introducing the Holiday 2013 collection. Alas I had to leave before those arrived – imagine chestnuts, white truffle, Pedro Ximenez-macerated raisins, and foie gras!

Some of the many gift boxes on display – Pierre Hermé is constantly working with new artists to create new wrappings for his creations. The ones with the cats are by another French painter, Nicolas Vial.

So pretty. Hermé's macarons are always so pleasingly uniform and perfect.

Did I ever imagine I'd be at the counter of a Pierre Hermé shop, with the staff laying out macarons for me to sample, and asking if I wanted more? The heady stuff of dreams, for sure! Hermé's macarons are more generously filled than those of his counterparts; as I'd learned, he believes that the flavor in a macaron should come from the filling, and not the shells, so he focuses his efforts on creating those imaginative, deeply flavorful ganaches, curds, and buttercreams, and makes sure the shells are amply filled. Macarons are meant to be slowly savored, not scarfed down; what a dilemma it was to be faced with more macarons than one should possibly be eating in one sitting.
Besides my all-time favorites of Ispahan and Vanille, I found some new favorites: the Infiniment Café au Café Vert et au Café Bourbon Pointu de la Réunion – Green Coffee and Refined Bourbon Coffee from Réunion, considered one of the world's finest coffees. I'm not a big coffee drinker, but this macaron conveyed the flavors of coffee so gracefully and subtly that I was smitten. Jardin Merveilleux, a mélange of mandarin orange, olive oil and cucumber water that made for the most refreshing macaron I've had. And Infiniment Jasmin, but I'm not surprised since I've always loved jasmine.

Another treasure in the store – the only Hong Kong copy of Pierre Hermé's Ispahan book, a paean to his signature combination of raspberry, rose and litchi. The book contains recipes for all the various Ispahan pastries he's created, from ice cream to cakes. Unfortunately, it's only in French, and it wasn't for sale, otherwise it would have come home with me!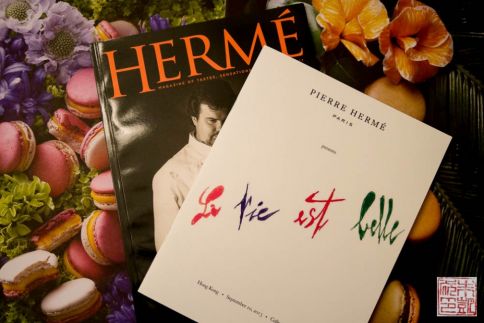 Other gorgeous paper paraphernalia that I did get to keep: sexy photos of his macarons, catalogs, and a glossy magazine devoted to his sweet empire.

Currently the shops do not carry Pierre Hermé's other pastries, as he has no kitchens in Hong Kong yet and they don't trust the other fresh items to travel well from Paris. However, they do sell some of his other, less perishable items like his jams, chocolates, and these fabulous caramels. The salted butter are divinely soft and salty-sweet, but the Ispahan caramels were a revelation: intensely fruity, buttery sweet. Perfectly addictive.

The best praliné ever – there's no going back to Nutella after this. Bits of caramelized hazelnuts in a rich chocolate-hazelnut spread. It's probably a good thing I can't get this stateside or my waistline – and my wallet – would be fighting a losing battle.

So, the timing for this post worked out perfectly as today, the 15th, is baby Isabelle's 1st birthday! Can you believe it's been a year? I can't. I'll gush about her in another post, but I wanted to mention that the shop staff was so welcoming to Isabelle. Joanne mentioned that she really wanted a photo of Isabelle with a macaron. My baby modeling for Pierre Hermé – another unexpected dream that materialized in front of me!
I'm proud to say that Isabelle took to the macarons like a natural gourmand. She happily ate the Infiniment Rose macaron we gave her  – her first sweet! and reached for more. I think it might be safe to say that she is the first person to sit on the counter at Pierre Hermé?? The staff fawned over her and I wished we could have stayed in Hong Kong and become regulars!

Thanks to Joanne and the lovely staff of Pierre Hermé Hong Kong for a fantastic visit. Now I have even more incentive to return to Hong Kong!
P.S. If you've got the macaron making itch after this, try making them at home!
Pierre Hermé
Shop 1019C Level One IFC Mall
8 Finance Street
Central, Hong Kong
Shop 2410, Level 2, Gateway Arcade
Harbour City, Kowloon