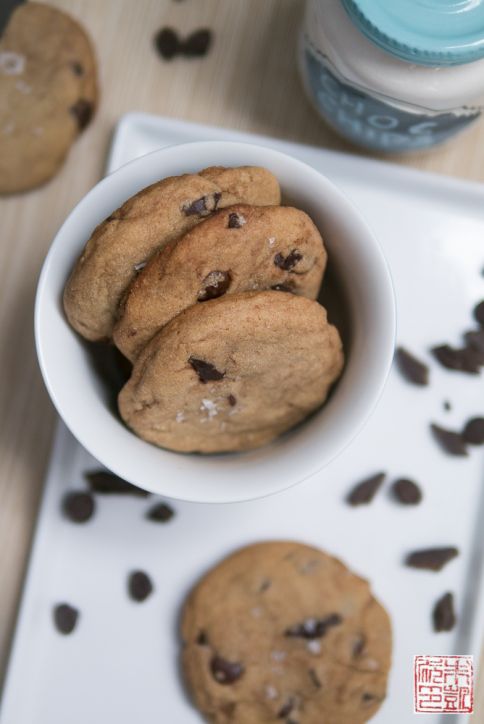 When company's coming you vacuum the carpets and pull out the nice china (or at least make sure you have enough non-chipped plates in the cupboard). I usually take the opportunity to test out some new recipes on my unsuspecting guests, but sometimes when I don't have the time for trial runs to make sure the dishes are guest-worthy, I find it's a good reason to polish up my old standbys instead. It's always good to make sure your tried-and-trues are still tried and true.
I'm constantly working through iteration after iteration of my chocolate chip cookie, as my tastes evolve and new ingredients come my way. Some of the things I'm doing in my current favorite recipe:
-Using browned butter for increased intensity of flavor. Browning butter is one of my favorite things to do to add some extra punch to recipes, and for making my kitchen smell heavenly for the next several hours.
-Making bigger cookies helps create that coveted chewy center/crispy edge combo. I've pegged my ideal size as 1.5 oz of dough per cookie (yes, that's my engineer side coming through). You can go up to 2 oz if you want to be more indulgent – if you get much bigger, you'll probably have to check the baking time and adjust if necessary.
– Using a combination of chocolate, from chunks to chips to grated. I took the idea of using both chunks and chips from Bouchon, as chunks will melt while baking while the chips will keep their form. I also like the grated chocolate for adding visual interest, and adding even more chocolatey goodness to the final cookies.
– Of course, the now-ubiquitous tip to chill the dough and let the flavors develop is still a good one. Especially since this recipe has melted browned butter, which makes the dough very soft and prone to over-spreading if it's baked right away, chilling the dough helps it keep its shape better, so you have that nice chewy center. I also don't bake off all the dough at once, just as many as I need (or think I need). You can keep the dough in the refrigerator for a couple of days and bake off more as you want – so while your guests are here, they'll think you're the best host ever for always having freshly baked cookies.

 
I also like to try out different chocolates – my current favorites are Guittard's Etienne baking bars and TCHO's baking drops. If I'm branching out, Valrhona's Dulcey feves give amazing butterscotch-toasty flavor – a world apart from the artifically-flavored butterscotch chips out there. 
I'm glad I dusted off this recipe since none of the other recipes I've been working on were quite ready for company, so to speak. But fresh, warm chocolate chip cookies generally make people forgive quite a few other shortcomings. 
So while you're on the search for the next undiscovered recipe or hot food trend, don't forget to visit your old favorites every once in a time and remind yourself why they're your favorites.

 
4 oz (114 g)

unsalted butter, room temperature, cut into 1 in piece

4 oz (114 g)

unsalted butter, room temperature

2/3 cup (133 g)

granulated sugar

2/3 cup (146 g)

dark brown sugar

2 teaspoons

molasses

1

large egg

1

large egg yolk

1/2 teaspoon

vanilla extract

2 1/4 cups (270 g)

all-purpose flour

1

teaspoon baking powder

1/2

teaspoon sea salt plus extra for sprinkling

1 cup (8 oz)

chocolate chips

1 cup (8 oz)

chocolate chunks

4 oz

grated semisweet chocolate
Place the first 4 oz of the butter in a saucepan. Melt over medium heat, swirling occasionally, until it starts to turn brown and smells nutty. Do not let the butter get too dark or it will burn. Strain butter into a clean bowl.
Place remaining 4 oz butter, sugar, and brown sugar in bowl of stand mixer. Beat with paddle attachment until light colored and fluffy.
Add molasses and beat to combine. Add browned butter and beat to combine.
Add in egg and egg yolk and beat to combine. Add in vanilla and beat to combine.
Combine flour, baking powder, and salt in a medium bowl. Add to mixer and beat just until combined.
Add in all the chocolate and mix with a wooden spoon just to distribute evenly. Turn out dough into a container, cover, and refrigerate for 30 minutes.
Preheat oven to 350 degrees. Line several cookie sheets with parchment paper or silicone mats.
Place approximately 2 in (about 1.5 oz or 42 g) round balls on prepared sheets. Press down lightly to flatten. Sprinkle tops with sea salt.
Bake for 12 to 14 minutes, rotating once, until edges are brown and center looks just firm. Remove from oven and let cool on wire racks before removing and eating.