What could be better than chocolate? How about free chocolate?
Charles Chocolates, which has been providing fine chocolate to San Francisco since 1987, opened their first retail store for a test run in the city. As if the limited duration of the store (through the end of May) was not energizing enough, the mention of chocolate tastings cemented my desire to see this place before it closed down.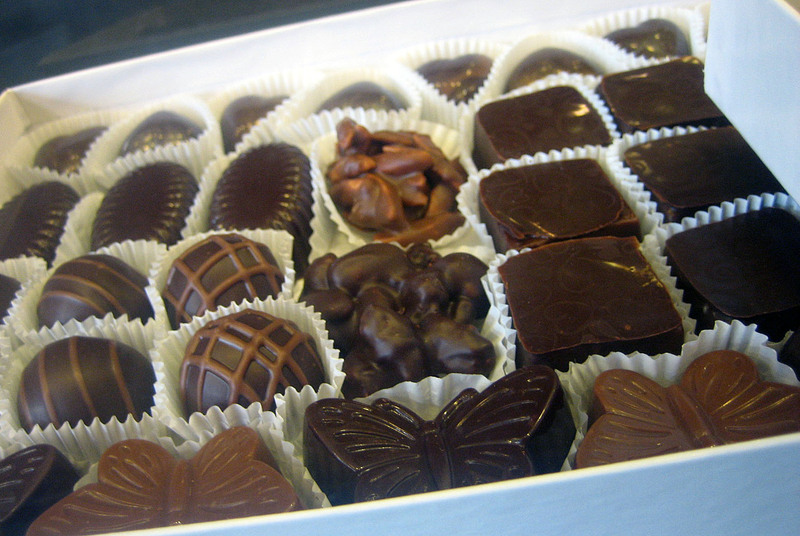 So on Saturday afternoon I scampered into the compact little space on California Street to find welcoming stacks of chocolate and candies everywhere and – yes – a tasting tray of chocolate covered caramels! Apparently I had missed the truffles last week (I believe they are doing their peanut butter butterflies this week). But I was quite pleased to sample their fleur de sel caramels, one with a pure buttery caramel center, the other with a chocolate-caramel ganache. Both were covered with a bittersweet chocolate coating that set off the rich, creamy fillings nicely. I would have bought a box, but they had already sold out!
Most of the rest of their product line was still available for buying (if not tasting): their signature collection of chocolates; some vibrant pate de fruit in raspberry, blood orange, grapefruit, white peach and passionfruit; chocolate bars; and chocolate-covered almonds.
It's too bad the store is only temporary or I would certainly be making return trips to this sweet little place!
P.S. Their website also offers a "PMS Assortment" – 12 pieces of dark chocolate which may be purchased in multiple-month "prescriptions".:)
Charles Chocolates
3527 California Street (cross street Locust)
San Francisco, CA
through the end of May
Charles Chocolates are also available at other places in San Francisco and worldwide.
Tagged with: Charles Chocolates + artisan chocolates + San Francisco