What a weekend for chocolate! From the East Bay on Saturday we went to San Francisco on Sunday, where it was just as sunny and just as cold. Yes, as a native Californian I am regularly derided for my intolerance of temperatures below 75 degrees, but this weekend with temperatures hovering in the 30s, I think I could be forgiven for complaining a bit!
We braved the winds blowing off the bay in the Marina district to find CocoaBella Chocolates, a gorgeous little shop on Union and Webster that sells chocolates from around the world. The interior is appealingly old fashioned, with marble countertops filled with chocolates behind glass partitions (to stop patrons who just can't help themselves), and wooden tables piled high with boxes and boxes of more chocolate.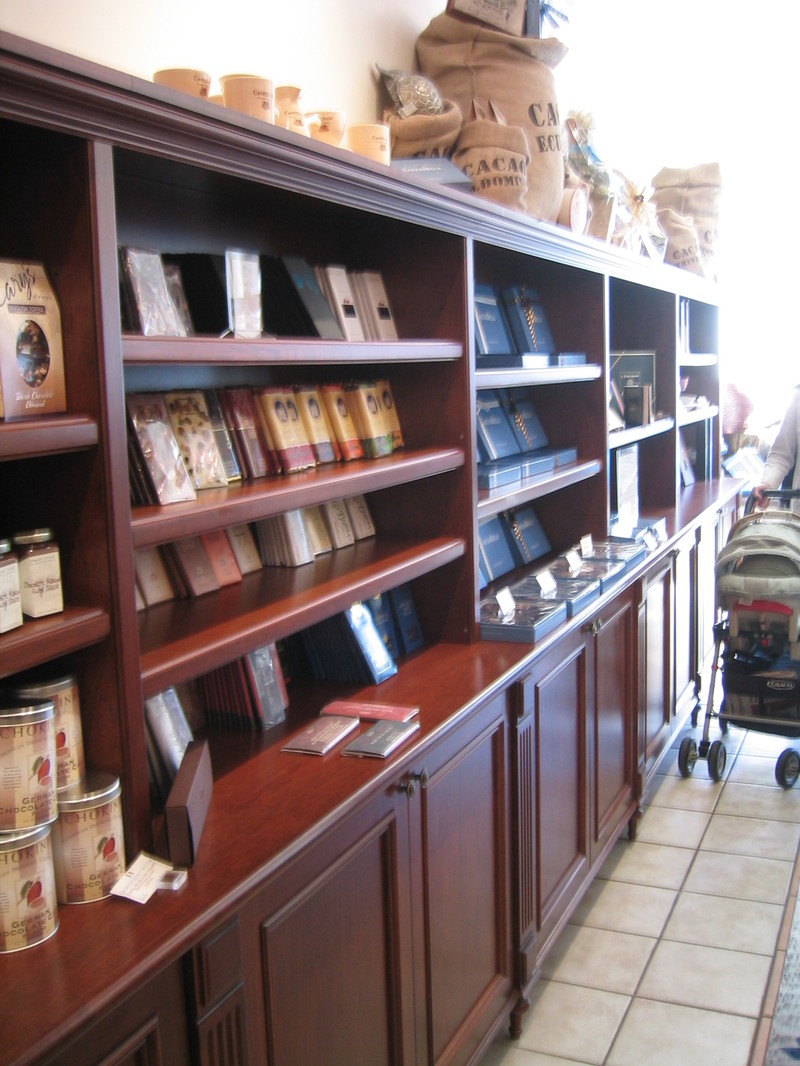 CocoaBella has chosen some wonderfully intriguing chocolates from around the world; we happily spent at least 15 minutes looking at the displays before we could even think of what we wanted. It's amazing to see such fine craftsmanship from so many different places, and compare different styles.
Two of the most interesting chocolatiers I saw were from the U.S.- Knipschildt Chocolates, made by Fritz Knipschildt, originally from Denmark and now working in Connecticut, makes visually striking pieces with clever flavor combinations. His Antoinette was a beautiful white heart hand painted with red, filled with rosewater-infused dark chocolate ganache. The Patricia is a surprising narrow cone of dark chocolate filled with tangerine/chili ganache. I chose a couple of other ones for tasting; see below.
Christopher Elbow Chocolates were definitely the flashiest of all the ones I saw, decorated with neon colors and psychedelic swirls. Perhaps Elbow was influenced by his time working in the Las Vegas food scene; now he makes chocolates in Kansas City. His rosemary caramel is a truncated pyramid covered with splotches of primary color; his mint ganache looks one of those swirly glass marbles.
There are chocolates from France, Italy, Ecuador, Belgium, established chocolatiers, and exciting up-and-comers. The question is not if you will find a chocolate you like, but how many you can limit yourself to buying at once. CocoaBella also sells prepackaged boxes of their own selections; looking into one is like seeing a marvelously dizzying glimpse of heaven.
We managed to restrict ourselves to eight chocolates and took home our goodie bag in great anticipation of dessert that evening.
Below, going clockwise and starting at top right (the red swirly chocolate):
Christopher Elbow (USA): Exotic Fruit – Pate de fruit of mango, passionfruit, pineapple, and lime over coconut ganache. This one was superb – delicate thin chocolate covering a perfect pate de fruit over a creamy coconut layer. My palate was not distinguished enough to discern all the different fruit components but the entire chocolate had a clean, refreshing tropical taste.
Marquise de Sevigne (France): Tarte Tatin – apple puree and honey in dark chocolate. Very interesting. There was some kind of nutty note I couldn't place – maybe it was the honey. The filling had actual chunks of apple that made for a nice play of texture against the smooth chocolate. I can't say it tasted like tarte tatin, since there was no pastry shell! but as chocolates go this was a fun one.
Amedei (Italy): Cremino – Crunchy hazelnut in milk chocolate. I'm not a huge fan of milk chocolate – I picked this for the contrast of nuts and chocolate. While the hazelnut layer was pleasingly crisp, the chocolate had the same grassy overtone I find in many milk chocolates. Perhaps as a covering it might have worked; as a solid block there was just too much nondescript chocolate for me.
Christopher Elbow (USA): Honey Vanilla – Milk chocolate ganache with clover honey over white chocolate ganache with Tahitian vanilla, dark chocolate covering. This one was another winner. The faint tang of honey mixed with sweet vanilla, in silk-smooth ganache. Some chocolates want to wow you with their fancy looks or complicated components; some, like this one, wow you by being so simply perfect all you have to do is close your eyes and savor.
Knipschildt (USA): Hannah – Caramel in dark chocolate with Hawaiian pink sea salt. The vaunted combination of caramel, chocolate and salt executed flawlessly. The chocolate shell snapped cleanly under the first bite, the caramel center flowing out wonderfully liquid, combining with the flakes of salt to form a river of bliss on the tongue.
Knipschildt (USA): Keiko – Chocolate raspberry ganache in dark chocolate with pink peppercorns. I had to include one of those spicy chocolates. The peppercorns added a piquant top note to a rather straightforward chocolate raspberry filling. I was a little disappointed only because I expected something more; without the peppercorns it would have been just another raspberry chocolate. I would have preferred the filling be a little softer as well.
Marquise de Sevigne (France): Praline Noisette – Hazelnut praline in dark chocolate with a hazelnut. The lady behind the counter said this chocolate had won some award in Europe. It is a very lovely version of the chocolate-hazelnut pairing. The chocolate is assertively dark, the hazelnut praline lusciously rich. The filling had an ever-so-slightly sandy feel on my tongue, which I actually liked; I felt the texture added to the weight of this very luxurious chocolate.
Yes, there are only seven chocolates there…I couldn't wait and ate one in the car on the way home! It was an Aardbei, a dark chocolate strawberry cream by Valentino of Belgium. I have a weakness for strawberry in chocolates, ever since I had a fabulous one from Teuscher that actually tasted like strawberries and not some awful synthetic mess like most of them do. This one was ok: the chocolate shell was perfectly crisp, the strawberry filling was pink and creamy, but it was just a little too sweet. Alas. Fortunately, some of the other ones proved much more memorable that night!
CocoaBella Chocolates
2102 Union Street
San Francisco, CA 94123
Tagged with: CocoaBella + chocolate + San Francisco