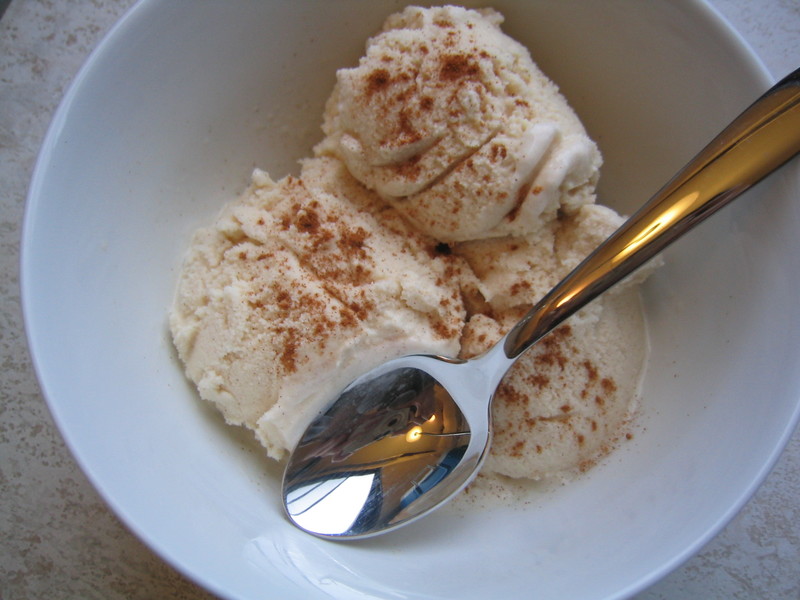 I was in the Crate and Barrel outlet store in Berkeley the other weekend and found this book
(although as you can see it's much cheaper at Crate and Barrel). $4.95 for a book on ice cream – why not?
I had not heard of Shona Poole's book before but it's a pretty little creation with some interesting, offbeat recipes. (Gooseberry and elderflower sorbet? It's next on my list to try – as soon as I can find gooseberries and elderflowers!) I chose to make an ice cream with some more readily available ingredients when the mood struck on a warm weekend afternoon.
I realized that I could have submitted Burnt Honey and Cinnamon ice cream as an entry for Sam's Sugar Low Friday when I saw the recipe. Simplicity itself: honey, cinnamon, and yogurt! The result does taste very strongly of honey, so I imagine that would be the most critical ingredient choice. All I had in my pantry at time was a basic clover honey, so not much deliberation for me! The recipe involves heating the honey until it boils and just begins to burn (not too long or the honey will turn bitter) and then add a bit of water to stop the burning process; I ended up with a caramely, intense honey flavor. In the future I might try a lighter, more subtle honey, remembering that burning anything just strengthens the flavor!
The recipe uses yogurt as a base, so you don't even need to make a custard. You pour the cooled honey syrup and cinnamon into the yogurt, put it in the ice cream machine, and away you go! About half an hour later I found smooth rich ice cream in my machine!
The flavor is surprisingly intense, given the pale, unprepossessing appearance of the result. The honey and cinnamon really complement each other well – I sprinkled a bit more cinnamon on top for the photo but it really isn't necessary.
As a footnote, I took the photo in a rush this morning before work – I think it turned out all right but if you look closely you'll notice my reflection accidentally captured in the spoon!