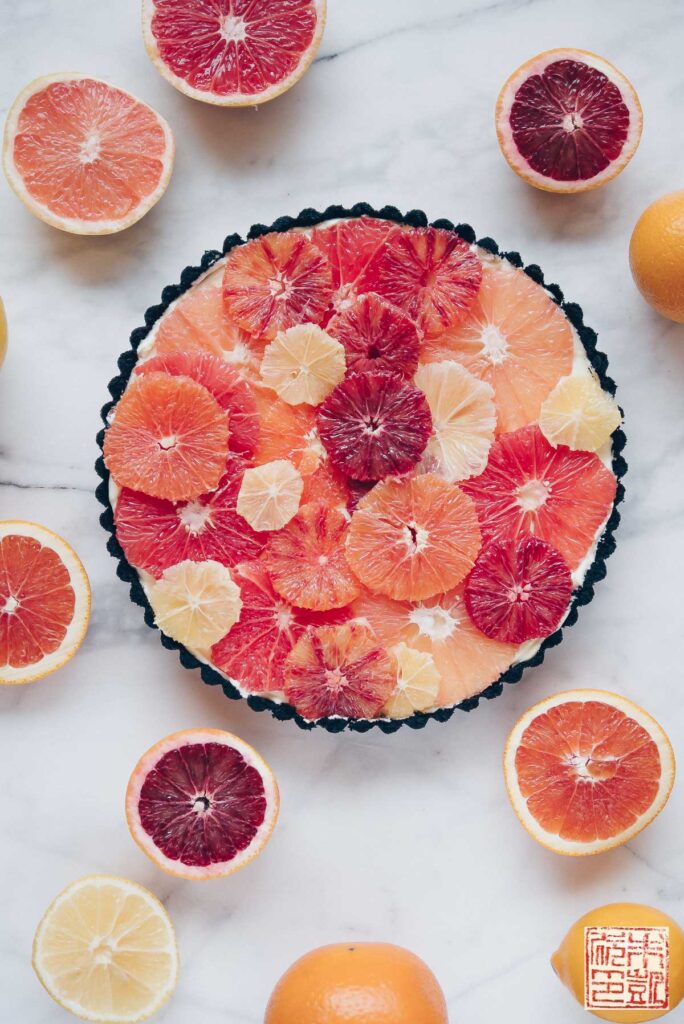 This citrus tart in a chocolate crust is perfect January brightener. Happy New Year! I just spent two and a half weeks over Christmas in Hong Kong, and I'm excited to write about that trip soon. For now, I've been getting over jet lag and settling into the groove of this brand new year, and making something in the kitchen to counteract the grey, somnolent weather: this radiant sun of a winter tart.
Click here to jump to recipe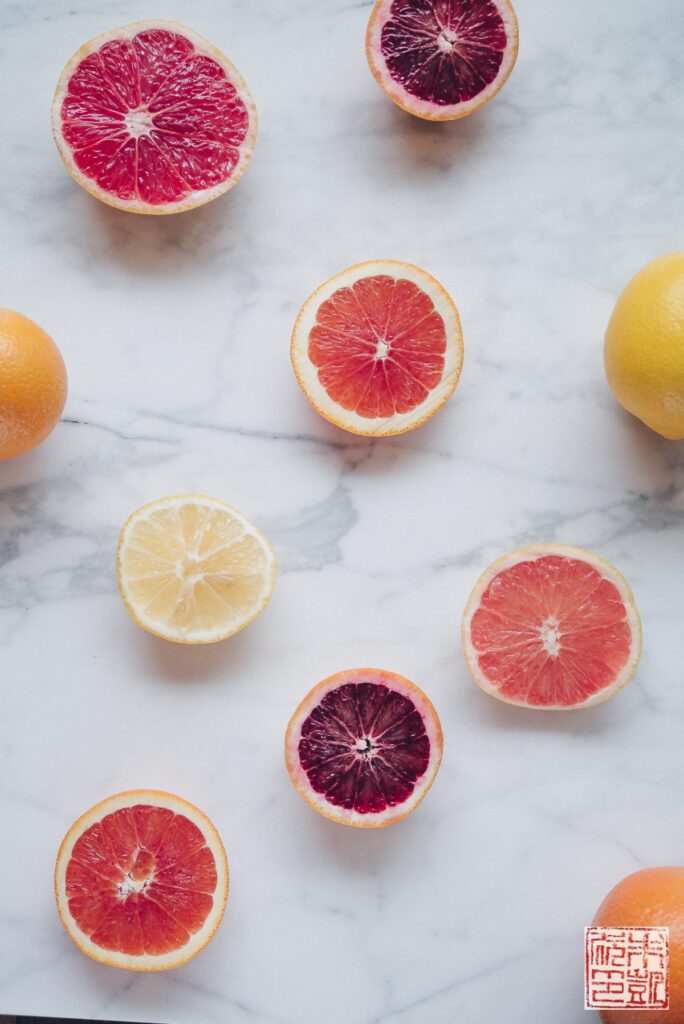 I was inspired by all the other beautiful citrus tarts I've been seeing lately on my instagram feed. It was fun going to my local grocery and checking out the variety of citrus available: although I usually go for the mandarin oranges at the beginning of the year (because of Chinese New Year in a few weeks), this time i found myself gathering navel oranges, grapefruit, blood oranges, and sweet lemons. You can use whatever citrus you have handy or prefer in this tart. I found the easiest way to get slices with clean edges for this tart, is to cut the citrus with the peel on, into slices, and then use a small paring knife to cut the peel away. Grapefruit and oranges were the easiest to cut, while I found the lemons harder to cut cleanly.
The filling is a creme patisserie: pastry cream folded together with whipped cream, with a bit of orange extract added to complement the citrus. Orange and chocolate are also a popular flavor combination (it always reminds me of the chocolate oranges from holiday season) so I placed the filling in my favorite chocolate crumb crust from this post. You can also use crushed chocolate cookies from the store to make the crust, instead of making all the parts from scratch if you're short on time.
I have to admit the slicing up all the citrus was time consuming, but I think the end result was worth it: this was a striking tart to photograph with all the shades of ruby and citrine. I'd say a success as a day-brightener and as a dessert.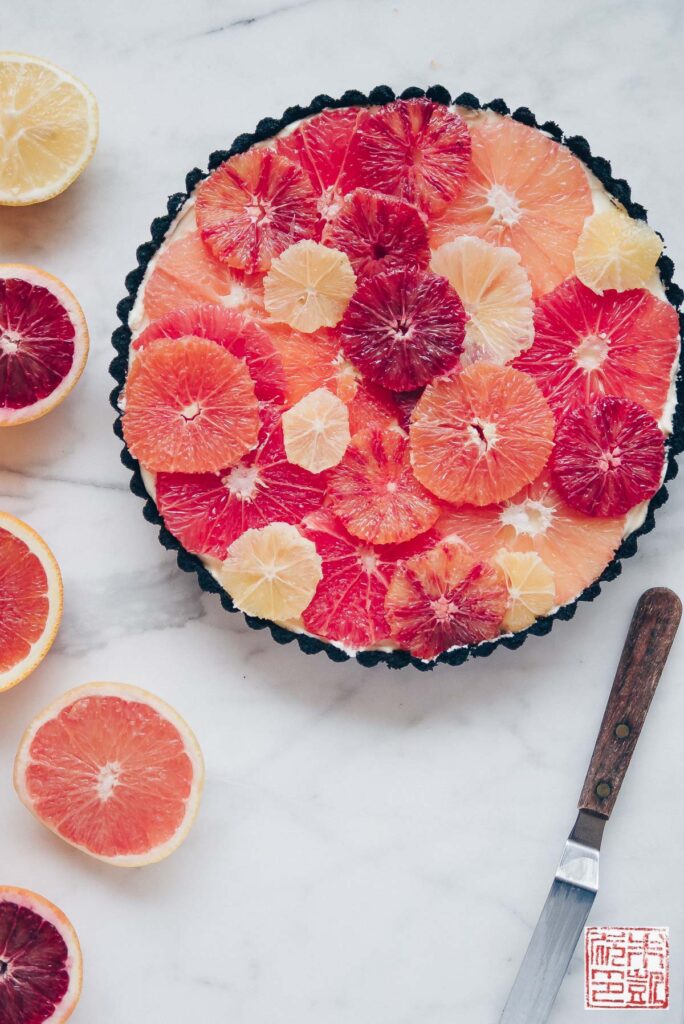 Winter Citrus Tart in a Chocolate Crust
Serves:
(1) 9" round tart
Ingredients
CHOCOLATE COOKIE CRUST
7 tablespoons (100 g) unsalted butter, room temperature
¾ cup (170 g) sugar
1 cup (140 g) all purpose flour
½ cup (43 g) unsweetened cocoa powder
½ teaspoon (3 g) salt
3 tablespoons (43 g) unsalted butter, melted
Citrus Vanilla Pastry Cream
1 cup (230 g) whole milk
2 Tablespoons (30 g) + 3 Tablespoons (44 g) sugar
3 large egg yolks
2 Tablespoons (14 g) cornstarch
1½ teaspoons vanilla extract
½ teaspoon orange extract
1 cup (230 g) heavy cream
Topping
4-5 ripe oranges or other citrus fruit
Instructions
For the cookie crust:
Preheat oven to 350 degrees F. Line a baking sheet with a Silpat or with foil. Set aside an 8 inch fluted tart pan with a removable bottom.
Combine butter and sugar in bowl of stand mixer. Cream for about 3 minutes until light and fluffy.
Combine the flour, cocoa powder, and salt in a medium bowl. Add to stand mixer and beat until combined. Mixture will be loose and crumbly.
Pour out mixture on prepared baking sheet and spread evenly. Bake for about 20 minutes, rotating halfway. The cookie crumbles will start smelling very fragrant.
Remove from oven and let cool on wire rack.
Place cookies into food processor and pulverize into even, fine crumbs. Pour out crumbs into a medium bowl and add the melted butter. Stir with a spoon to combine.
Press crumb mixture evenly into bottom and up sides of tart pan. Bake tart shell for about 10 minutes in the 350 degree F oven. Remove and let cool before filling.
For the pastry cream:
Combine ¾ cup (172g) of the milk with 2 Tablespoons (30g) of sugar in a small saucepan. Heat on the stove over medium heat until the sugar is dissolved and bubbles appear on the edge of the pan.
Meanwhile, whisk together the egg yolks and 3 Tablespoons (44g) sugar in a bowl.
Whisk the cornstarch and remaining ¼ cup (46g) coconut milk in a small bowl and then add to the egg yolk mixture, whisking to combine.
Pour the hot milk into the egg mixture, whisking constantly to prevent the eggs from cooking.
Return the entire mixture to the saucepan and cook over medium heat, whisking constantly until the mixture thickens. Stir in the vanilla and orange extracts.
Scrape the pastry cream into a bowl, press a piece of plastic wrap to the surface, and refrigerate until needed.
When you are ready to use the pastry cream, whip the cream in a mixer to soft peaks, and then fold gently into the pastry cream to lighten.
To finish the tart:
Wash and slice the oranges into ¼" thick slices. Cut away the peel around each slice.
Spread the pastry cream into the tart case evenly.
Arrange the orange slices on top.
This tart is best served the same day it is made. It will keep covered in the refrigerator for a couple days.