This giveaway is now closed. Thanks for visiting!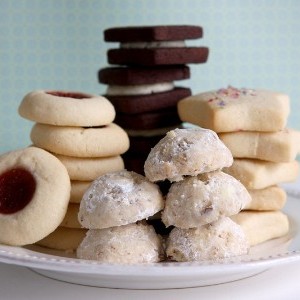 Hi all, hope you had a great Thanksgiving weekend and are getting a good start on your holiday shopping! I'm going to be posting up my annual gift recommendations in the next week, but meanwhile I thought I'd like to start off the holidays with a little giveaway!
Teacake Bake Shop is the sort of bakery I would have loved to open – it's cute, girly, and all the pastries are sweetly sophisticated. The first Teacake opened in Emeryville (near Berkeley) while I was still in pastry school. When I found out the owner was a young female Asian entrepeneur, I thought, hey, she's living out my dream!
A couple years later I had the opportunity to interview Agnes, the owner, for Edible East Bay, and finally had the chance to chat with one of my inspirations. There's practically a cupcake shop on every block in the city now, but back when Teacake opened, there were only a couple around, so it's really one of the originals, and I'm glad it's succeeded and continued to grow. I have immense respect for all the local food producers and artisans – it's people like Agnes who follow their dreams and open up a shop selling unique sweets, meats, cheese, jams, etc. that make the Bay Area such a vibrant culinary culture. There are four Teacake Bake Shops now, and again one of them is close to my current home. It's always a treat to walk by and see the bakers working in the open kitchen (customers can see their cupcakes being made in front of their eyes), and there's also a large room where they hold tea parties and classes for kids.
In fact, Jessie of CakeSpy stopped by her on her book tour! Check out her post to see some photos of the shop and of the two of us goofing around.
I'm excited to host a giveaway for Teacake Bake Shop, so you'll get a chance to try out her goodies – or perhaps cross a gift off your shopping list! Teacake is offering up their Mini Treats Sampler, a collection of four of their bestselling cookies, including Strawberry Jam Thumbprints, Mexican Wedding Cookies, Sugar Cookies, and Chocolate Cookies Sandwiches. There are 30 cookies in the package – enough for a party, snacking during a gift-wrapping session, or to leave out for Santa.
To enter: Please note that Teacake Bake Shop will ship the prize within the continental U.S. only (not to Alaska or Hawaii). Please make sure you have an appropriate shipping address before you enter!
Simply follow Teacake Bake Shop on Facebook or Twitter, and let me know in the comments below. If you already follow them, that's fine too – just note it in the comment! The giveaway will run through Sunday, December 4th and I'll announce the winner on Monday December 5th.
Good luck! And if you live in the Bay Area, be sure to stop by a Teacake Bake Shop!