Just when I was falling into a breakfast rut and getting tired of the usual cereal or granola for breakfast, along comes the monthly Daring Bakers Challenge to fill my table with Danishes. Thanks to Kelly of Sass and Veracity and Ben of What's Cookin'?, and an excellent recipe for Danish dough, I am now reminded of the joys of homemade breakfast pastries.
Sherry Yard's The Secrets of Baking
has held an honored spot on my bookshelf for years, and I still find myself referring to her book when I have a baking question. If any of you Daring Bakers, or home bakers in general, don't own it, I'd highly suggest putting it on your list – it's an invaluable resource. (Yard's latest book, Dessert by the Yard
, is also an excellent cookbook as well.) I'd made her puff pastry and brioche dough before and devoured the results, so it was certainly with happy expectations that I approached her Danish dough.
Thank goodness that the heat wave broke, which made putting this dough together much easier. Nothing more challenging that trying to put together a laminated dough in hot weather! I will say, though, that I was pleasantly surprised by how agreeably workable the Danish dough was. After making croissants in a bakery for about a year, I can say that the added eggs in a Danish dough make it much more pliable and easier to work with (of course, it could also be the fact that I was making a home batch of dough and not struggling to roll out an industrial mixer-sized portion of croissant dough!)
The Danish dough came together beautifully, and while the kitchen was still pleasantly scented with yeast and spices I pondered what to make with it after doing the braid. The most delightful – or devilish – thing about Danishes is just how many tempting forms they can take, leaving one in an agony of gustatory indecision. I certainly didn't have enough dough to make all the types of Danishes I wanted! Buttery, fluffy-soft, lightly spiced, the Danish dough is an ideal backdrop for all sorts of fillings.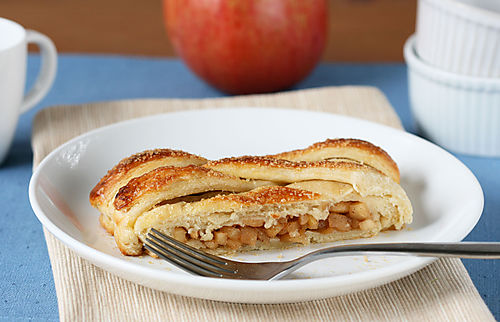 I made the Danish braid with half of the dough and apple filling, topped with turbinado sugar- I can't decide if I like this or the apple turnovers better – they're both perfect combinations of crunchy, flaky, buttery pastry and sweet, tender fruit. I really liked creating the braid – a simple and elegant form that looks much harder to make than it really is. Of course, now all the Daring Bakers are in on the secret!
Among some of the other things to do with Danish dough (as with any other laminated dough, it is a pastry crime to waste any piece of it, especially when you think of all the work that went into its making). Some quick and easy things you can do with a square include envelopes, where you fold two opposite corners together in the middle, and pinwheels, where you make a cut along each diagonal and fold one side down to make a pinwheel form. Here, pinwheels with fresh cherry filling and envelopes with apricot jam and sliced almonds.
Finally, one of my very favorite ways to indulge in pastry for breakfast – the bear claw. I can't sing the praises of frangipane enough – simply spread a little of this almond ambrosia on a rectangle of Danish dough, fold in half, and slice little cuts along the edge to make the "claws". Sprinkle with sliced almonds, bake, and you'll have some very happy people at the breakfast table.
Thanks again to Kelly and Matt for a great Daring Bakers Challenge!
DANISH DOUGH
Makes 2-1/2 pounds dough
Ingredients
For the dough (Detrempe)
1 ounce fresh yeast or 1 tablespoon active dry yeast
1/2 cup whole milk
1/3 cup sugar
Zest of 1 orange, finely grated
3/4 teaspoon ground cardamom
1-1/2 teaspoons vanilla extract
1/2 vanilla bean, split and scraped
2 large eggs, chilled
1/4 cup fresh orange juice
3-1/4 cups all-purpose flour
1 teaspoon salt
For the butter block (Beurrage)
1/2 pound (2 sticks) cold unsalted butter
1/4 cup all-purpose flour
DOUGH
Combine yeast and milk in the bowl of a mixer fitted with the paddle attachment and mix on low speed. Slowly add sugar, orange zest, cardamom, vanilla extract, vanilla seeds, eggs, and orange juice. Mix well. Change to the dough hook and add the salt with the flour, 1 cup at a time, increasing speed to medium as the flour is incorporated. Knead the dough for about 5 minutes, or until smooth. You may need to add a little more flour if it is sticky. Transfer dough to a lightly floured baking sheet and cover with plastic wrap. Refrigerate for 30 minutes.
Without a standing mixer: Combine yeast and milk in a bowl with a hand mixer on low speed or a whisk. Add sugar, orange zest, cardamom, vanilla extract, vanilla seeds, eggs, and orange juice and mix well. Sift flour and salt on your working surface and make a fountain. Make sure that the "walls" of your fountain are thick and even. Pour the liquid in the middle of the fountain. With your fingertips, mix the liquid and the flour starting from the middle of the fountain, slowly working towards the edges. When the ingredients have been incorporated start kneading the dough with the heel of your hands until it becomes smooth and easy to work with, around 5 to 7 minutes. You might need to add more flour if the dough is sticky.
BUTTER BLOCK
1. Combine butter and flour in the bowl of a mixer fitted with a paddle attachment and beat on medium speed for 1 minute. Scrape down the sides of the bowl and the paddle and then beat for 1 minute more, or until smooth and lump free. Set aside at room temperature.
2. After the detrempe has chilled 30 minutes, turn it out onto a lightly floured surface. Rol l the dough into a rectangle approximately 18 x 13 inches and ¼ inch thick. The dough may be sticky, so keep dusting it lightly with flour. Spread the butter evenly over the center and right thirds of the dough. Fold the left edge of the detrempe to the right, covering half of the butter. Fold the right third of the rectangle over the center third. The first turn has now been completed. Mark the dough by poking it with your finger to keep track of your turns, or use a sticky and keep a tally. Place the dough on a baking sheet, wrap it in plastic wrap, and refrigerate for 30 minutes.
3. Place the dough lengthwise on a floured work surface. The open ends should be to your right and left. Roll the dough into another approximately 13 x 18 inch, ¼-inch-thick rectangle. Again, fold the left third of the rectangle over the center third and the right third over the center third. No additional butter will be added as it is already in the dough. The second turn has now been completed. Refrigerate the dough for 30 minutes.
4. Roll out, turn, and refrigerate the dough two more times, for a total of four single turns. Make sure you are keeping track of your turns. Refrigerate the dough after the final turn for at least 5 hours or overnight. The Danish dough is now ready to be used. If you will not be using the dough within 24 hours, freeze it. To do this, roll the dough out to about 1 inch in thickness, wrap tightly in plastic wrap, and freeze. Defrost the dough slowly in the refrigerator for easiest handling. Danish dough will keep in the freezer for up to 1 month.
APPLE FILLING
Makes enough for two braids
Ingredients
4 Fuji or other apples, peeled, cored, and cut into ¼-inch pieces
1/2 cup sugar
1 tsp. ground cinnamon
1/2 vanilla bean, split and scraped
1/4 cup fresh lemon juice
4 tablespoons unsalted butter
Toss all ingredients except butter in a large bowl. Melt the butter in a sauté pan over medium heat until slightly nutty in color, about 6 – 8 minutes. Then add the apple mixture and sauté until apples are softened and caramelized, 10 to 15 minutes. If you've chosen Fujis, the apples will be caramelized, but have still retained their shape. Pour the cooked apples onto a baking sheet to cool completely before forming the braid. (If making ahead, cool to room temperature, seal, and refrigerate.) They will cool faster when spread in a thin layer over the surface of the sheet. After they have cooled, the filling can be stored in the refrigerator for up to 3 days. Left over filling can be used as an ice cream topping, for muffins, cheesecake, or other pastries.
DANISH BRAID
Makes enough for 2 large braids
Ingredients
1 recipe Danish Dough (see below)
2 cups apple filling, jam, or preserves (see below)
For the egg wash: 1 large egg, plus 1 large egg yolk
1. Line a baking sheet with a silicone mat or parchment paper. On a lightly floured surface, roll the Danish Dough into a 15 x 20-inch rectangle, ¼ inch thick. If the dough seems elastic and shrinks back when rolled, let it rest for a few minutes, then roll again. Place the dough on the baking sheet.
2. Along one long side of the pastry make parallel, 5-inch-long cuts with a knife or rolling pastry wheel, each about 1 inch apart. Repeat on the opposite side, making sure to line up the cuts with those you've already made.
3. Spoon the filling you've chosen to fill your braid down the center of the rectangle. Starting with the top and bottom "flaps", fold the top flap down over the filling to cover. Next, fold the bottom "flap" up to cover filling. This helps keep the braid neat and helps to hold in the filling. Now begin folding the cut side strips of dough over the filling, alternating first left, then right, left, right, until finished. Trim any excess dough and tuck in the ends.
Egg Wash
Whisk together the whole egg and yolk in a bowl and with a pastry brush, lightly coat the braid.
Proofing and Baking
1. Spray cooking oil (Pam…) onto a piece of plastic wrap, and place over the braid. Proof at room temperature or, if possible, in a controlled 90 degree F environment for about 2 hours, or until doubled in volume and light to the touch.
2. Near the end of proofing, preheat oven to 400 degrees F. Position a rack in the center of the oven.
3. Bake for 10 minutes, then rotate the pan so that the side of the braid previously in the back of the oven is now in the front. Lower the oven temperature to 350 degrees F, and bake about 15-20 minutes more, or until golden brown. Cool and serve the braid either still warm from the oven or at room temperature. The cooled braid can be wrapped airtight and stored in the refrigerator for up to 2 days, or freeze for 1 month.