Whenever I get a new cookbook, I always go through it from beginning to end once, eager to fill my senses with all the recipes contained within (I admit I am one of those people who has, on occasion, skipped to the end of a book to find out the ending, although I've resisted that temptation for quite a while now – even with Harry Potter!). Then I go back for a leisurely re-perusal, reading all the recipe headnotes, making notes of all the ones I intend to try next in the kitchen. Sometimes I'll pull out my other cookbooks to compare similar recipes or look up ones I've suddenly been reminded that I still need to make. Oftentimes, at the end of of evening I'll find myself inexplicably surrounded by a dozen cookbooks, all open to various mouthwatering pictures, desserts dancing before my eyes, and I'll be surprised there isn't actually anything coming out of my oven!
As I leaf through my cookbooks I notice I mentally categorize recipes. There are, of course, those showstopper creations, the ones whose photos might have made me buy the book in the first place, the ones that go on my must-do list. There are the recipes that are unusual, some new combination of flavors or techniques that make me also want to test them out. Then there the simpler, quieter ones, a version of basic shortbread or chocolate cake, that I tuck away in the back of my mind for when I need something easy to make, for when I'm running low on inspiration.
The last category may seem unglamorous, but in fact it's turned out to be one of the most surprising and rewarding ones. There's just as much art and pleasure to be found in the perfect chocolate chip cookie as there is in successfully executing puff pastry. Case in point: those heavenly chocolate Korova cookies by Dorie Greenspan and Pierre Hermé. Who would have thought a simple chocolate cookie could be refined to such divinity? It reminds that in the art of baking, it always comes back to basics and doing them well. If someone like M. Hermé puts a recipe for lemon curd in his book, you can bet it's a damn good lemon curd.
I had the pleasure of finding another unexpected gem last week: the innocuous-sounding Hazelnut Cake from Kate Zuckerman's The Sweet Life
. I adore hazelnuts, so I always intended to try this out, but other recipes kept crowding their way to the front. Finally, last week, when I had some extra peaches and was wondering how best to use them, my eye fell on the end of the hazelnut cake recipe, where Zuckerman suggests serving it with some roasted peaches. Two things I had yet to try, both now too enticing to pass up.
And I have to say this has been one of my most resounding successes in the kitchen in the last few weeks. Fresh out of the oven, it perfumes the kitchen with its buttery-nutty fragrance. The most marvelous thing about it is that even though it looks quite rich, the crumb is fantastically light – it almost crumbles apart in your hand and collapses in your mouth into a melting dream of hazelnuts and butter and crème frâiche. The cake can be wrapped and saved for a few days, but I highly suggest eating this as soon as you can – the taste is infinitely better! I would this is one of my new favorite cakes to make!
The hazelnut cake is perfect on its own for breakfast or tea-time, but Zuckerman gives a few suggestions that take it up to the level of a restaurant-worthy dessert. Dusted with powdered sugar, garlanded with some hazelnut streusel, and crowned with a gleaming, just roasted peach half, it becomes, unexpectedly, one of those showstopper desserts that catch every eye.
Roasting peaches is a wonderful way to enjoy the fruit while it's still in season. Placed in a bath of muscato, honey and sugar, they slowly cook and caramelize in the oven to a rich, gleaming orange. Distilled down to the essence of their sweetness, the peaches make a fabulous accompaniment to the lightness of the cake. If you don't want to make the cake, the peaches are sensational on their own with a dollop of whipped cream.
It's always a thrill when you take on a challenging recipe and you succeed. But sometimes it's even better when a recipe turns out better than you ever expected. This is certainly one dessert I'll be keeping in my repertoire for quite a while.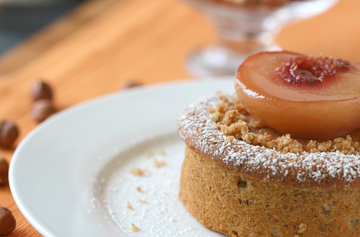 Hazelnut Cake
adapted from Kate Zuckerman's The Sweet Life
makes one 10-in cake or (6) 4 1/2- in cakes
1 cup (116 g) hazelnuts
1 tbsp (10 g) cornstarch
16 tbsp (226 g) unsalted butter, room temperature
1 1/3 cups (262g) sugar
2 tbsp (32 g) hazelnut paste or hazelnut butter
3 eggs, room temperature
1/2 teaspoon salt
1/2 teaspoon baking powder
2 cups minus 2 tbsp (272 g) flour
1 cup (234 g) crème frâiche
Preheat the oven to 350 degrees F. Grease your desired cake pans and line the bottoms with parchment paper. I prefer to use springform pans.
Combine the hazelnuts and cornstarch in a food processor and grind until fine – do not let it turn into a paste.
Put the butter in a stand mixer bowl and beat for about a minute to soften. Add the sugar and hazelnut paste and beat on medium-high for about 6-8 minutes until it is very light and fluffy – this is important for the final texture of the cake.
Add the eggs one at a time to the mixer, letting each one mix in before adding in the other. Beat for another 2 minutes until the batter is completely smooth.
In another bowl, combine the remaining dry ingredients and ground hazelnuts.
Turn the mixer fown to low, and add half of the dry ingredients. Let it mix just until combined. Add in the crème frâiche and mix untill combined. Add the rest of the dry ingredients and mix until batter is completely combined, scraping down the sides of the bowl. Briefly turn the speed up to medium and beat for about 20 seconds.
Scrape the batter into prepared pans – it will be fairly sticky and heavy. If you are filling multiple small pans, do not fill more than 3/4 of the way up – this cake will rise quite a bit in the oven so you don't want spillage!
Smooth down the tops of the batter with a spatula. Bake about 50 minutes for a large single cake or 30 minutes for smaller cakes, until a cake tester inserted in the middle comes out clean and the top is still a little springy.
Remove from the oven and let cool on a wire rack for about 20 minutes. Remove cakes from pans and let finish cooling to room temperature.
You can store the cakes for up to 4 days at room temperature, but wrap them tightly in plastic or they will dry out.
Roasted Glazed Peaches
adapted from Kate Zuckerman's the Sweet Life
8 small to medium ripe peaches
1/3 cup white wine
1/2 cup sweet Muscat wine
1/4 cup honey
5 tables poons sugar
Preheat the oven to 375 degrees F.
Slice the peaches in half. leaving the pits in. Lay the peaches cut side up in a pan large enough to hold all the peach halves in one layer (you can do fewer peaches, just use a smaller pan so the liquids don't spread out).
Pour all the remaining ingredients, except for 2 tablespoons of the sugar, over the peaches.
Roast the peaches for about 30 minutes. Take out of the oven and remove any pits with a paring knife. Turn the peaches over and roast for another 30 minutes.
Take the peaches out of the oven and raise the oven temperature to 400 degrees F. Turn the peaches over and ladle some of the cooking liquid over them. Sprinkle the remaining 2 tablespoons of sugar over the peaches. Bake for another 20 minutes.
When the peaches have reduced in size, and are shiny with carmelized areas, they are done. If they are not finished, baste and continue baking in 10 minute increments until they are done.
When the are done, baste one more time, remove from oven, and let cool in the pan.
The peaches are best eaten the day of but can be kept in the refrigerator for 4 days. Reheat in a 350 degree F oven for about 10 minutes.
Tagged with: hazelnut cake + roasted+peaches + Kate Zuckerman